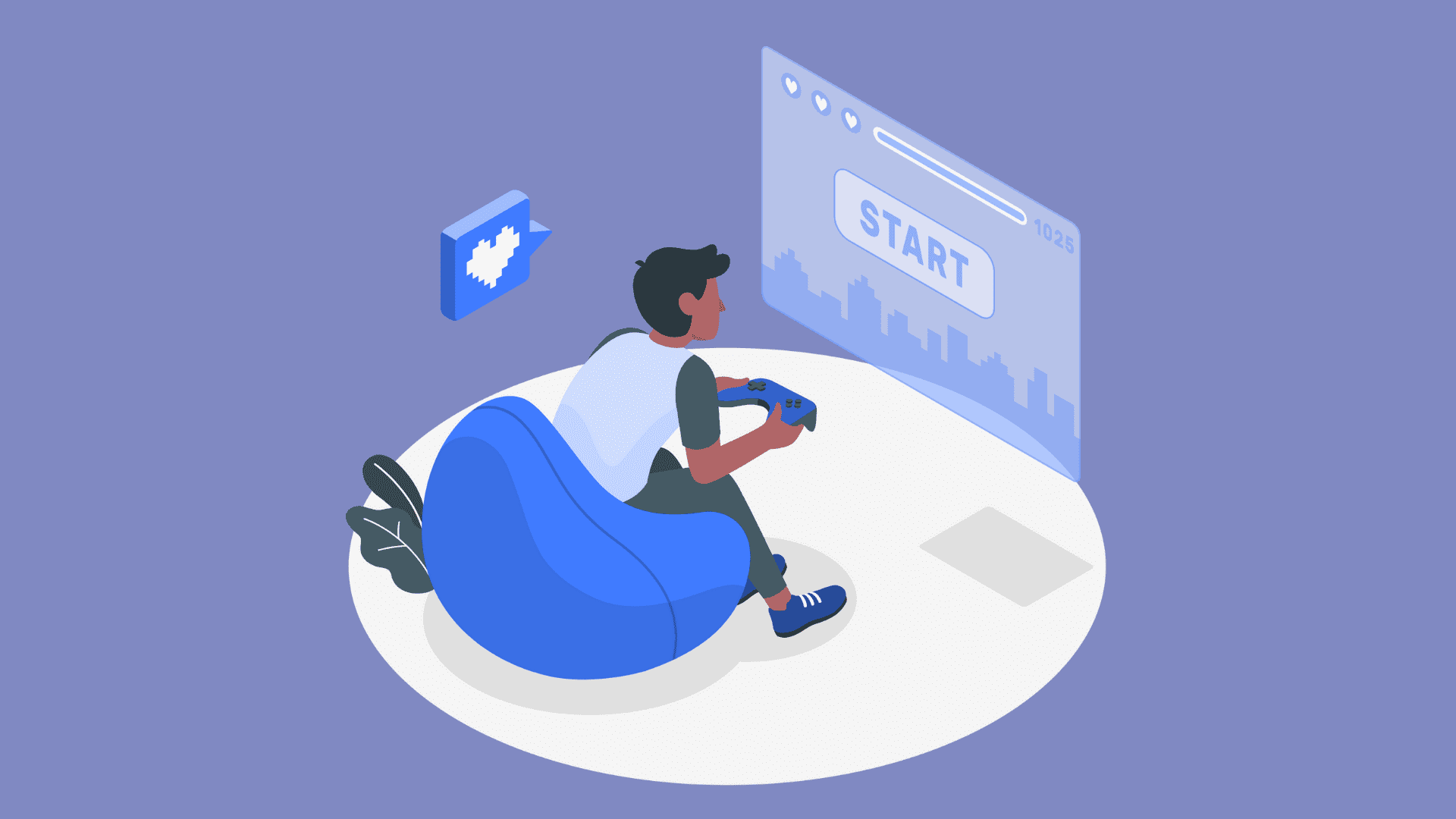 Quizzes are a popular tool used by people for various purposes. Teachers may use them for educating their students. Employers may take advantage of them when looking to engage with their employees to create a stronger bond during team building events. And Triviamaker is one of the tools you can use for it.
No matter the purpose, there is one significant rule.
To create converting and appealing quizzes, it's highly recommended that people use a designated tool – quiz makers. Specifically, we want to show you what it is and why you might want to use something different to create your beautiful quizzes.
Without beating too much around the bust, let's jump right in.
What Is TriviaMaker And How Does It Work?
TriviaMaker is a trivia quiz maker creating and hosting trivia games, as well as various game quizzes.
It's used by people from various professions worldwide, including for purposes like:
teaching in schools,
virtual parties,
home schooling,
various, online and real-life events.
From the first look, this software looks quite promising. The website has a relatively modern look. What's more, users can try it out for free.
However, we know that time is money and we're here to save your time. You don't need to be trying TriviaMaker out.
Everything you need to know about it is in this article.
TriviaMaker – Main Features
TriviaMakers offers some interesting features for their users. Without them, companies like Amazon or Oracle probably wouldn't use it.
Let's look at some of them now.
Web browser and mobile app functionality
First of all, anyone looking to use TriviaMaker may be delighted to know about this feature. To create quizzes, you can either use a mobile app (available both on iOS and Android) or a browser.
In theory, this means that you are not limited to using it only on your web browser, which is typical for various other quiz tools.
When it comes to using TriviaMaker on a web browser, you don't need to download anything – simply sign up on their website and you're ready to go.
However, to use this tool on your phone with maximum efficiency, you will have to download a mobile app – either from AppStore or Google Play Store.
This way, TriviaMaker creators made it possible for people with devices like:
phones,
tablets,
computers,
projectors and
TV
to enjoy this tool.
Customization options
Another feature of TriviaMaker is that it offers quite interesting customization options for creating custom trivia quizzes. Here is a list of everything that can be customized:
colors: adjust the quiz colors to your liking to fit your brand's style
content: add your own questions, answers and even categories
logo: make your game quiz branded by applying your logo design onto it
music: enjoy using your own music for the quiz
time: adjust game quiz time to your needs
team names: create your own teams and name them as you like
It's a quite cool feature, especially if you're looking to create branded quizzes that align with your brand's visual identity. Well done, TriviaMaker!
3 quiz game styles
Moving on, TriviaMaker gives their users only 3 different quiz game types to choose from within the free plan. This number increases to 5 if you decide to opt in for a paid subscription, which comes down to $6.99 every month.
The styles are:
Despite these 3 styles being available for free, they are still limited – unless you decide to get a paid subscription plan.
Getting a subscription not only gets rid of the limit for the mentioned game types, but also gives you 2 additional ones: wheel and tictac.
However, although fun, they aren't too useful if your purpose of using TriviaMaker is to create traditional quizzes.
For quizzes, grid, list and tivia will be the best options.
Photo and video embeds
Another interesting and quite useful feature of the TriviaMaker tool is the option to embed photos and videos onto your quizzes.
This way you can make your quizzes more fun and interactive.
Research proves that the human brain processes images up to 60 000 times faster compared to regular, standalone text. What's more, around 90% of information that our brain processes is fully visual.
As for videos, they're much better than text, and even photos. This is because viewers are able to retain up to 95% of a message when watching videos – much more than when reading or looking at pictures.
Thus, it's awesome that TriviaMaker allows for uploading eye-catching images and videos when designing game quizzes.
Why Should You Look For TriviaMaker Alternatives?
These TriviaMaker features that we just described look promising indeed. However, this software has some serious drawbacks that put it at a disadvantage compared to other, far more reliable quizz tools.
In this part, we want to show you why you might need to look for a TriviaMaker alternative.
Poor user reviews and customer support
Let's start with customer satisfaction.
TriviaMaker can't really pride itself in having a stellar reputation online. A lot of the helpful reviews this tool has are quite negative.
Users mention various issues with their mobile app, registration process and contact with the customer support team.
Shaq Fu writes that the "App is glitching and shaking over several screens." Teresa Frangie decided to leave a review too and pointed out the poor execution of the whole software.
All these put TriviaMaker in a rather poor light. Most importantly, however, they're an obvious sign for you to avoid using this software, and especially the paid version.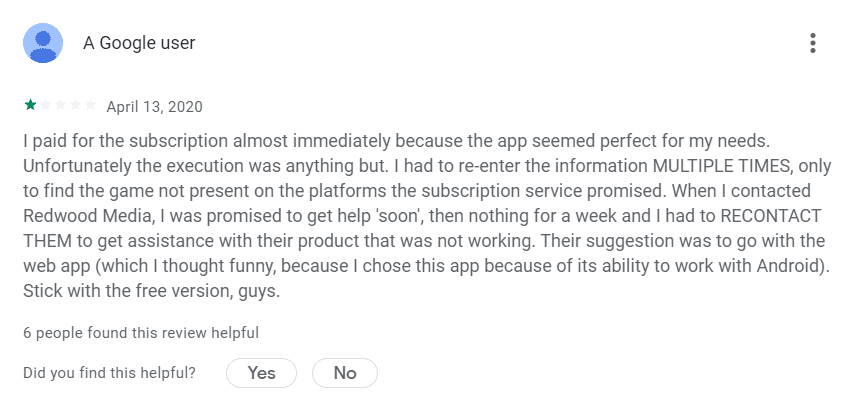 Limited variety of possible quizzes to create
Looking at the reviews, it's clear that users don't recommend using the paid version of TriviaMaker.
Despite this, you may still want to use the free version of it and that's totally okay.
When opting in for the non-paid plan, you should pay attention to the features you will have access to.
As you can see, there's not much to enjoy as a user.
You're left with no team or customization features, and you only get access to 3 types of quiz game styles. Moreover, you can have only up to 2 teams playing. This could be quite problematic in case of a big student class for example.
"That's enough, I don't need any more" – you might think. But look carefully: the 3 quiz game types that you get access to are also limited in the free plan.
This means you would probably be able to only create a few free quizzes before you reach your limit.
Thus, you won't find TriviaMaker useful for a long time if your end goal is to create many and more challenging quizzes, for example for your students or employees.
Faulty, buggy mobile app
As some of the reviews shown above mention, TriviaMaker seems to have a quite faulty and buggy mobile app.
Mobile apps are highly convenient these days as people are always on the go.
Working and completing tasks in buses on the way to work has become the new way to function. To adjust to the changing behavior, many business tool developers today decide to launch mobile apps for their tools.
So did TriviaMaker's creators.
However, the app could really use some improvement. You surely wouldn't want to organize a quiz game in your class or workplace on your mobile phones and have the app fully let you down by crashing, right?
No other utility
Finally, TriviaMaker is useful just for creating simple game quizzes and that's it.
While your needs may not require anything more at this moment in time, there are plenty of tools out there that go the extra mile and offer much more – in case you ever need it sometime down the line.
In this sense, they make the whole experience of creating quizzes more enjoyable and far more varied. With so many options to choose from, you can always make sure your interactions with students or employees are top notch.
On top of quizzes, examples on similar solutions offered by one provider could include:
surveys,
assessments,
forms,
live engagement activities.
Now this looks much more fun, wouldn't you agree?
YouEngage – Your Best Triviamaker Alternative
Now you know that TriviaMaker has some disadvantages and visible limitations. Because of them, we believe you would be better off with an alternative.
Speaking of alternatives, we have a recommendation for you that will completely change the way you've been looking at online quizzes your whole life.
Meet YouEngage – an improved, better TriviaMaker solution.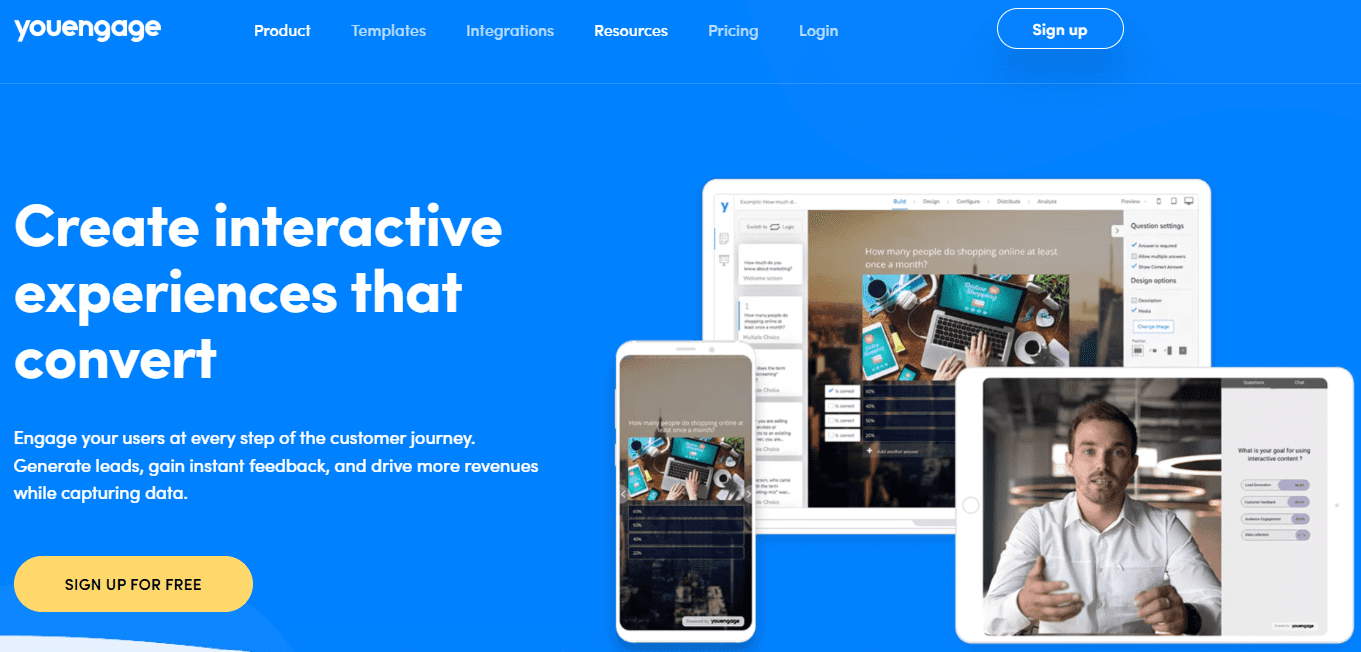 YouEngage's goal is to create online experiences that convert. From surveys through assessments, all the way up to online quizzes. With YouEngage, you will create your best quizzes ever and more.
No matter whether you're looking to:
improve your customer or product experience,
deliver a better marketing strategy,
simply create fun and interesting events on and off-line
– YouEngage will be there every step of the way.
What makes YouEngage better than TriviaMaker?
Are you curious to know how exactly YouEngage is better than TriviaMaker? We have it all here:
YouEngage has a more intuitive and smooth user experience, making it easy for people to quickly learn how to navigate through it. Creating a quiz in minutes has never been easier.
YouEngage's features work great both on computers and mobile devices – forget any crashes or bugging.
YouEngage offers their users extensive and insightful tutorials and we even run a blog where you can always learn something new. The customer support tools available are helpful and free.
YouEngage has great, 5-star reviews reviews from authentic tool users – just check out Capterra, G2 or Software Advice.
YouEngage offers far more utilities beyond just quizzes: surveys, polls, assessments, calculators and more.
YouEngage has more templates for users to use, with a breakdown into various categories like: personality quiz, knowledge marketing quiz, remote work quiz, event feedback survey, fashion style quiz and more.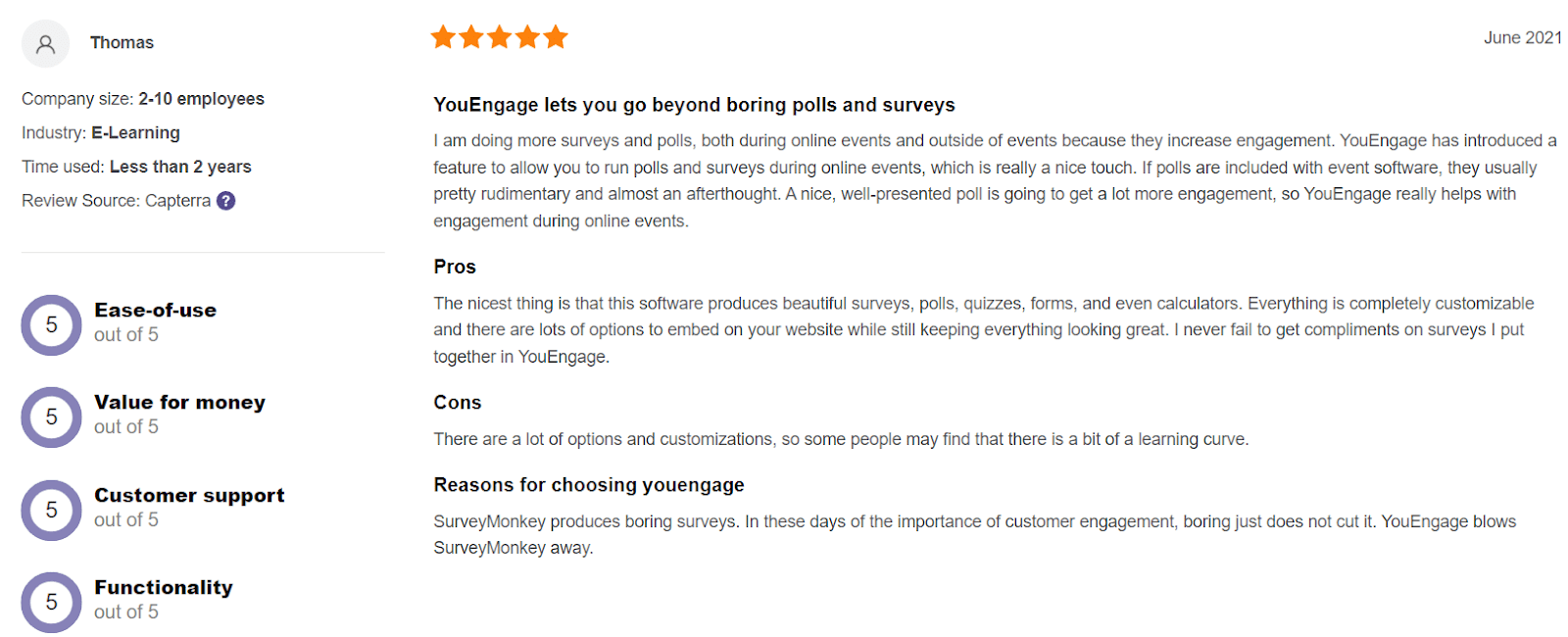 Since we like to prove we aren't all talk – we invite you to try YouEngage out today for free. We're certain you will absolutely love it, and so will your quiz takers!
Create Your First Quiz Today with YouEngage
No matter why you might want to create quizzes, it's vital that you use a reliable tool to do it.
This article reviewed the TriviaMaker game quiz creators with details. Now you know what it is, as well as what it offers and what areas it lacks improvement in.
If you want to start creating online quizzes (and more) that are fully functional, look awesome and that your audience will love – look into YouEngage today.
YouEngage is a better TriviaMaker alternative with powerful features that will make your quizzes better than ever.
We hope you enjoyed this article. If you're looking to create your first quiz today, be sure to sign up for YouEngage now.
Other than that, thanks for your attention and we shall hopefully see you around sometime soon!