There is no better quiz maker than the one that works for you best. But even doing the research on a suitable tool can be an overwhelming task because there are so many options available. However, we've got the solution that can make for a great quiz maker for teachers.
So let's dive right in.
What are the benefits of a quiz maker for teachers?
There are many benefits of using quizzes during classes. No matter the age of your students, it is always a great idea to enrich a class to provide the best learning experience possible.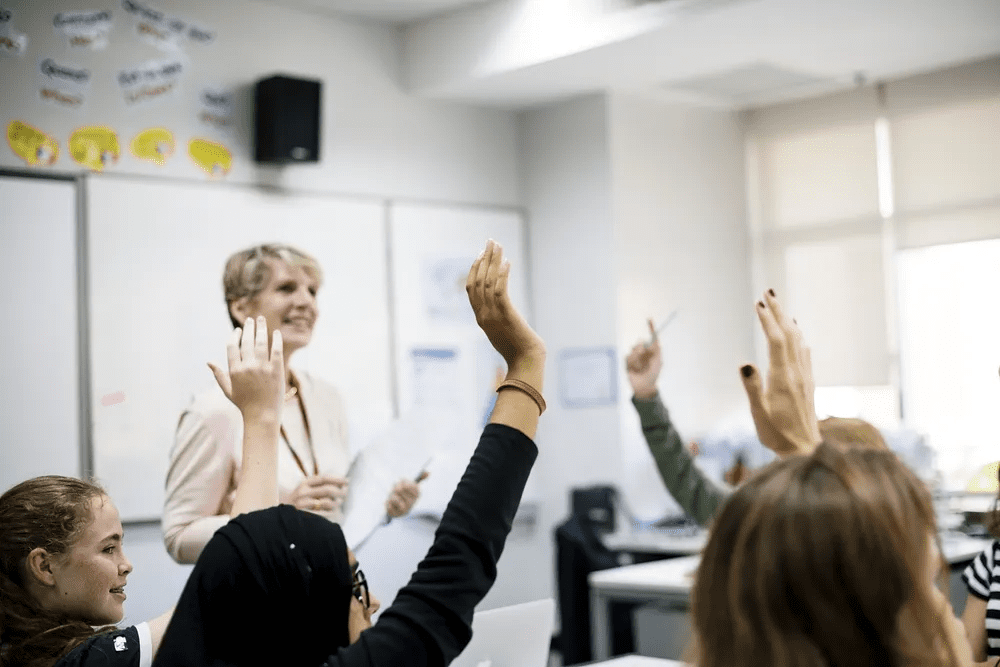 source: RawPixel
Did you know that students who take quizzes at least once a week do better on midterms and finals than those who don't take quizzes at all?
Here are more advantages of using a quiz maker.
#1 Save time by automating the creation and grading of quizzes
One of the most significant benefits is saving time. A good quiz maker will grade the quizzes right away, so there is no need to spend time going through all the quizzes at home.
By having instant feedback, you can discuss the answer with your students and analyze the mistakes together. In addition, some quiz makers provide the feature of viewing the result live, so it is an excellent opportunity to evaluate students' knowledge as they answer questions.
Also, with a robust online content builder, the creation of quizzes or online tests will take you a few clicks.
#2 Design engaging, interactive quiz content
Quizzes are a great stepping stone from the workbooks students learn daily. It is more fun than reading the course book. You can deliver engaging, interactive content that will appeal to the students – quizzes are great for grabbing students' attention and possibly making them remember more.
#3 Analyze student performance data to improve learning outcomes
One of the effective ways of getting knowledge and experience is learning from mistakes. That is why some quiz makers offer an analysis of students' performance. If you can identify the issues right away, it would be easier to plan further activities. You can specify what skills need improving and what your students struggle with. Maybe there is a topic worth elaborating on, or some chapters need detailed revision. You can verify that using pulse surveys.
#4 Integrate quizzes into your LMS for easy access and grading
LMS (learning management system) is used for tracking, reporting, and automation. In this sense, it works like a dedicated task manager for education. It delivers educational courses, training programs, or learning and development programs through an employee self-service portal, but can also assist with timesheets online. Integrating quizzes into your LMS will make grading and access far more convenient.
Choosing the best quiz maker for teachers: how-to
Now it's time to choose the best quiz maker for teachers. Take a look at these factors.
Ease of use: you want a platform that is easy to use and doesn't require a lot of technical knowledge
One of the aspects worth considering is definitely the user-friendly interface. In a case when you want to create a quiz, check if the process of building is not complicated.
Before quick sharing the quiz with your students, try it out to make sure it does not require technical skills. Teachers have limited time in class, and the complicated process of sharing would waste valuable time that could be spent on something exciting.
Features: what kind of features do you need? Some quiz makers offer more features than others
First, it is worth asking yourself what features you need? What kind of quizzes are you into? It's always good to look around and see what features the quiz makers offer and if they satisfy your needs.
Then, do some research to compare the tools in terms of pricing plans offered features. Or perhaps free plans are sufficient for you and will do the job for you.
Pricing: some quiz makers are free, while others charge a monthly or annual fee
Pricing is a decisive factor when choosing the quiz maker. Since there are a lot of quiz apps and pieces of software, make sure that the features you need are included in the plan you would like to choose. Some quiz makers offer a free plan – if you make quizzes occasionally, maybe it is a soultion for you. Research, compare and decide which is right for you.
Another thing is the difference between monthly or annual fees. Annually paying is far more cost-efficient than monthly charges. If you are sure you will make quizzes all over the academic year, consider choosing annual fee charging.
Also, most of the quiz makers provide a free trial, so it's an excellent opportunity to try them out. If you are a school institution employee, there are some discounts. But not all platforms include the price cut for educational workers or students.
User reviews: read what other users have to say about the quiz maker before you make a decision
Reviews are a reliable source of information about quiz makers. For example, you can get to know what users use quizzes for, what are builders' shortcomings, or is it a suitable app for teachers.
Customer support: make sure the quiz maker you choose offers excellent customer support
Check how does contact customer support work. In case you have any questions or problems, being able to contact someone and then get help immediately is also an essential factor. Think about it before picking a quiz builder.
How to use quizzes in the classroom
Plenty of uses here! The best is to see what works best for you, but if you need some fresh ideas, here they are:
Assessment tools: to assess student knowledge at the beginning, middle, or end of a unit
You can build assessment quizzes to improve knowledge retention. Also, they are a great alternative to paper tests. Many benefits here – you save the paper and break the routine of taking a regular test. Online quizzes and digital tests are more engaging and fun forms of assessment. As said previously, it saves your time because tests can be graded automatically.
Also, quizzes in the middle of the unit allow catching all your students' knowledge gaps on the fly so preparing further revisions would be much easier for you.
Multiple-choice quizzes or other quiz types are also great as online assessment tools in digital learning.
Instructional tools: to introduce new material or review before a test
Quizzes are great at the beginning of the new unit or at the end, used for an introduction to a new topic or a revision.
For example, you can evaluate students' knowledge of a particular topic by using quizzes to introduce new material. Doing so would give you an idea of how to approach the topic later on.
Running a quiz before a test would give your students a hint of what the exam would look like so they can prepare themselves for the test better. Also, it is an excellent way to revise the key terms before an exam. To make revision appealing and effective you will need some more advanced features than Google Forms offers. Nevertheless, Google Forms is a decent creator for teachers, but sometimes you may need more. That's why you should consider picking an online test maker with quiz template facilities, many quiz types and other premium features.
Engagement tools: to get students engaged and interested in the material
To get students' attention, you can run a quiz during classes. Gamified quizzes would engage them in the topic and possibly interest them. To get your pupils involved, one of the things worth paying attention to is how you build questions – they can't be super long and complicated because they may be discouraging.
Additionally, make sure that you provide diverse question types, not only multiple-choice questions. With various quiz games full of gamification elements, you can create an engaging learning game for everyone.
Mixed practice: to provide a variety of question types and allow students to work at their own pace
Check what question types online quiz maker tools offer – the more, the better. Various types of quiz questions make your quiz even more enjoyable and exciting.
Also, it's good to allow your students to work at their own pace. While filling out the quiz with many different questions, a quiz taker can go back to their answer and rewrite the text when needed.
Youengage: the powerful quiz maker for both teachers and students
Quizzes are a fantastic way to measure students' progress and get your pupils involved in the class. Still, you need an efficient online quiz maker to make an efficient quiz.
Choosing the best tool for teachers is not the most straightforward task. Therefore, we have provided a solution you may find useful – how about Youengage.me?
What is Youengage?
Youengage is an online tool that helps you build interactive content such as quizzes, surveys, polls, calculators, or live Q&A and numerous question types. The content is mobile device and desktop-friendly so that everyone can participate. It's great for distance learning, extra courses, assessment quizzes, or any type of educational institutions.
There is no need for software installation because Youengage is cloud-based.
Why Youengage is a great quiz maker for teachers: key features
Let's look at some of the benefits of Youengage that make this online quiz builder a powerful tool for teachers.
There are many question types and quiz templates available
Youengage offers a wide range of question types to make the content entertaining and engaging. By providing various types of content, the revision may be far more effective than repeatedly using the same question and answer types. Youengage.me offers many answer options:
multiple choice answers
picture choice answers
slider type answers
long text answers
short text answers
It is possible to set a time limit for your complex quizzes.
Additionally, you can use customizable templates for your quiz for students to fit your needs. Even though building engaging quizzes from scratch with Youengage is super quick, using a template will make the process even faster. With numerous templates, everyone can find something that works for them and build beautiful quizzes instead of using Google Sheets or other Google Drive solutions.
Youengage offers a rich image gallery for fun quizzes.
With Youengage, theme customization is a breeze. Thanks to the picture gallery, there is no need to look for the images through all the pages. Everything is gathered in one place, so choosing a picture for your quiz will take seconds. Of course, you can upload photos and images from your device. If you want to make your quiz even more fun, choose a gif! It would draw students' attention even more.
Youengage provides automatic grading and real-time feedback.
You save plenty of time by getting a scored quiz right after the submission because there is no need to count the points. Also, Youengage offers the analysis of responses to provide you with an even more insightful overview of student performance. This creates a solid base for individual feedback.
Add value to more complex questions to reward your students with Youengage.
You can add value points to your questions if they are more complex than the others. It is an advantageous option when you plan to use a quiz as a test. So if you want to appreciate your student for more advanced knowledge, it is one of the ways of doing this.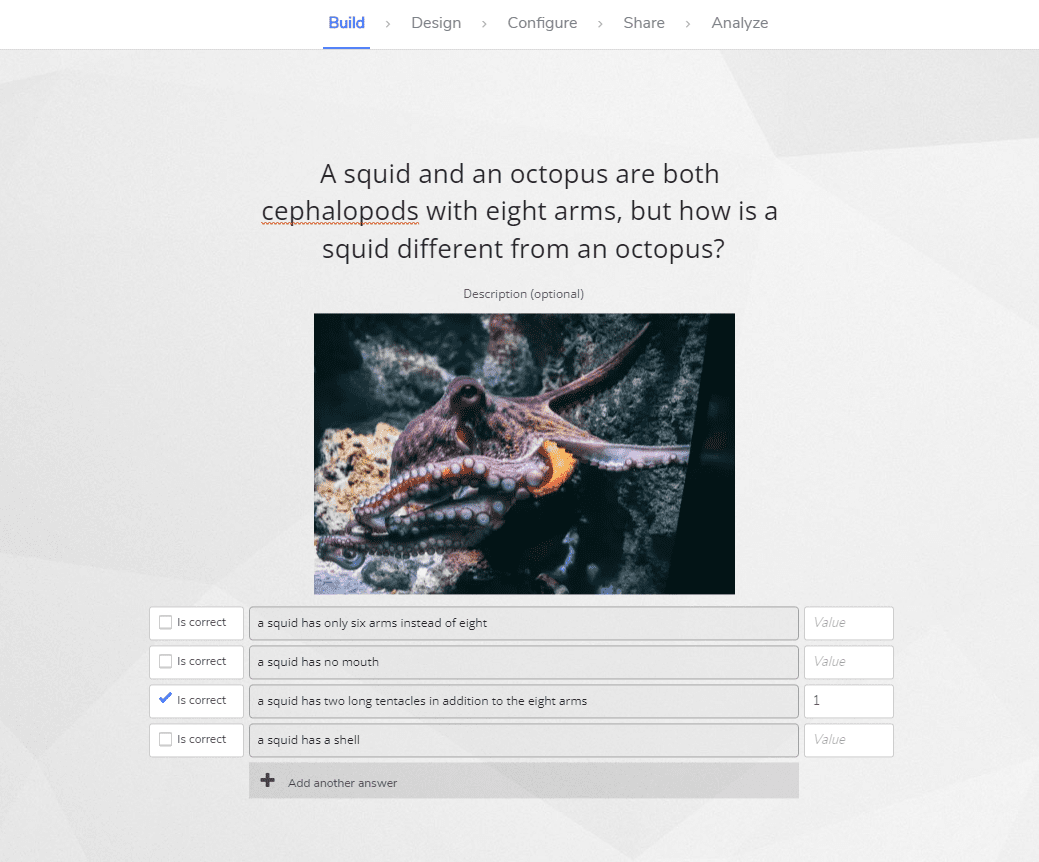 Youengage offers a discount for teachers.
Not many interactive quiz makers offer that. For teachers and students, there is a 35% discount. Check the education prices that Youengage offers.
How to use Youengage quiz maker for teachers in the classroom? Level: easy
With Youengage you can build customizable quizzes and then use them in the classroom in only 3 steps!
Step 1. Sign in
To use Youengage in your classroom, you need to sign up. Go to the My Projects tab once you are ready with the account.
Step. 2 Build your quiz
Then, click on Add new Project and select the content type you want to create. Score Quiz would be best for educational purposes. Next, enter the title and choose the question type.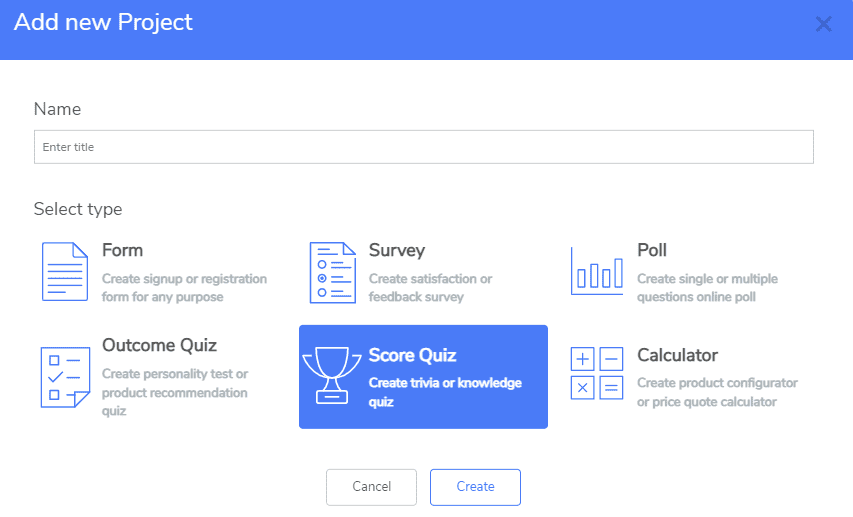 The intuitive interface allows the creation of interactive content in minutes.
Remember to mark the correct answer. Then, if the question is more challenging, you can add more value points next to the correct answer.
When you are ready with the question, you can customize the quiz in the Design tab – select the theme, customize the font, add a background image, and change the colors. You can make your online quizzes look exciting and encouraging thanks to customizable features. No matter if you go for colorful quizzes or not – you have some ready-made templates within a drag-and-drop builder at your disposal.
Then, in the Configure tab, you can manage social shares, branding, languages, custom variables, and integrations.
Step 3. Share your quiz
Go to the Share tab to share your quiz with the class. Youengage enables sharing using QR-code, URL or you can embed it in a web page. Display the code through a projector or send them the link via school email so everybody can access it.
You can also dive deep into advanced analytics. In the Analyze tab, you find metrics of:
times taken
completions and completion rate percentage
average time spent
views
starts
shares
Thanks to all the amazing features, creating an interactive quiz (or a trivia quiz, why not!?) is a piece of cake. Our support team is always ready to help you anytime in case of some problems! Among many other learning tools, online quiz makers allow you to create not only a fun quiz but a powerful means of student engagement to improve the learning process with real-time quiz results.
Conclusion
Before choosing a quiz maker for teachers, it is vital to check what features you need and what online quiz creator provides them. But maybe the best solution is in front of you? If you haven't decided yet, Youengage is a perfect tool for every teacher.
It provides a wide range of features for quick quiz building and sharing with students at ease – by displaying the QR code or by sharing a link. Creating an entire quiz from scratch won't be a hassle any longer – leverage drag-and-drop features, detailed reports, question styles, custom branding, beautiful forms, custom layouts, automatic scoring, and built-in solutions for effective assessments.
Why wait? Sign up for unique, interactive content for your students and be the one using online makers for teachers to enhance the experience coming from government institutions.