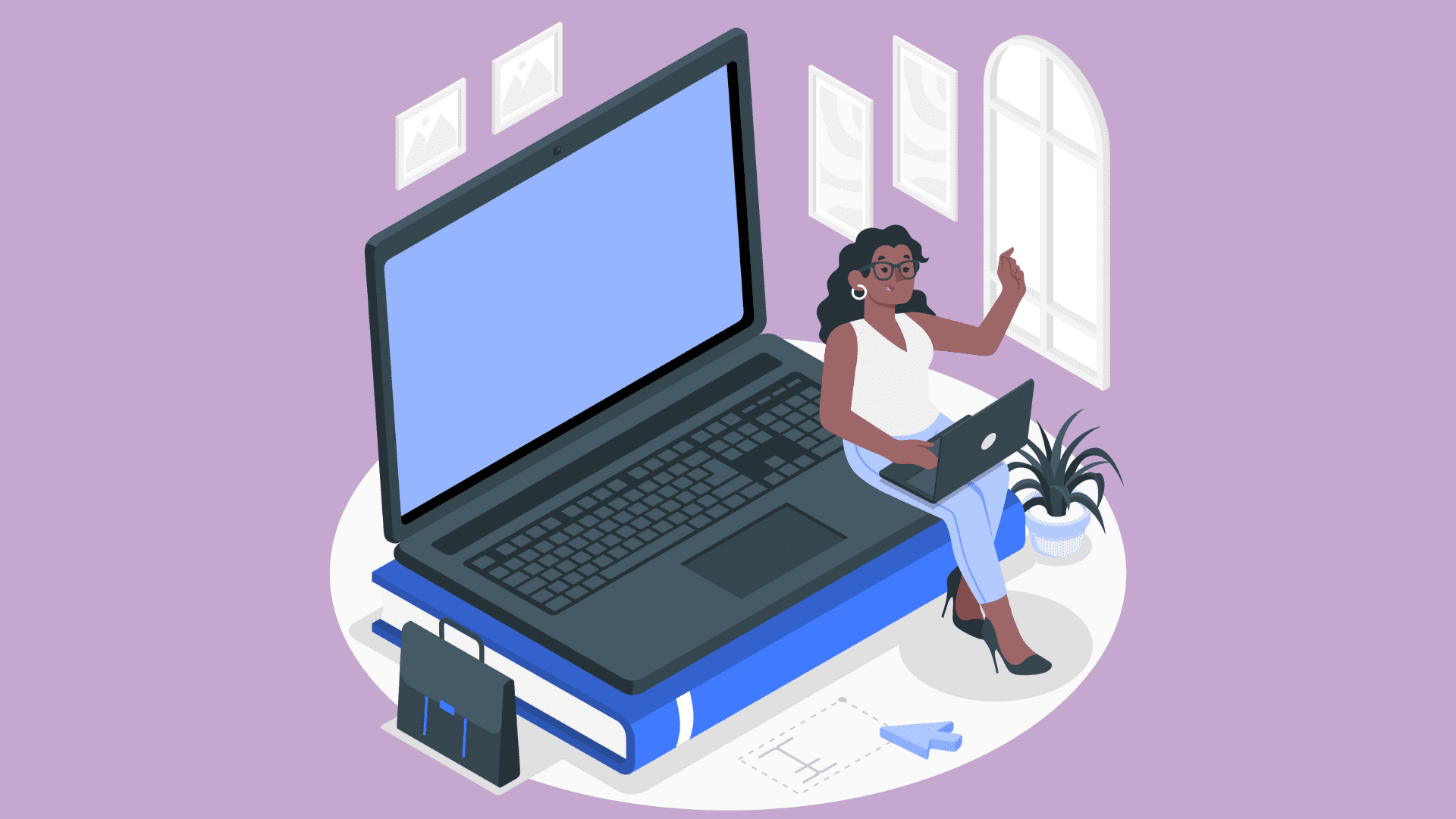 Surveying on a larger scale is an excellent source of meaningful insights to make your business decisions. If you have experience with this type of data collection, you may wonder how to make your surveys more effective and improve your survey completion rate. Today, we'll show you how.
With surveys, you can obtain information, measure your service satisfaction rate, get feedback on your product, and gather suggestions on what can be changed in your services. In other words, you can ask your survey recipients literally anything.
Unfortunately, even if you put your best effort into doing a survey, the results might not be as expected. For example, some people do not answer all the questions you asked and as a result, the completion rate is low. This article will help you prevent such situations, among others.
What is a survey completion rate?
The completion rate is the percentage of people who finished the survey after starting it. Measuring the completion rate helps determine how well the survey is performing – if there are any pain points or difficulties.
Survey completion rate vs. survey response rate
There is a difference between these two terms. Unfortunately, survey completion rates and survey response rates are very often confused, so let's make them clear.
The survey completion rate shows the number of people who completed your survey out of those who started your survey.
The survey response rate shows the number of people who completed your survey out of people whom the survey has been sent to.
If you need some exact details about the response rate, this is a good place to get started.
The most common types of surveys
There are many types of surveys, and these are the most common ones.
An online survey – One of the most popular survey types these days. An online survey is a set of questions sent to the target group via various means of online communication channels like email (email surveys), social media platforms, a blog post, or when it's embedded on a website. When using emails, make sure also to integrate the Salesforce SPF to ensure your emails are secure and properly authenticated.
A phone survey – When a target group is reached by phone, it is a phone survey. It needs to be said that this method is not as effective as carrying out online surveys. Fewer and fewer people answer their phones when they see an unknown number. That's why companies may use a lookup service (e.g. from The Data Group) to see caller information at a glance.
A paper survey – This method is helpful when there is no internet connection and no option to use a phone or a computer to reach the target group.
An in-person survey – A survey that you conduct with a person during a face-to-face meeting.
Reasons for not completing surveys
There are many reasons why people give up on continuing to answer your questions. If your survey is too long and includes vague questions, there is a chance that respondents will not complete the survey.
A bland, monotonous, and poorly written survey can also cause a low completion rate. In addition, the lack of a variety of questions types can tire the reader and increase the chance of giving up during the survey.
Sometimes surveys include sensitive questions without any trigger warnings. If you ask questions related to your participants' personal lives, this could be a reason why they leave without completing the survey.
If the survey is not sent to your target group, people will likely give up on answering the survey because the questions do not concern them.
This article provides popular hacks for improving the survey completion rate so yours won't look like the ones described above.
Effective hacks to improve your survey completion rate
If you're looking to significantly increase your completion rate, here are some great starting points.
#1 Set the goal of your survey
Think of your survey's aim, what data you would like to collect, and its purpose. Thank this awesome hack of having a clear goal in your head, it will keep you motivated to make the survey the best it can be. Ask yourself those questions:
Why do I want to run this survey? What is the purpose?
What is my survey target group?
How will it help me or my business?
How can I use for persona driven marketing strategy?
#2 Write a brief introduction
Start your survey with an exciting introduction to attract readers. It's good to write a couple of words for potential respondents. Make the introduction to encourage recipients to enter the survey and answer the questions. Invite the readers to be a part of something bigger.
In your introduction, give the readers a hint of the problem you want to solve. Let readers know that they would contribute to something meaningful. Doing something that matters is also a factor that motivates the reader to answer your questions.
#3 Avoid asking too many questions
The length of the survey may be one of the reasons why people give up on finishing the survey. It is hard to say precisely how short or long it should be. The best practice is to keep it as short as possible.
The general rule of thumb is that anything more than ten questions is too many. To reduce the number of questions, check if there are any repetitive questions and consider removing the redundant ones.
#4 Make it easy to navigate
Make sure that taking part in your survey is a pleasant experience. Make it logically built and easy to navigate.
Check if it is possible to get back to previous questions. For example, if someone changes their mind or misclicks the answer, make it easy for respondents to view the earlier questions and survey answers.
#5 Use simple language in your questions
Use simple language and structure concise questions to make them easy to understand. Try to construct the question so that there is no need for the reader to reread it.
TIP: Use everyday language and a simple grammatical structure to get relevant responses.
Using jargon and confusing language may be a factor that lowers your survey completion rate. Using too much professional terminology can be distracting, and there is a chance that readers will be more prone to give up on completing the survey because they do not understand the questions.
#6 Avoid double-barrelled questions
Avoid asking double-barrelled questions. They are questions with two options where the reader is supposed to choose only one. Respondents may feel misled, and the answer will bring invalid survey results.
Here's an example:
❌ How would you rate our support team and shipping time?
Ask separately about these two aspects instead:
✔️ How would you rate our support team?
✔️ How would you rate the shipping time?
#7 Avoid leading questions
Leading questions are those that suggest the answer, which can result in unreliable responses. Try not to use suggestive words that lead respondents toward one of the options.
An example of a leading question:
❌ How amazing do you find our customer service?
In this customer feedback survey question, you can see the implied assumption that the service was amazing. Here's how to phrase it instead:
✔️ How do you rate our customer service?
With this simple hack, you give respondents the chance to rate their customer experiences with honesty.
#8 Give instructions on how to answer questions
To support the reader and improve their survey experience, write the instructions for your questions. It's a good practice to include the information at the beginning of the survey. For example, what should the reader click to choose the question or how to skip to the next point if it's necessary.
When you create surveys with Youengage.me, the interface is very intuitive for both: the respondents and the person creating the survey.
#9 Use images or videos to diversify the survey
To make the survey attractive, use images, gifs, or videos. Choose those that relate to the question or the topic you have the survey on. If it's suitable, you can go with multimedia. Pictures, videos, or gifs are great for engaging the reader and creating a bit of variety. If you're using someone else's content (e.g. PC games), remember to link to the source.
#10 Thank your respondents for their time to boost survey completion rate
When respondents answer all your questions, thank them for completing the survey and for their time. You can also write a couple of words expressing gratitude for their help. With this excellent hack, you will also improve the survey user experience.
#11 Make it mobile-friendly
Did you know that around 80% of smartphone users in the United States have made an online purchase in the past six months? So when embedding a survey on your eCommerce website, it is good to think about mobile users. Thanks to this magic hack, you will improve your survey completion rate. If the survey is only for desktops, it would be harder for respondents to answer.
Youengage.me meets the criteria and offers a very convenient version for desktop and mobile users.
#12 Use a progress bar to show how many questions there are left
Place a progress bar, so respondents know how much of the survey they have completed. Thanks to this smart hack, people see the number of questions they have already answered and how many are ahead.
#13 Offer an incentive for completing the survey
You can use an incentive as a motivation for your respondents. For instance, if you have an online shop (or using Shopify inbox alternatives), a discount or reward points might encourage them to finish the survey. This nifty hack is definitely worth considering.
#14 Check the survey before sending it to respondents
Ensure that your survey is clear and doesn't have any typos or logical mistakes. It is a good idea to ask your colleagues to complete the survey to check its coherence, spelling and overall look and feel.
#15 Use a dedicated tool for doing your survey
A tool like Youengage.me helps you make your survey better, faster, and more effective.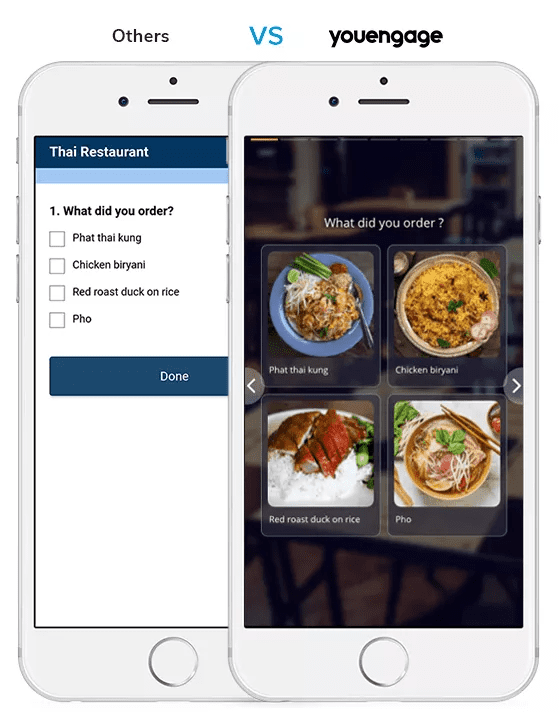 Here are some extra details about creating a survey if you are interested.
Improve your survey completion rate with Youengage.me
To improve the process of building a survey, check out what Youengage.me has to offer.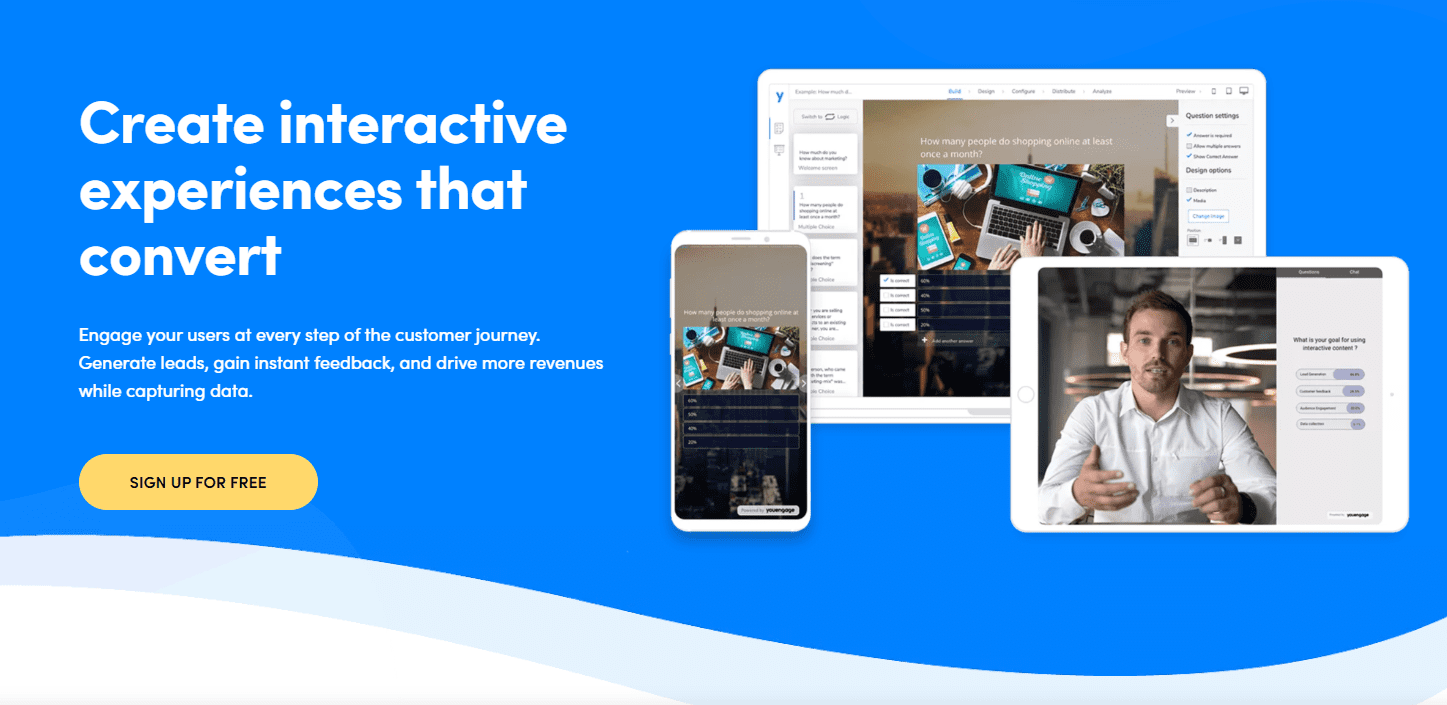 With YouEngage, you can build and design a survey very quickly. Thanks to many features, you save time and get an incredible design for your survey.
You can customize the survey by adding pictures, gifs, and changing the fonts, colors, or sizes of your images and copy. You can also check how the online survey would look on the desktop or a mobile device due to the overview option.
Respondents can answer questions on the go using mobile devices.
There are plenty of ready-to-use templates. Starting from customer satisfaction survey templates and ending with an event feedback survey. If you need inspiration, use a template and change it according to your needs. Our picture gallery provides a wide range of image choices. You can find amazing pictures suitable for any type of survey.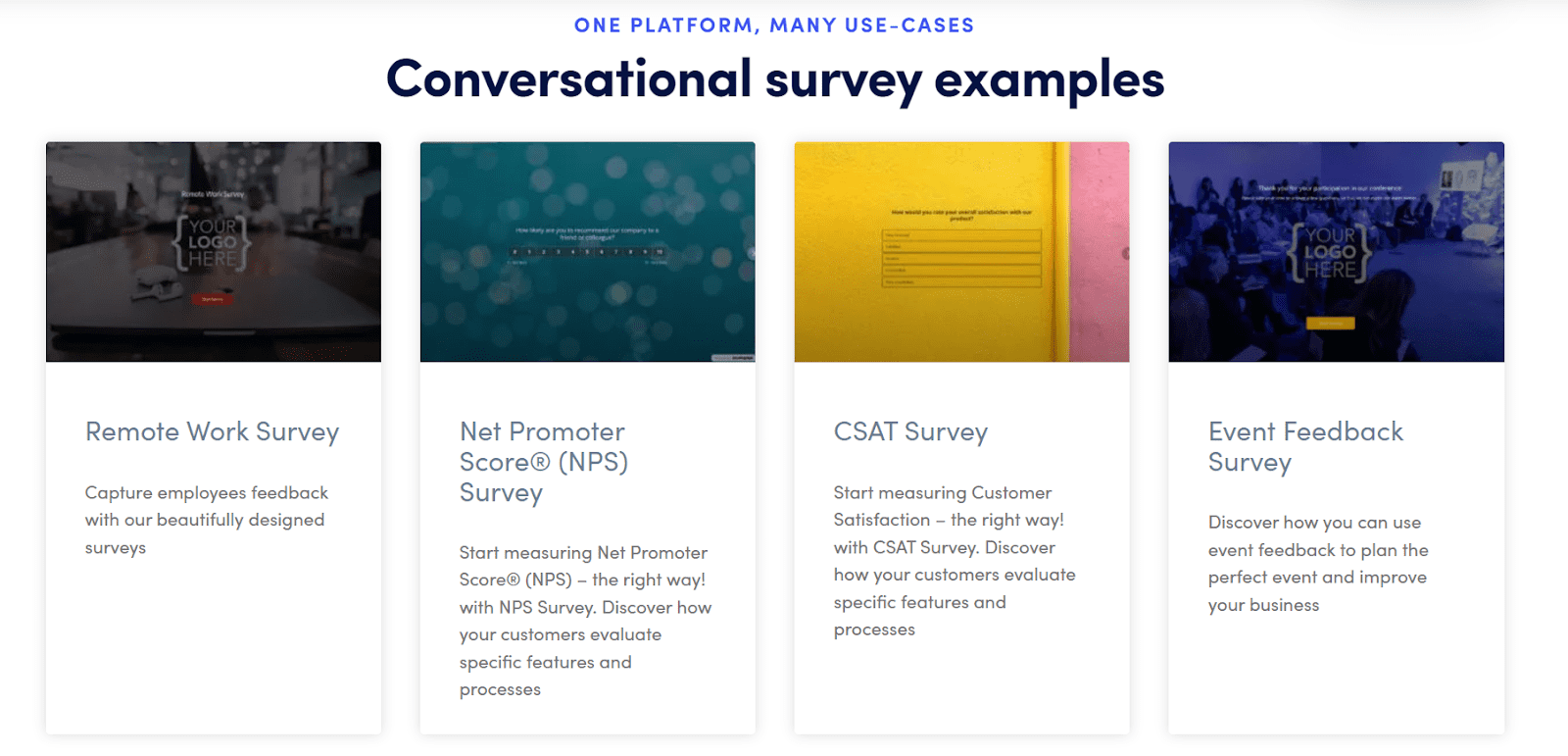 You can easily share a survey and reach out to your target audience. Sharing the survey takes just a moment. Then, you can send a link or embed it easily wherever you need it – on a website, email, social media, and more.
Youengage.me surveys are easy to navigate. Respondents can switch between questions to change answers. It works perfectly on a horizontal and vertical view. All features make the process of responding a positive and enjoyable experience.
Moreover, the tool provides an analysis of the performance of the survey. Once you have gathered data, Youengage.me will help you analyze your findings. It is a fantastic feature that can help make further business decisions.
Creating a survey that people want to answer makes it fun and diversified. With us you can create various types of responses:
Multiple Choice – Respondents can choose more than one answer.
Slider – By dragging a slider, respondents give a very detailed response.
Rating – Choose a shape and let the respondent rate the product or experience by creating a 5-point scale.
Picture choice – Add some pictures to your answers.
Linear Scale – This type is used for questions like "Choose from 0-10; how much did you enjoy the process of creating a survey on Youengage.me".
Short Text – It is used to gather quick answers like names.
Long Text – You can create open-ended questions to collect longer answers.
Email – If you want to ask about respondents' email addresses.
Phone Number – Choose this option if you're getting the respondents' phone numbers.
Website – You can embed a link in the answer.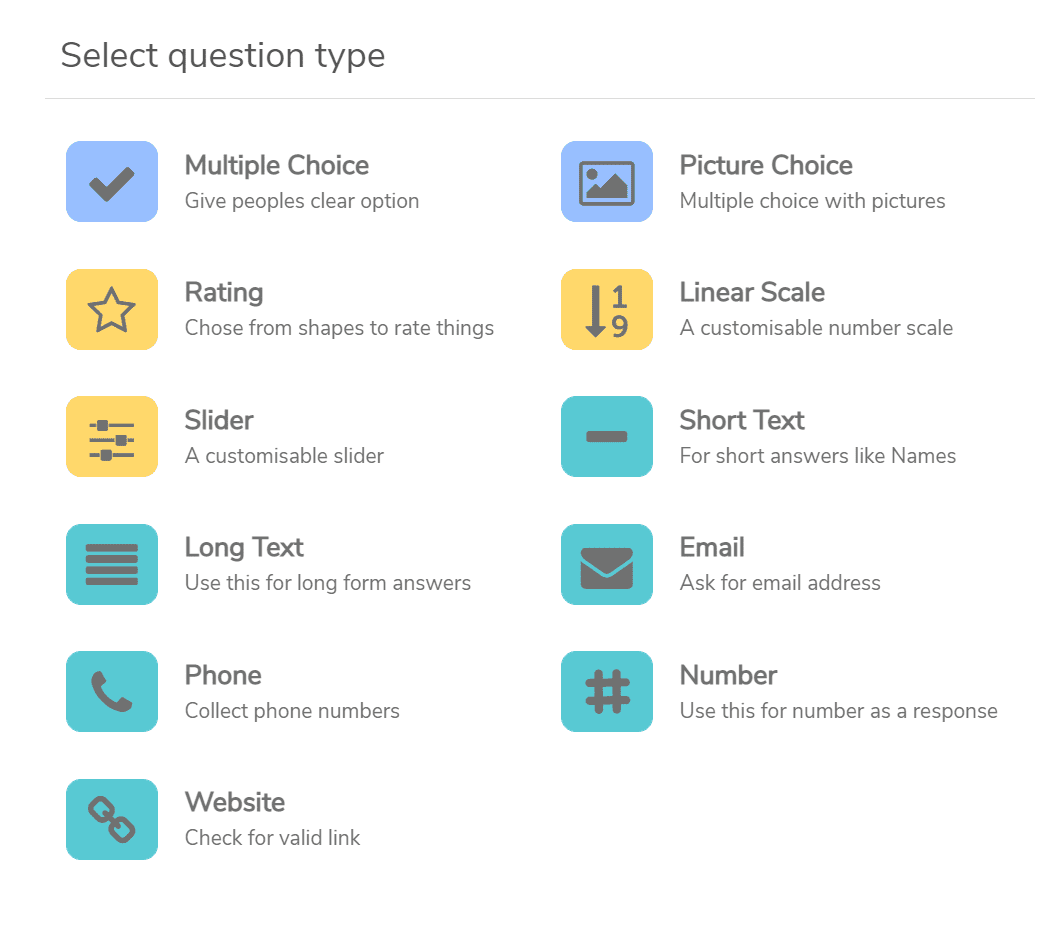 Thanks to a custom thank you screen, you do not have to worry about how to express gratitude to the respondents for taking their time. It is essential to take care of this detail while conducting surveys.
With us, all the data is safe. All the gathered information is private and secure, so only you can access it. In addition, we offer GDPR-enhancement features and provide comprehensive data protection.
If you host a live event, our platform is great for such occasions – panel discussions, webinars, conferences, etc. You can share the survey with the participants in a few seconds and see the results in real-time. It is an excellent way of engaging the audience during the meeting. It also offers interactive forms, and it's great for making engagements such as job application forms, a conversational contact form, compliant forms, a user registration form, market research surveys, form abandonment for tracking abandonment rates, and more. You can also add it to your footer, so whoever signs up via an online booking system can get such a mail from you, and then you can add it to your real time customer card.
Improve your survey completion rate today!
Creating an effective survey that brings meaningful results is not as easy as it seems. But, thanks to the tips we provided, your survey completion rate will be higher, and you will get accurate and qualitative responses.
Use an online survey tool to get even more insightful answers and provide your respondents a great survey experience with Youengage.me! Sign up for a free trial to get accurate survey results, unlimited surveys, and unlimited questions.