There is nothing extraordinary that marketers' eternal desire is to increase sales and engagement on every step of the customer experience as e-commerce grows and develops. So the customers do, and this development affects both sides, e-commerce owners and consumers. Wanting to meet more customers' individual needs, marketers must find new ways to attract them and bring a lot more than just a product to their online stores. Same as sales people use landline services for call tracking or business phone numbers for better communication, marketers and eCommerce geeks leverage quizzes.
It is more than sure that the old way of selling things online will be forgotten sooner or later. It is not enough anymore to create an online store, put products there, and start selling using Google or Facebook ads. Marketers simply can not afford campaigns based on insufficient data, especially in the light of third-party cookie death.
While many are scratching their heads trying to figure out how to create effective campaigns, others are already successfully using tools to provide personalized shopping experiences that fit consumer's needs.
83% of shoppers are willing to share personal data, including e-mail, age, name, cell phone number, and much more, to create personalized shopping experiences and avoid spam emails with trashy offers that have no value for them. Consumers today are EXPECTING personalized recommendations that shortcut the way from entering the website to purchasing.
While customers desire a personalized shopping experience, marketers struggle to deliver their expectations. 73% of customers believe that brands cannot bring real personal shopping experience that fits their actual needs. No big heads are needed to see the awaiting opportunity in between.
Arne Stamer who founded www.my-package-tracking.com and knows a thing or two about the eCommerce spaces says "With customer expectations for personalized shopping experiences on the rise, marketers must embrace the challenge. The fact that 73% of customers recognize the difficulty brands have in delivering a truly personal experience presents a huge opportunity to create a shopping experience that both engages and delights. The key to achieving this is through leveraging data-driven customer insights to create something truly tailor-made – an experience that not only meets but exceeds customer demands (in a clever way)."
Welcome to Zero-Party Data!
As Forester defines zero-party data, it is " Data that a consumer intentionally and proactively shares with a brand. This may include preference center data, purchase intentions, personal context, and how the individual wants the brand to recognizes her" This means nothing more than "Ask, recognize and solve" crucial points in understanding customer's references and future intentions to create specific offers.
Zero-Party Data allows marketers to collect data directly from consumers using quizzes, calculators, polls, and other interactive marketing tools. As a marketer, you no longer have to assume if consumers are willing to share their data with you. You bring engagement, and if they find you trustworthy, the rest is just a matter of a few clicks.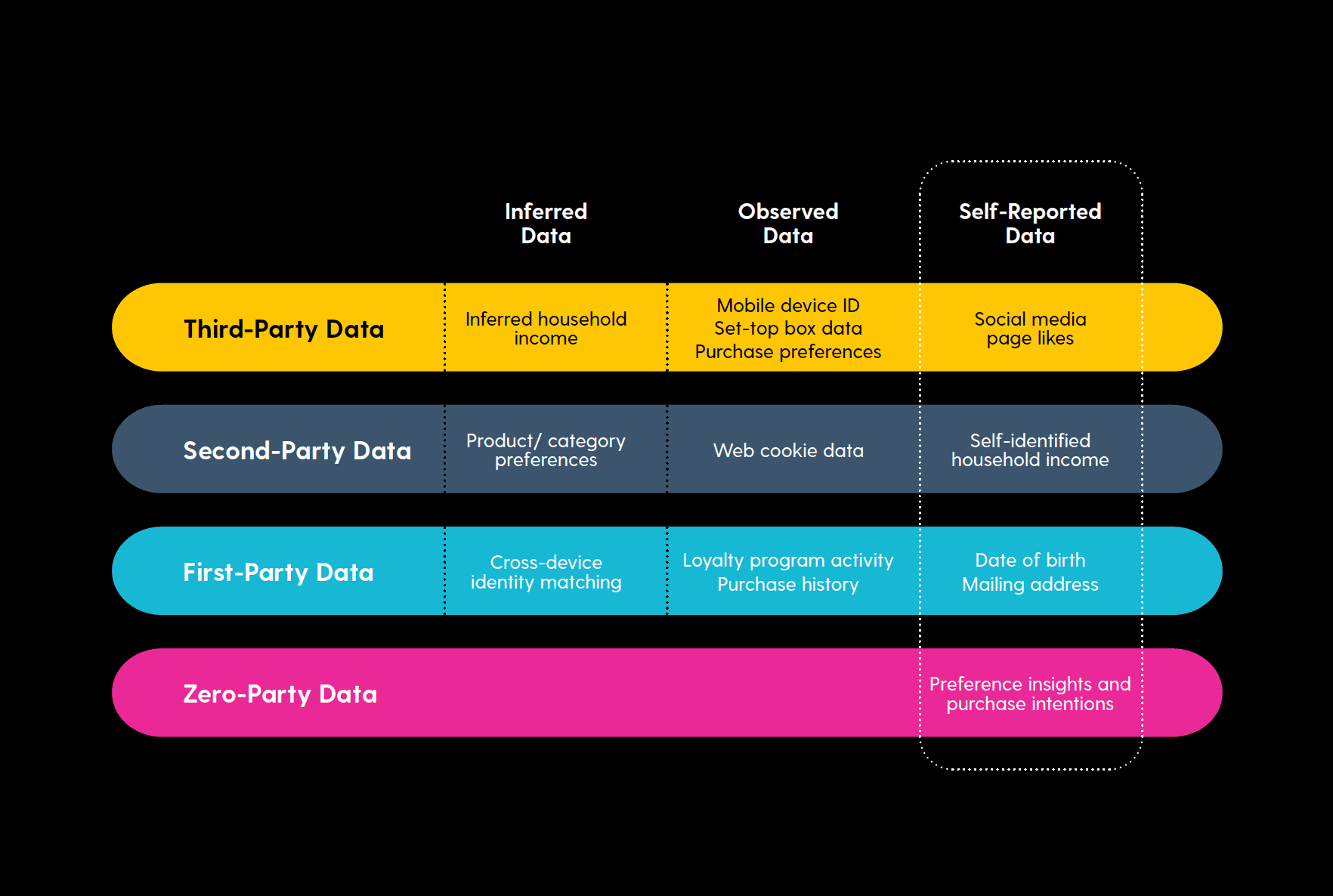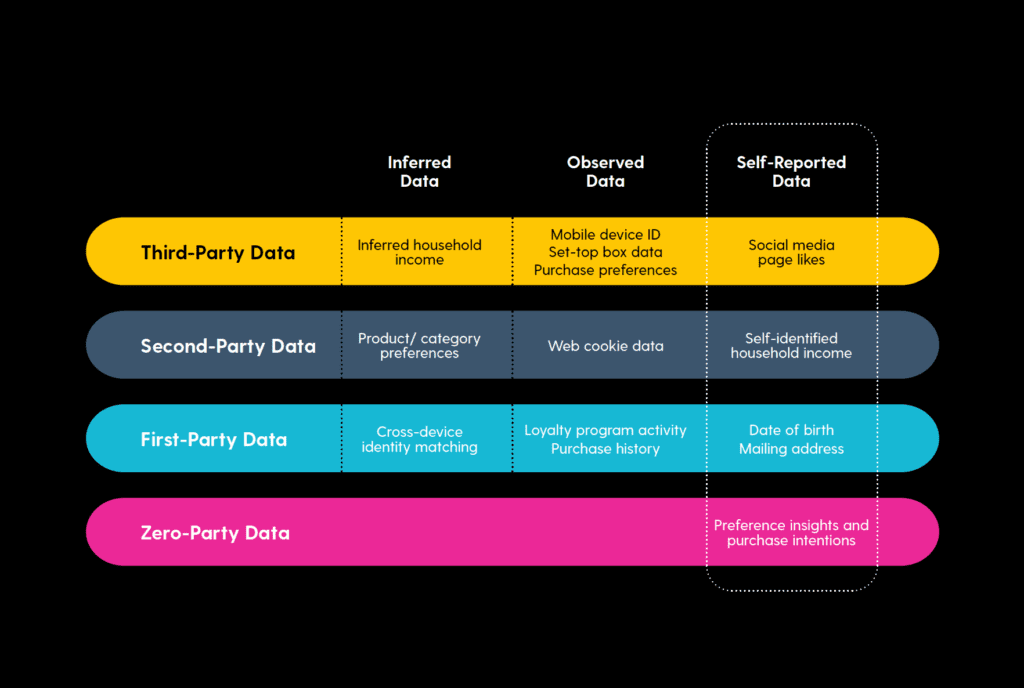 Quizzes As Marketing Tools
If you are struggling with collecting zero-party data, you need to consider starting quizzes and other interactive tools that allow you to gather valuable data. Entertainment is the key to keep your audience engaged. Consumers want to receive something in return, and this is an excellent opportunity to use a quiz to educate on their problems and solutions to drive more repeat purchases.
80% of shoppers are more likely to purchase if a brand offers a personalized shopping experience. 44% of them declare they are likely to become repeat buyers after experiencing a customized shopping experience. It means that using a quiz eliminates the assuming part to put the right products in front of the right client when he needs them.
Interactive content converts nearly 2x more than static content. It is because a quiz arouses natural curiosity. People simply want to know what's hidden behind a quiz for me, and the most important thing is that they love to share the results! So the more valuable, fun, and entertaining the quiz is, the more sharable it is.
Useful Quiz Examples
Talking more specifically about quizzes, you can find a few practical examples to get inspired. Even tho, we're taking quizzes on the fork today, remember that interactive content is not just a quiz. You can use calculators as well as assessments.
Example #1 – Beauty eCommerce Quiz – Skin Type Product Recommendation
The beauty of a quiz is in its simplicity. You can create an excellent lead generation tool by asking just a few questions. Putting a quiz on your homepage and emphasizing its value of personalization gives your brand an expert position. The value for the consumer is the shortcut from entering the website to a suitable product recommendation. But what is even more valuable is that you can use gathered data in user segmentation in your future marketing campaigns and remarketing process based on their specific profile.
In the quiz below, we find out about consumers skin concerns, age, a particular need, and even the probability of buying a new skincare product by asking her to show us "how your skincare shelf looks like"
If you precise your questions well, the answers will hit the goal you want to achieve.
Example #2 – Product Recommendation Ecommerce Quiz
The art of sleeping, according to Boll&Branch, helps consumers to find the best bedding sheets based on their body temperature, sleeping habits, morning routines, and more. This helps to personalize bedding preferences and other products that the store has on its offer.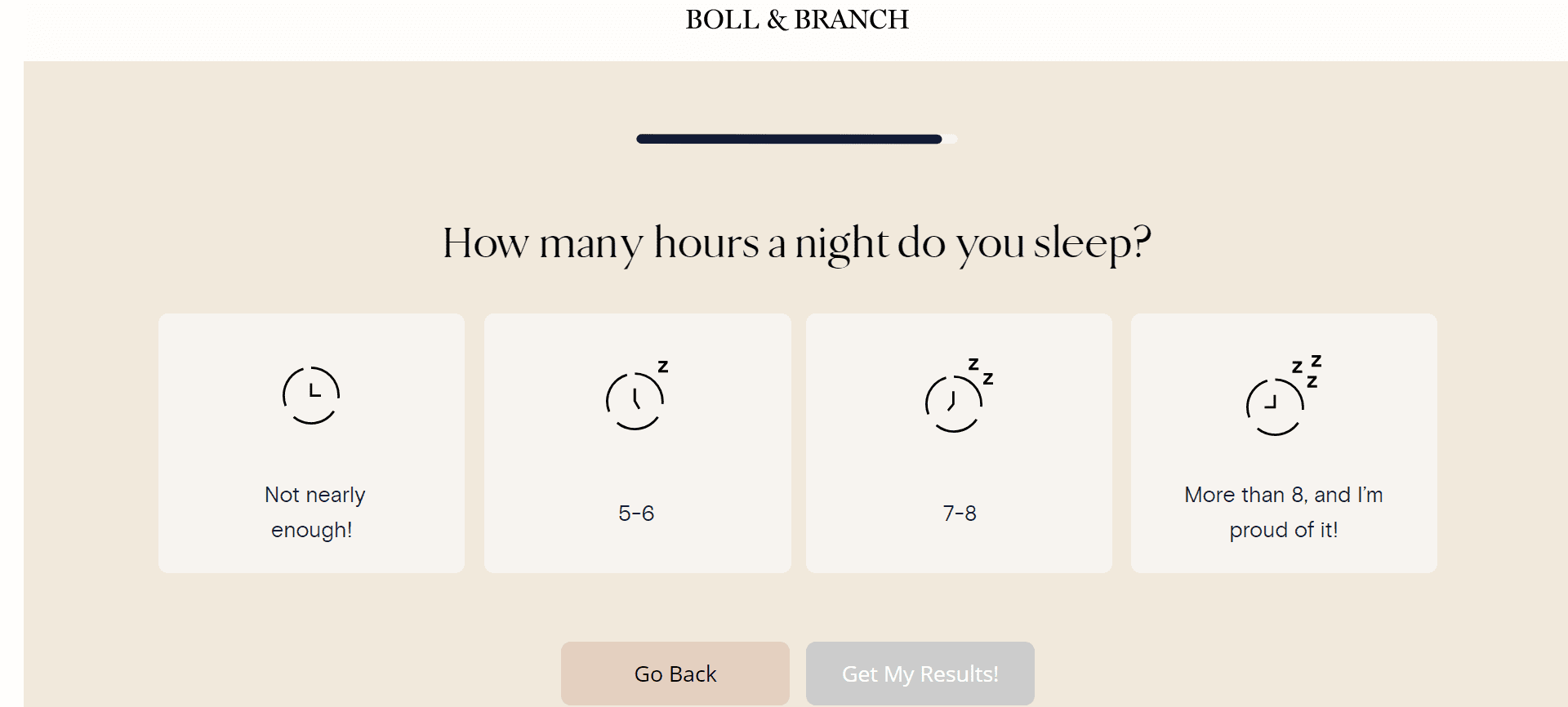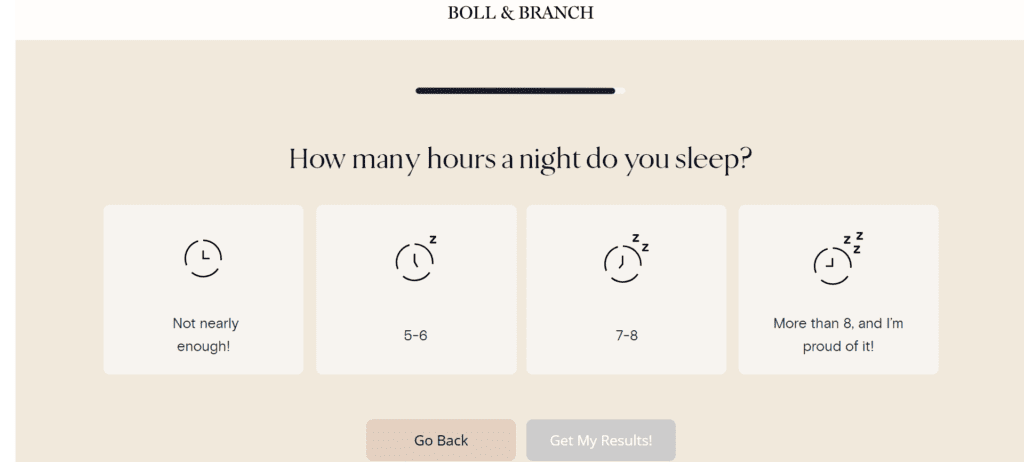 Example #3 – Product Recommendation Ecommerce Quiz
Atom offers a one-minute quiz to find the best type of shoes based on your daily activities. The brand offers fit and matchy shoes for your everyday needs, including consumer's references on wearing shoes with or without socks! A range of selected shoes on your sizes drops right on your e-mail.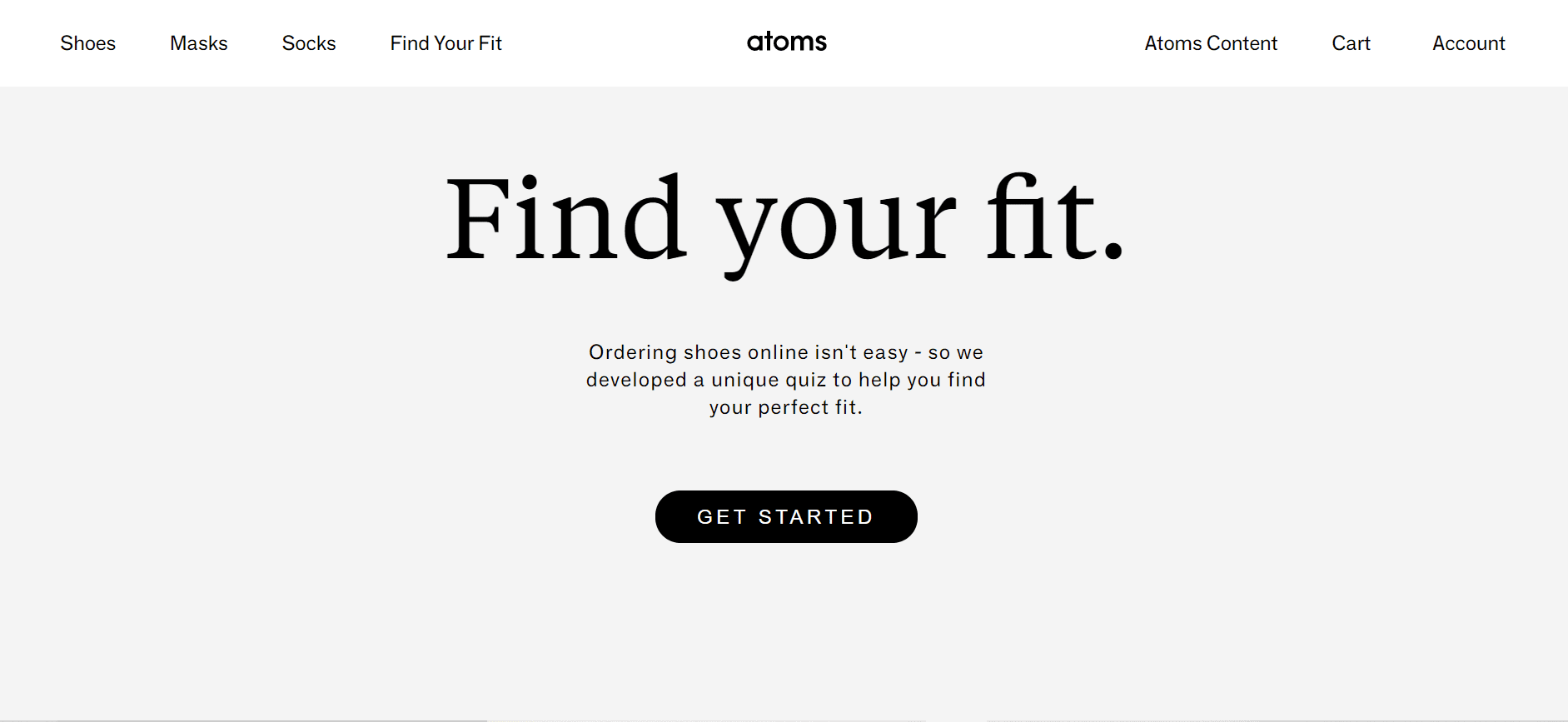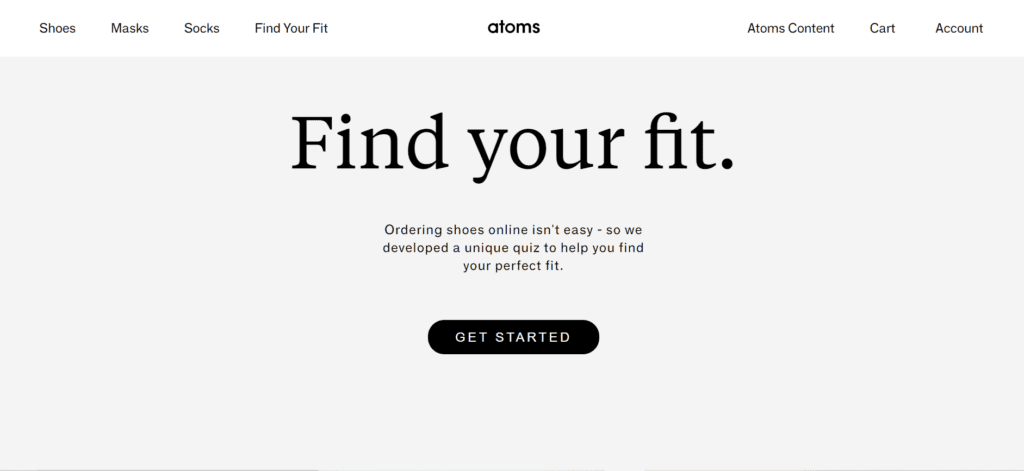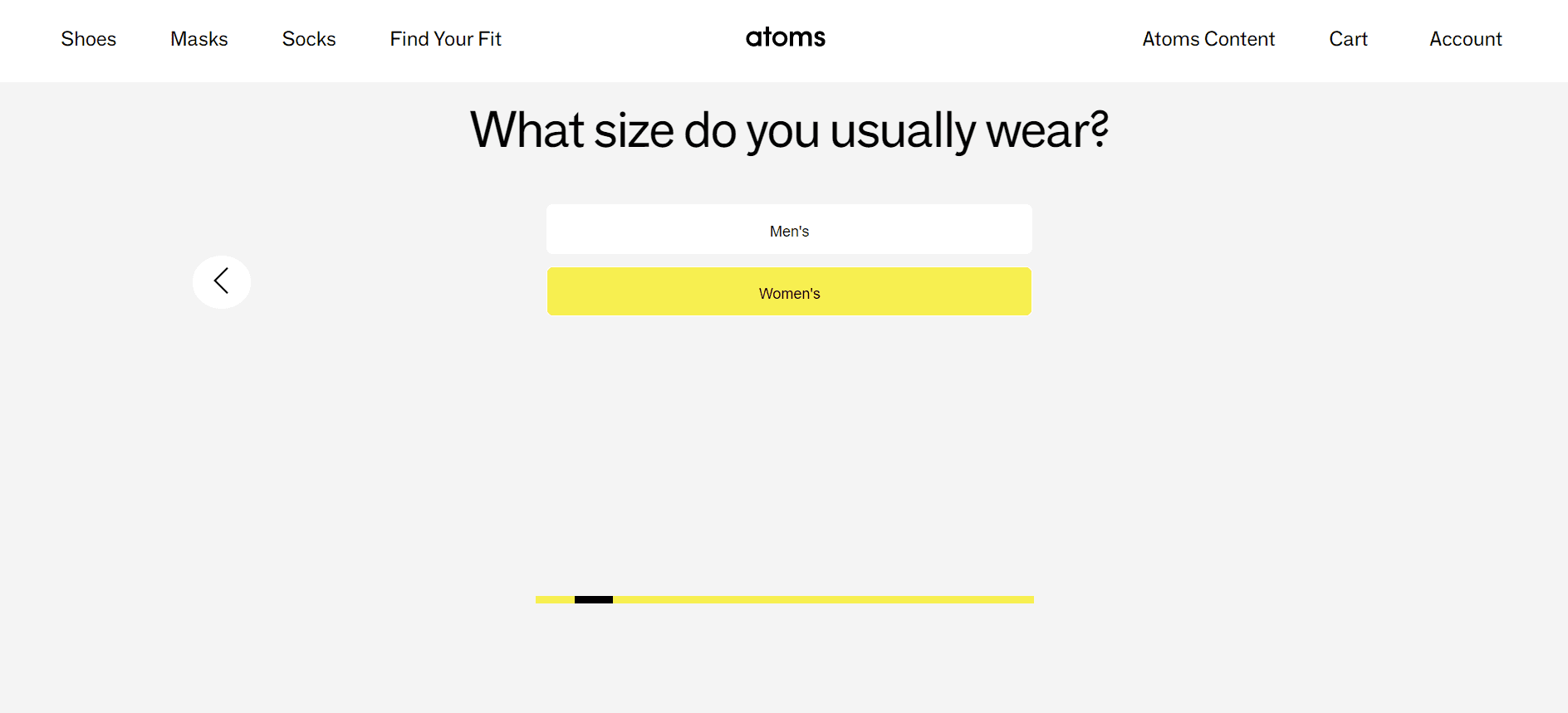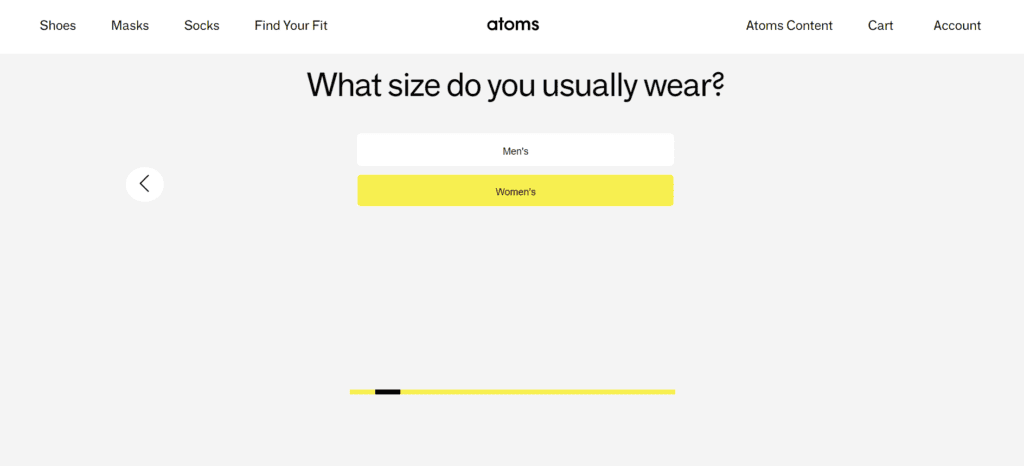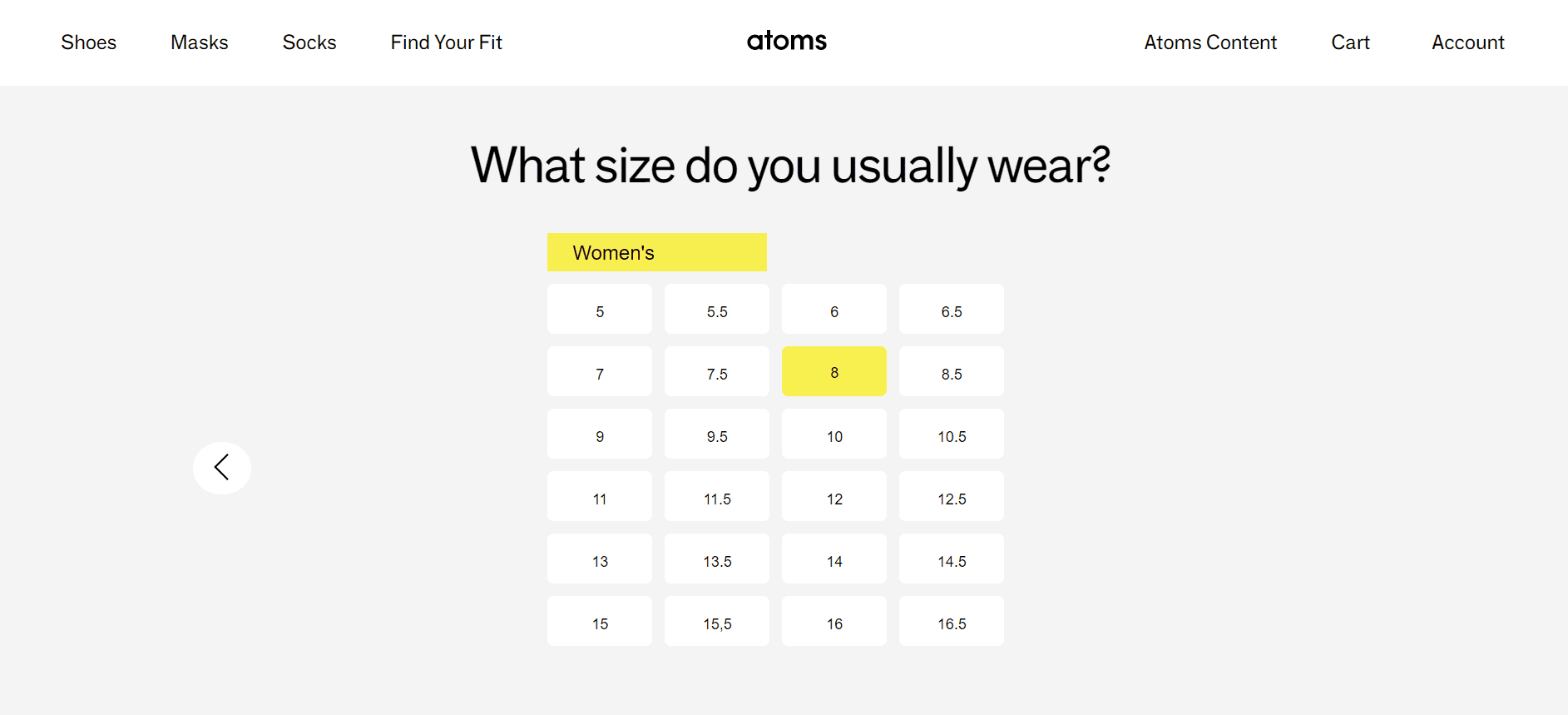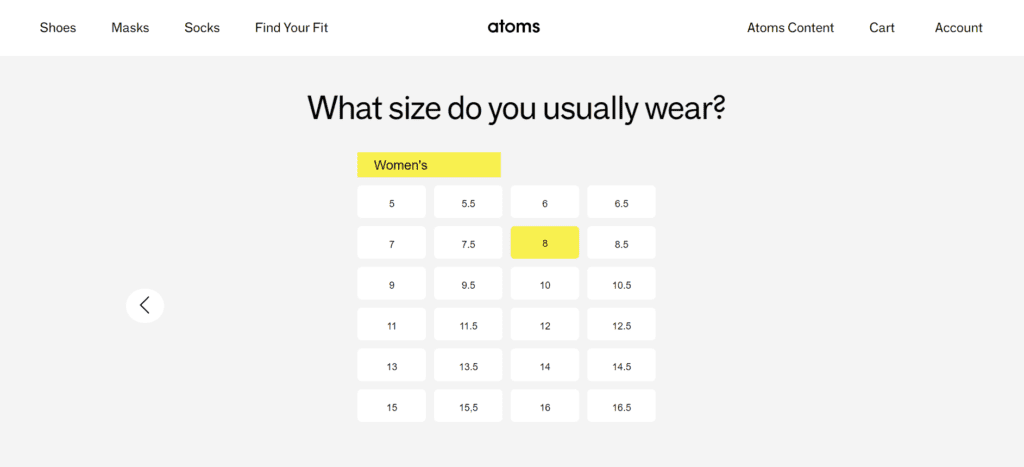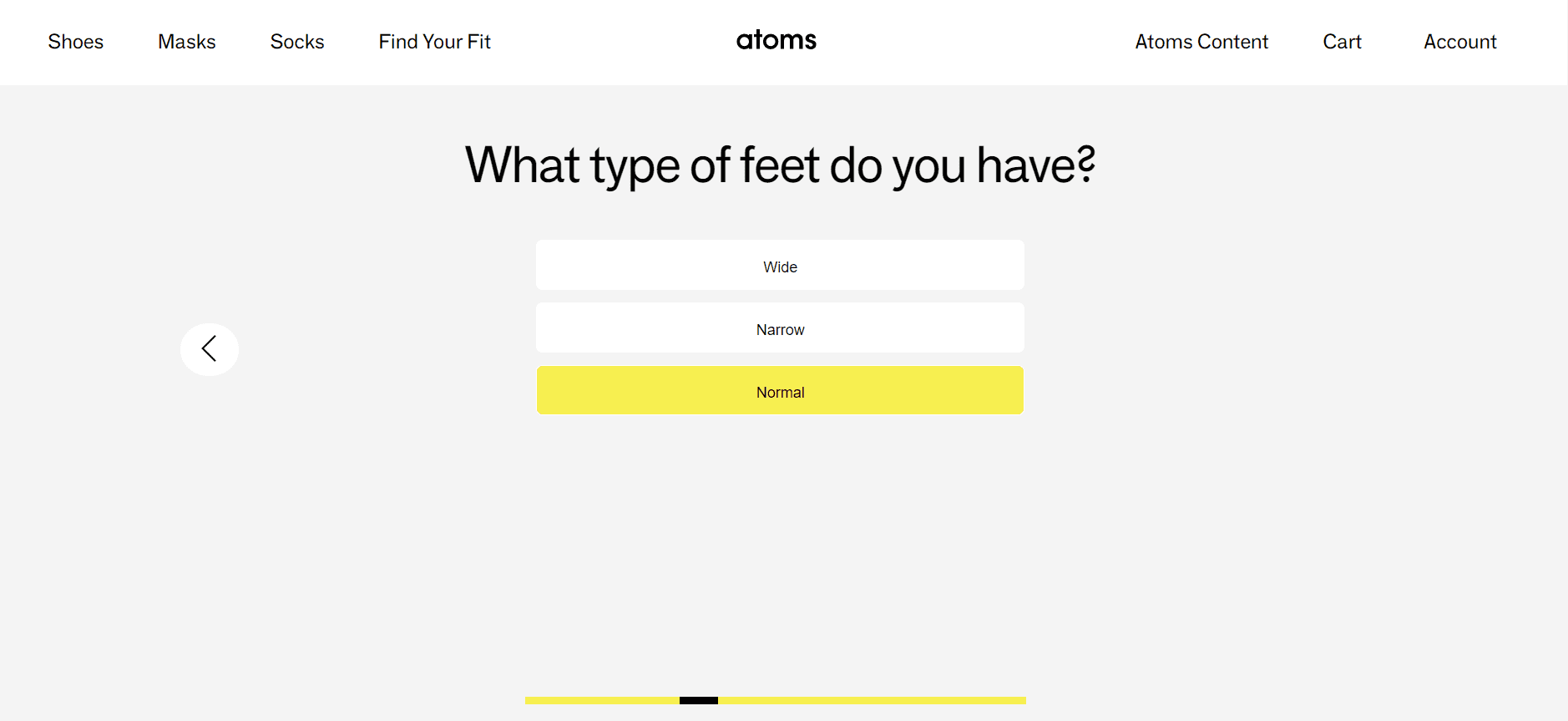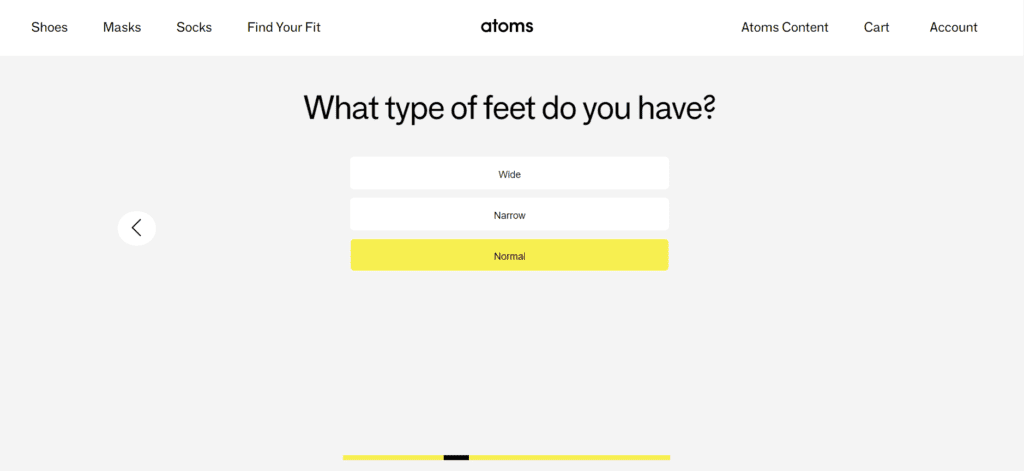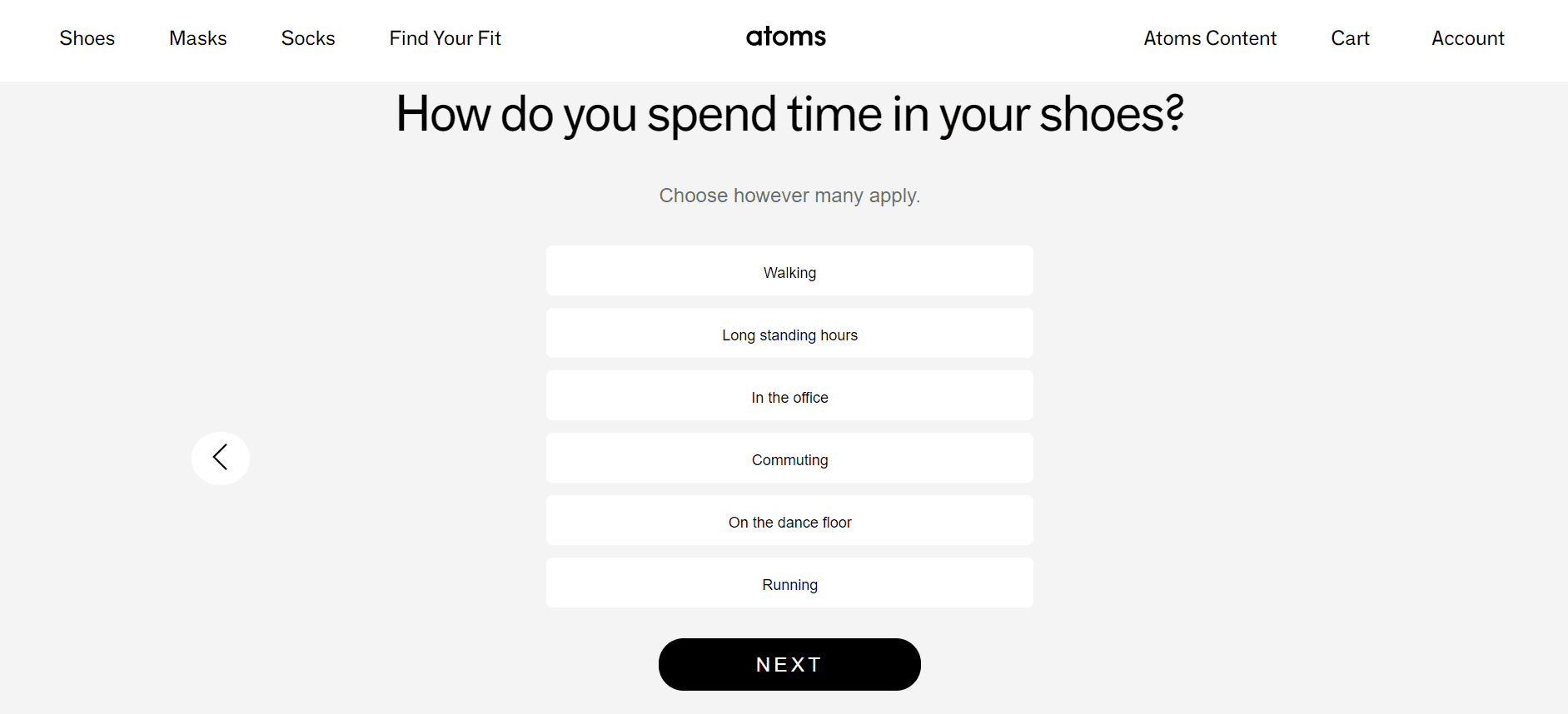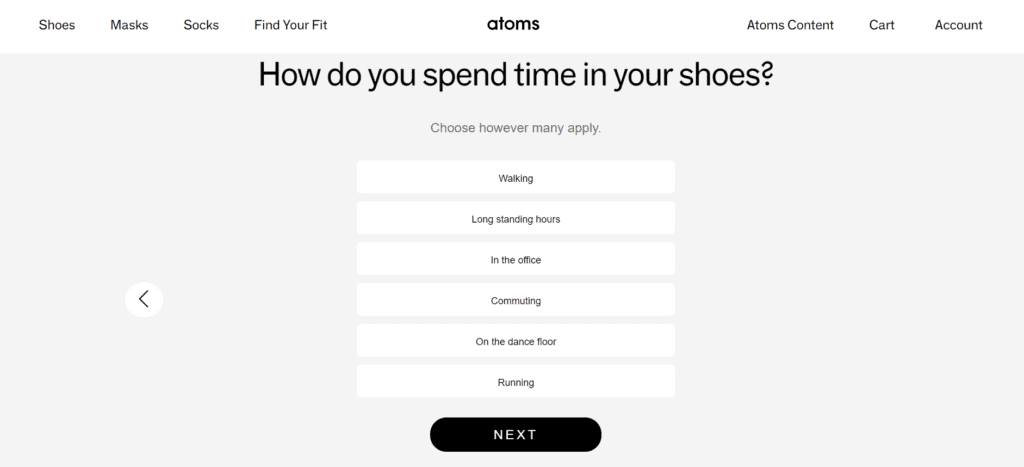 There are so many ways you can use a quiz to gather valuable data! Running a bookstore? Selling baby products? Try our eCommerce quiz templates to create for your business today!