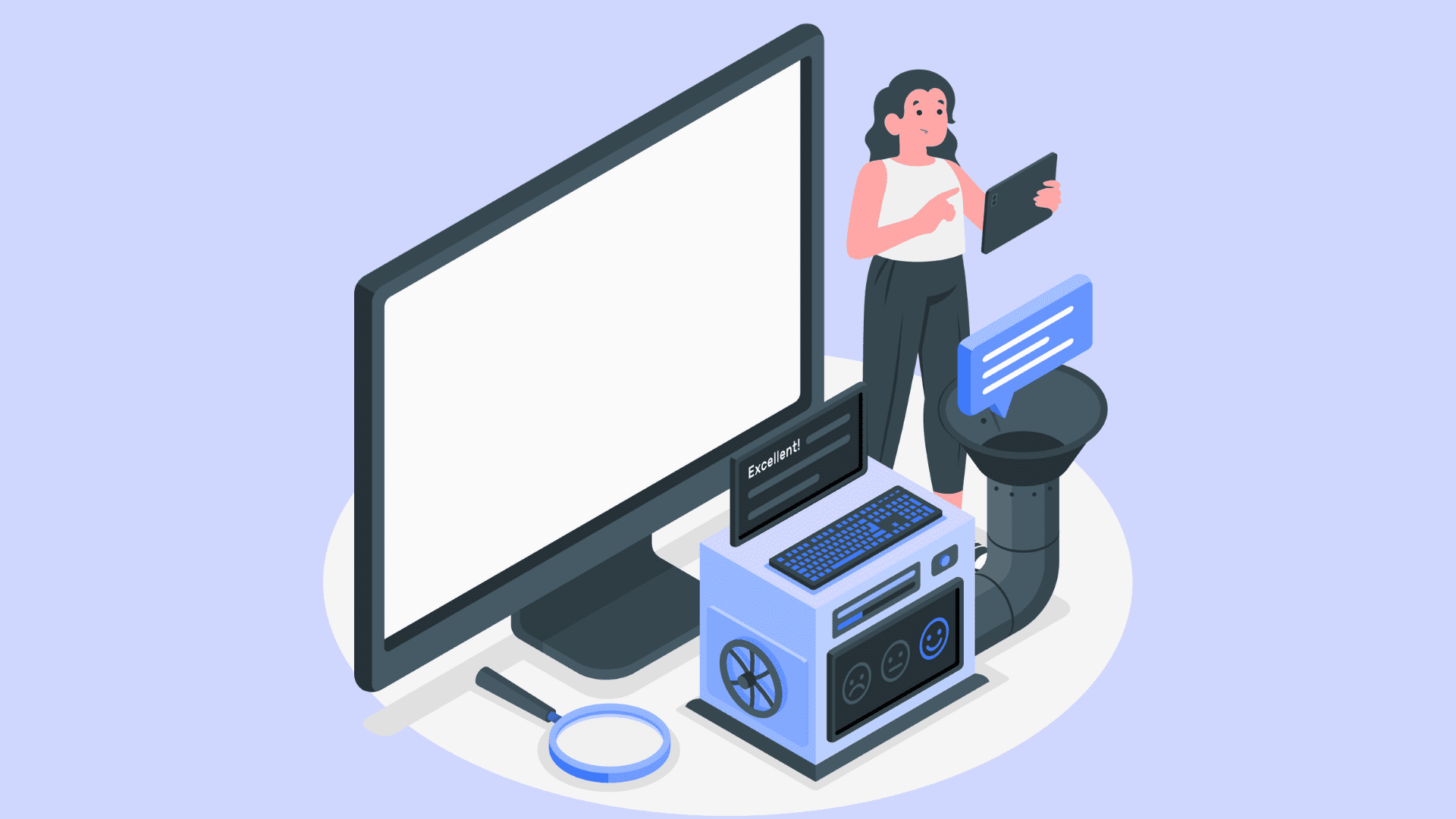 Free online tools like survey makers seem to attract more and more fans as the software as a service market grows.And it's honestly no surprise for us – why wouldn't you want to use something reliable totally for free? We get it. Today, we take a closer look at a survey creator called SurveyMonkey. Our goal is to check if it belongs to the "free tools" group. Is SurveyMonkey actually free?
If you want to find out with us – sit comfortably and get ready for a dose of insightful knowledge.
What is SurveyMonkey?
SurveyMonkey is a web-based survey software that allows users to create, send, and analyze surveys.
Using SurveyMonkey, users can email surveys directly to respondents and even post them on their social media profiles and websites. This, in turn, gives them a chance to significantly improve their survey response rate.
Tip: Check out our article on 15 hacks to improve your survey completion rate.
SurveyMonkey is a fairly popular solution, with users being companies like Sephora, Hershey's, Verizon and Box.
This tools' motto is: "Built for businesses, designed for people, loved by teams."
But since you're probably here to talk about money (is SurveyMonkey free or not?), let's look at how budget-friendly (or not) this tool is.
SurveyMonkey – plans and features
When looking to sign up for SurveyMonkey, you'll have to choose one plan from 1 of the 3 available categories:
Team Plans,
Individual Plans,
Enterprise Plan.
While the sing-up itself doesn't cost anything, every plan this tool offers comes with some kind of a fee.
Team Plans:
SurveyMonkey offers 3 different solutions for teams and organizations looking to create surveys using their software. Here's what they are:
TEAM ADVANTAGE
TEAM PREMIER
ENTERPRISE
120 PLN/ user/ month
310 PLN/ user/ month
individual quota
starting at 3 users, billed annually
starting at 3 users, billed annually
individual arrangements
core features include:
survey sharing with fine control over who can view and edit
24/7 expedited email support
50 000 responses per year
core features include:
survey sharing with fine control over who can view and editphone support and 24/7 email support
100 000 responses per year
core features include:
survey sharing with fine control over who can view and edit
phone support and 24/7 email support
unlimited surveys and questions
Individual Plans:
If it's just you who wants to create surveys, SurveyMonkey has just the right solution for you: individual plans.
Let's take a look at them now and what they offer for single users.
Premier Annual
Advantage Annual
Standard Monthly
299 PLN/ month, billed annually
149 PLN/ month, billed annually
159 PLN/ month, billed annually
core features include:
40 000 responses per survey per month
phone support and 24/7 email support
unlimited number of surveys and survey questions
core features include:
15 000 responses per survey per month
24/7 expedited email support
unlimited number of surveys and survey questions
core features include:
1 000 responses per survey per month
24/7 customer support via email
unlimited number of surveys and questions per survey
Enterprise Plan:
Finally, something for those business owners with sophisticated demands and needs for custom-made solutions: the enterprise plan with a special pricing.
If you like to cherry-pick an advanced feature or two, to make SurveyMonkey 100% in line with all your needs, their team can attempt to do this for you.
For this, you need to contact them.
So… Is SurveyMonkey Free Or Not?
So to directly answer the question which brought you to this article: no, SurveyMonkey is not a free tool to use. No matter which subscription plan you pick, you will have to pay for it.
This means that SurveyMonkey does not offer any free plans, unlike other survey making software companies.
SurveyMonkey's prices start from 120 PLN/ month, which comes to something around 26 American Dollars or 25 Euro.
If your goal is to equip yourself in a completely free survey creation tool, you will need to seek an alternative.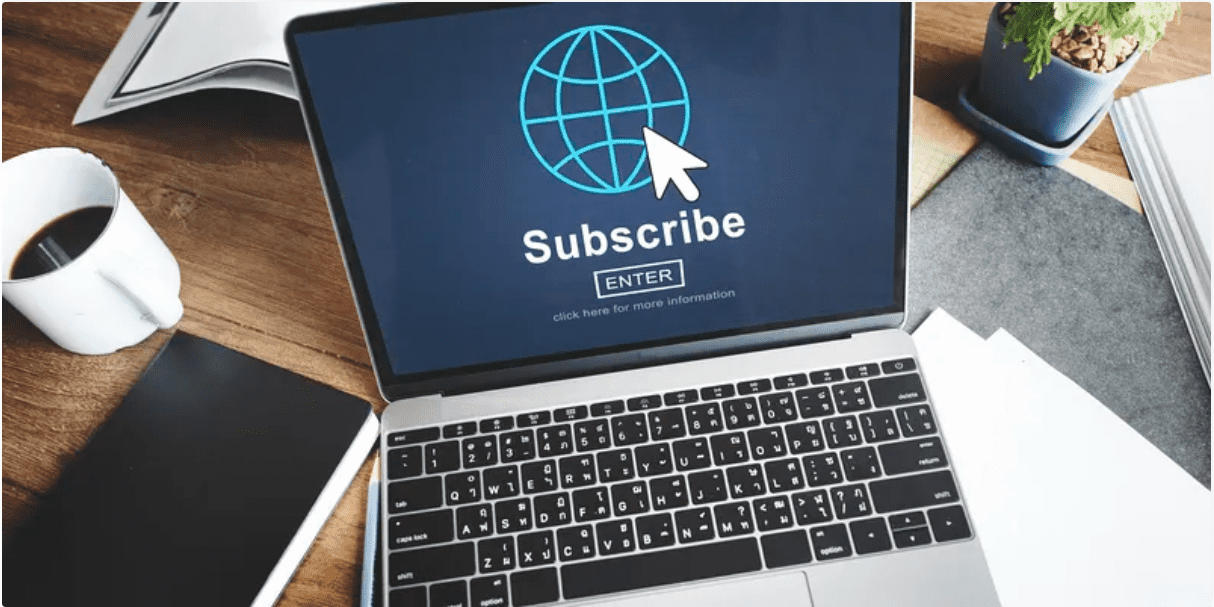 SurveyMonkey Alternatives
When looking for alternative solutions to SurveyMonkey, there's a few things you should keep in mind.
Where to look for SurveyMonkey alternatives?
First of all – you need to know where to look for them.
Based on our experience in this field, we can recommend trying sources and places like:
blog websites, like this one,
software review websites (G2, Capterra, Trustpilot, Software Advice)
Quora (see our example below)
friend and business partner recommendations,
simply Google using search phrases like " free online survey maker" or " free survey making software".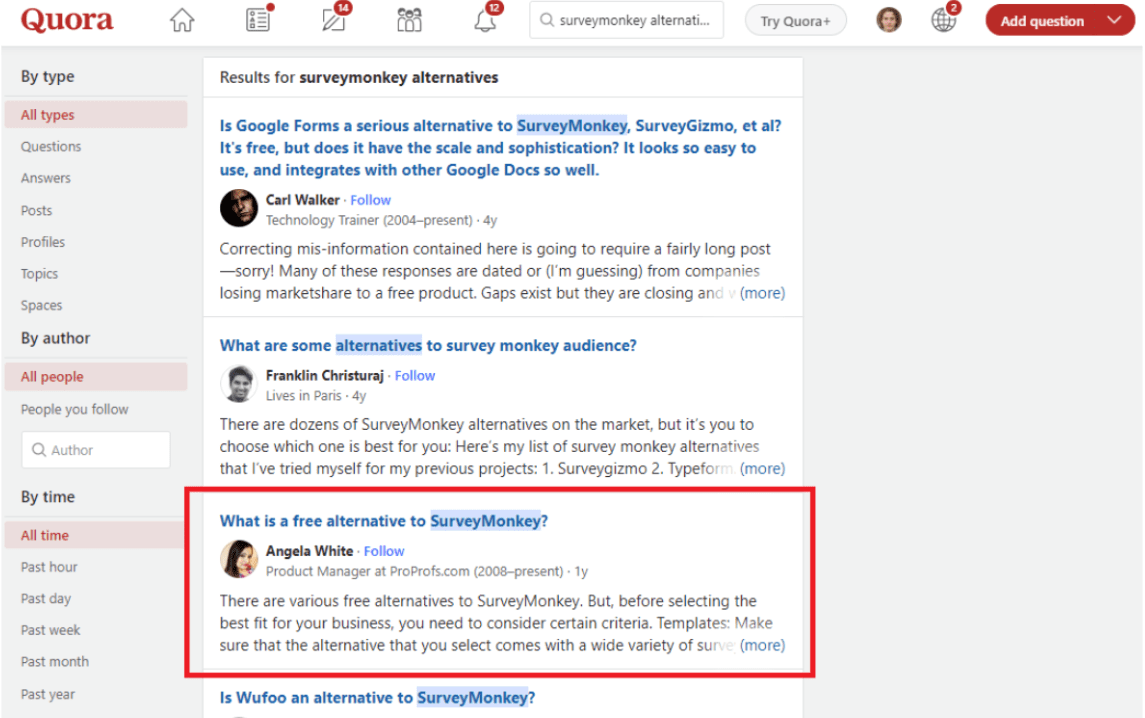 Out of all these sources, we highly recommend looking on Quora, as well as blog websites.
Quora – because it's a genuine source of information.
Blog websites – because they are usually run by professionals in their fields who know what they talk about.
You're of course more than encouraged to do your own research or undertake any other search forms. What matters is that you find your perfect one and only in the end.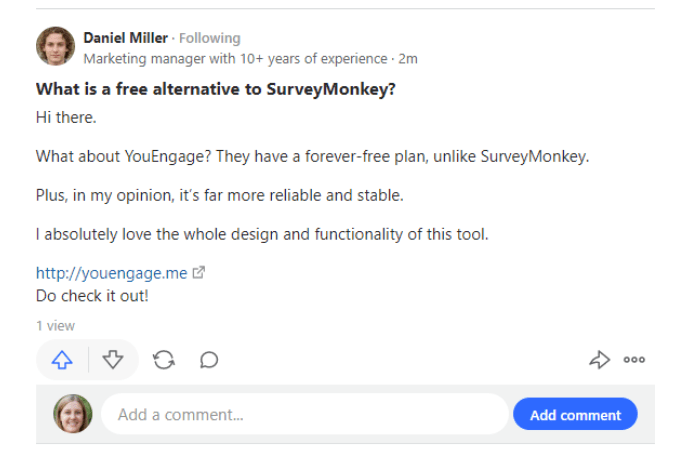 What to pay attention to when looking for SurveyMonkey alternatives?
Once you begin your research and start bumping into potential choices, it's vital you quickly filter them out based on our top 3 criteria. This will allow you to pick the best tool out there.
#1 Range of features
First of all, make sure that the offered range of features is satisfactory for you. To do this, you should:
get an idea of what features you're after,
search for tools with these specific features.
Some of the features you might be interested in having access to include:
real time engagement features, such as polls and quizzes,
integrations with platforms like Slack, MailChimp and Google Sheets
extensive analytics with PDF reports,
easy sharing and embedding.
There's quite a lot of possibilities. Make sure you don't rush your decisions and think every single one of your needs through twice.
#2 Customer support
Next, learning how to use a new tool can be time-consuming, even with a very simple user interface.
For this reason, you should make sure that your SurveyMonkey alternative offers pretty good customer support.
At least any of these options would be beneficial to have as a subscriber:
email support,
telephone support,
live chat support.
Having access to some kind of a help center during your early days can significantly improve your survey creation experience.
Thus, it's vital you make sure this access is provided before signing up for any plans.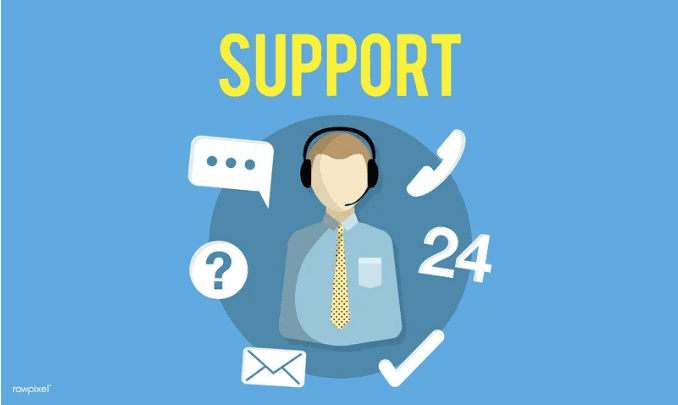 #3 Ease of use
Finally, there's nothing more inconvenient than a tool offering a rather poor user experience.
As a survey maker, you'll probably have to dedicate some time to create flawless surveys.
To avoid wasting too much time on getting familiar with a specific tool, choose one offering an enjoyable user experience.
Note to yourself: Keep in mind this isn't an exhaustive list of the criteria you should follow. You may also choose to look at aspects like scalability, tools' security and reliability, analysis and reporting options and more.
The best SurveyMonkey alternative: YouEngage
If you want to skip the tedious task of researching all the possible survey tools out there, we're here to help.
As for the best SurveyMonkey alternative, we recommend that you use YouEngage.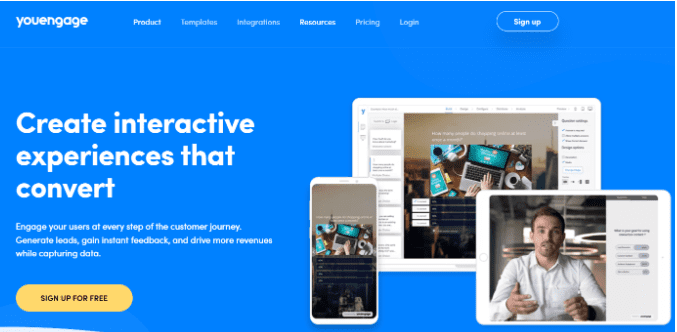 In fact, it's not an alternative. In our opinion, it's the only tool you should really be looking at when it comes to creating surveys and… more.
YouEngage is a tool for creating interactive, online experiences that convert.
What do we mean by experiences? It's not just various survey types, but also:
quizzes
online assessments,
calculators,
forms,
live engagement activities.
Tip: Are you curious to find out how to utilize live polling in meetings? Learn more here.
YouEngage will allow you to engage your survey takers every step of the way for the best survey results.
Tip: Check out our 100+ best poll questions to ask and improve survey results.
What's more, using it you can generate leads, gain instant feedback and even drive more revenue while capturing valuable data.
Tip: Learn how to generate leads with quizzes here.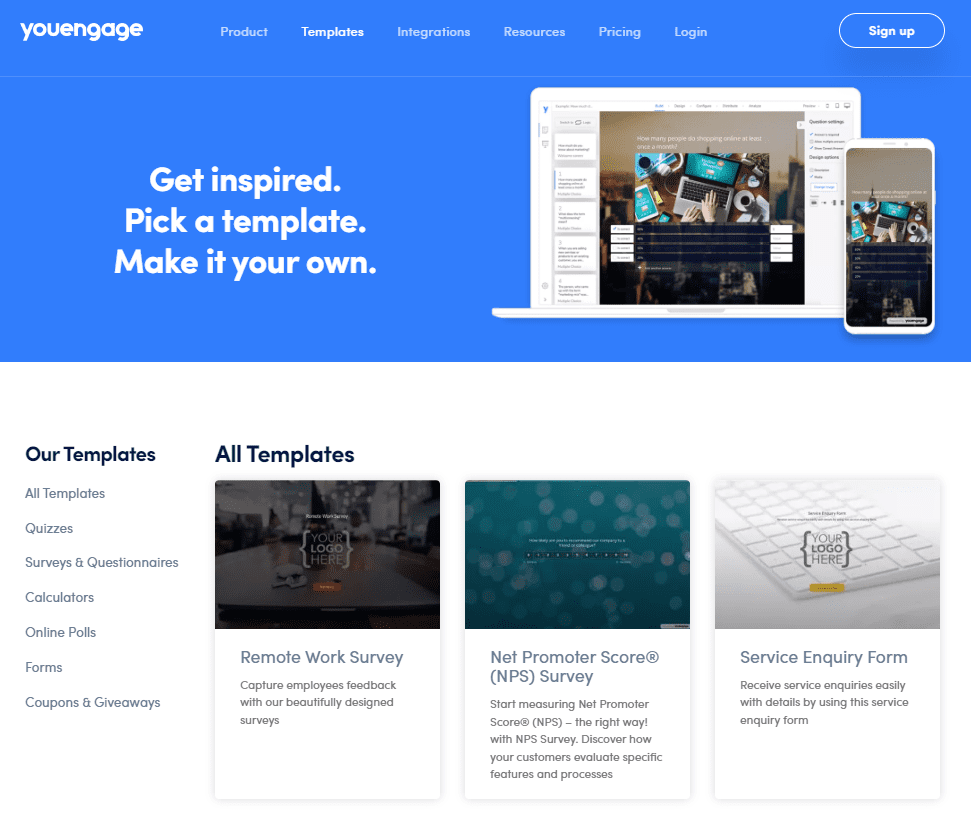 How is YouEngage better than SurveyMonkey?
We're certain that YouEngage is better than SurveyMonkey on at least a few levels:
YouEngage offers a forever-free plan while SurveyMonkey doesn't.
YouEngage is not only for creating surveys, like SurveyMonkey, but also quizzes, forms, calculators and more.
YouEngage has an easier, more-user friendly interface.
YouEngage offers both monthly and annual billing, while SurveyMonkey accepts annual billing only.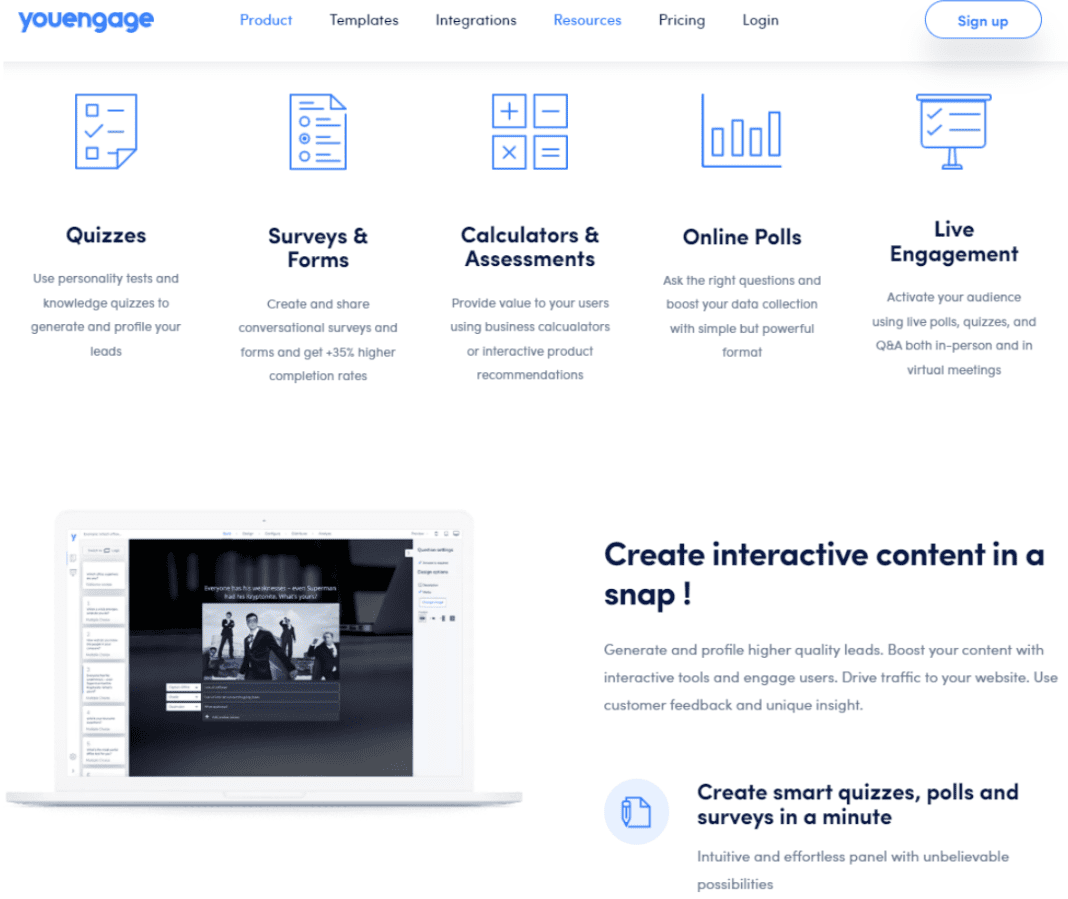 YouEngage's Strengths & Fun Facts
If you're unsure whether YouEngage is worth a try, these strengths and interesting facts will leave you with no doubts.
Strengths:
great value for money,
free plan available,
save up to 35% with annual billing,
supportive, reliable and responsive customer support,
various, creative survey templates and question types to choose from,
wide range of use: ecommerce, retail, marketing, digital agencies and more,
safe and easy payment process,
data stored safely and privately,
Fun Facts:
YouEngage is a "no code required" type of a tool – don't be scared to leave the comfort of Google Forms in fear of coding.
With YouEngage you'll make friends – Narine will help you with everything through a live chat!
YouEngage is known worldwide and is present on 6 continents!
Journey with YouEngage is an all-time learning experience thanks to resources like a blog and a help center.
So, if you like the idea of YouEngage, we invite you to undergo a free trial. We can't wait to show you what we have up our sleeve! Join us now.
Create great surveys effortlessly with a reliable solution
And that's a wrap from our side!
You now know that SurveyMonkey isn't free. You also know how and where you can look for alternative, better survey software.
One of them that we highly recommend is YouEngage – one of the best survey software platforms you could choose.
We know better than anyone how to make creating surveys (and more) fun, enjoyable and, most importantly, effective.
We hope you enjoyed this article and we cannot wait to have you read our next pieces.
Many thanks for stopping by and good luck with your future surveys!
ADDED BONUS – Questions to ask yourself when looking for a survey software to help you pick the best one
Now it's time for a little gift from us! Use these below questions to help yourself with choosing the best survey software for your needs.
Do I want to have many question types to choose from?
Am I interested in having unlimited responses?
What is the response limit I am willing to accept?
Do I want unlimited questions in my surveys?
What customization options would I like to see in my ideal online survey software?
Do I want a basic plan or maybe something more advanced, like a premium plan?
Do I care about a positive customer experience?
Is my goal to create a basic survey?
Would I be interested in having access to collaboration tools?
How many responses per month do I need?
Do I want to use custom colors for a consistent brand experience?
Am I going to need file uploads?
What's a key feature my ideal online survey software needs to have?
Do I want to look into my survey insights?
What billing options am I interested in: monthly or annual plan?
What kind of surveys do I wish to create, e.g. market research surveys, multilingual surveys, customer feedback surveys etc.?