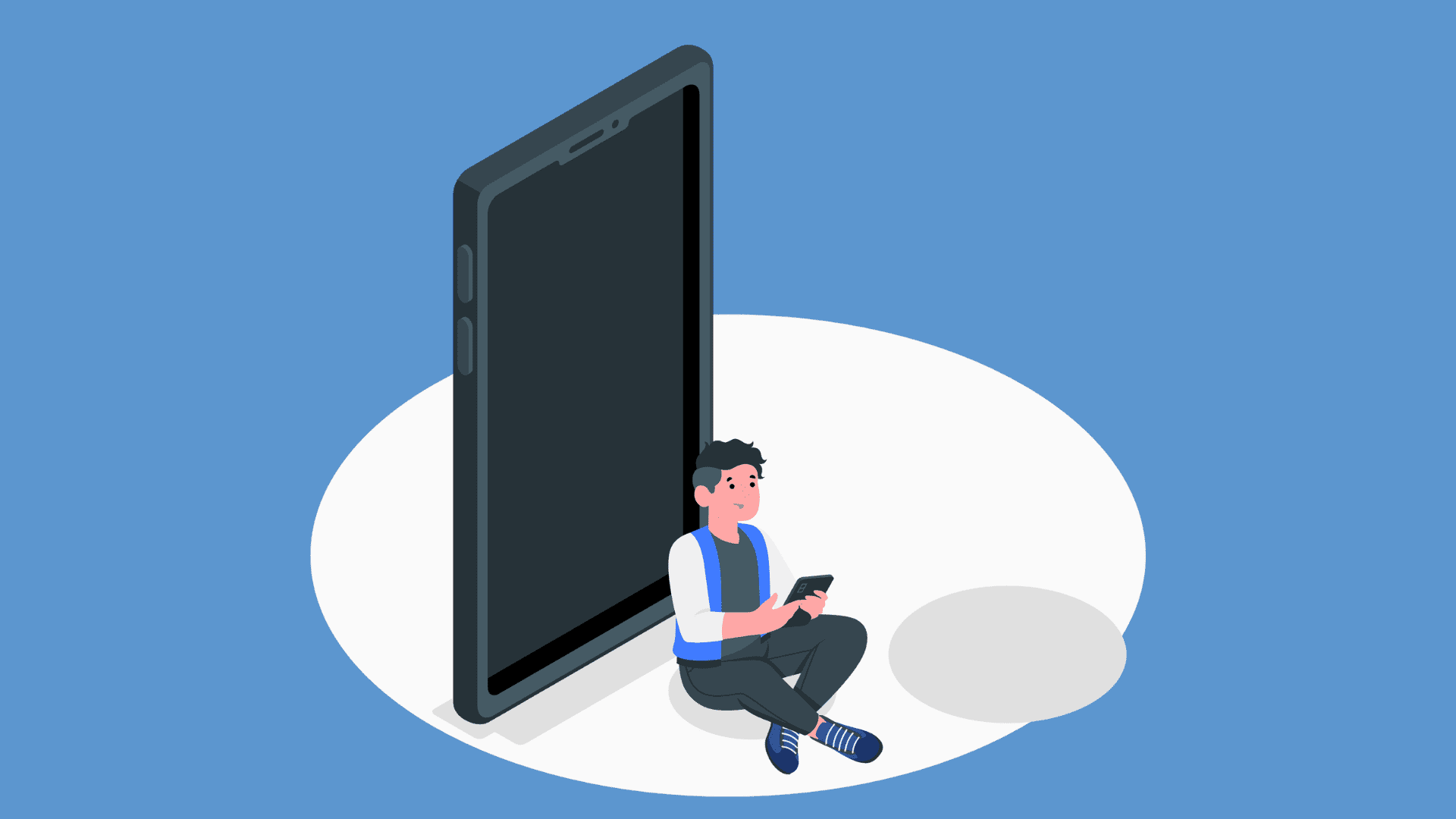 Menti.com is a solution that many teachers, speakers and various event organizers may be familiar with.
Surveys, quizzes, interactive presentations and more – that's what Menti.com is all about.
But what exactly is it? We wrote this article to bring the idea of this software closer to you in a very reader-friendly format.
Join us now for this blog post on Menti.com with 50 insightful facts about it. As a bonus, find out what is better than Menti.com and why.
Ready, set, go…
Are you short on time? Jump to the section you're most interested in now and get all the details you're after quickly.
What is Menti.com?
Mentimeter is a Swedish brand that has been in operation since 2014. It provides software dedicated to creating live-only interaction tools like polls, word clouds, quizzes, Q&As and surveys. This tool is used by people for various purposes, for example for classes with students in private events.

50 top facts and statistics about Menti.com
To tell you as much as possible about Mentimeter and its features, we gathered
General company facts
#1 Menti.com offers an interactive platform that allows presenters and their audiences to interact in real-time, making engaging presentations, meetings and lectures more fun for audiences.
#2 People can use Mentimeter for live events only, which excludes the possibility to create standalone surveys, quizzes and more.
#3 Menti.com is the website address you type in to access a website where you enter a pin to interact with its tools, for example presentations.
#4 Mentimeter has about 270 million monthly platform users.
#5 Mentimeter was founded in 2012 by Johnny Warström, Niklas Ingvar, Henrik Fräsén and Kristoffer Renholm.
#6 Mentimeter is a Swedish company with headquarters based in Stockholm.
#7 Mentimeter can be found on the following social media platforms: Facebook, Twitter, Instagram, YouTube and LinkedIn.
#8 Mentimeter gives its users as well as regular website visitors access to the following resources: blog, how-to's, solutions, templates, academy content, webinars, comparisons, stories as well as various integrations.
#9 At the end of 2021, Mentimeter had 199 employees.
#10 In 2021, Mentimeter was present in over 200 countries worldwide.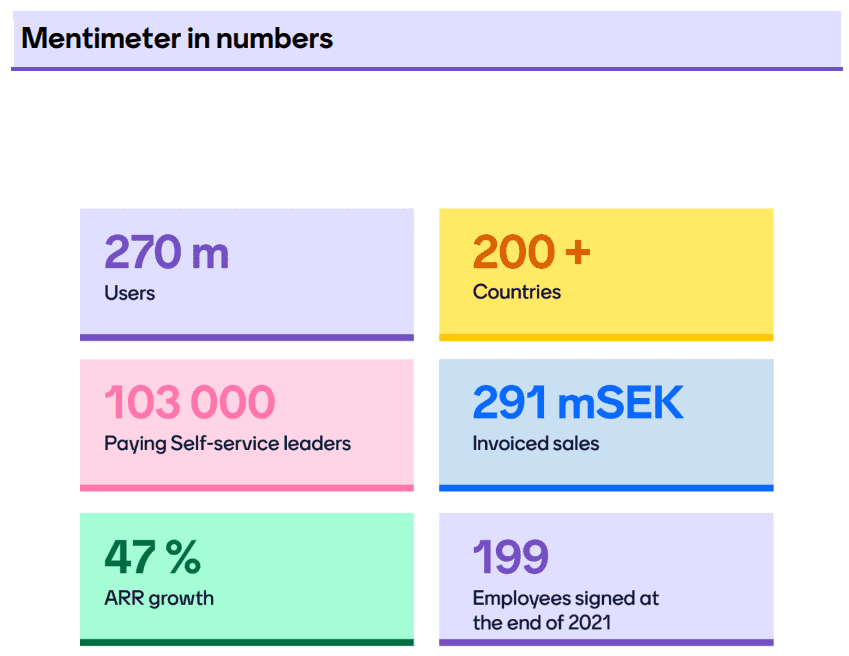 Features
#11 Mentimeter offers the following engagement tools: live polling, word clouds, quizzes, Q&As, surveys and presentations.
Live polling
#12 Using Mentimeter, you can create various, live only, polls.
#13 When designing polls with Mentimeter, the following elements are at your disposal: multiple choice question types, visualizations and images as question slides.
#14 Mentimeter offers a couple of simple poll templates to users who would like to use ready solutions.
Word cloud
#15 Using Mentometer, your audience can createl live only word clouds – visual representations of words that give greater prominence to words appearing more frequently.
#16 Some of the Mentimeter's word cloud features include: profanity filter, visualizations and no download required.
#17 Mentimeter recommends using word clouds in situations like brainstorming, icebreaker games, idea creations and team reflection events.
Quiz
#18 Using Mentimeter, you have the possibility to create live-only quiz questions for your live audience.
#19 Some of the suggested by Mentimeter use cases for creating quizzes include: testing colleagues' knowledge, running a quiz for fun with friends and helping students learn.
#20 Similarly to live polls, Mentimeter provides templates for live quizzes that subscribers can use.
Q&A
#21 Using Mentimeter, subscribers can create live question and answer type of interactions for their audience.
#22 Subscribers' audience can use their mobile device to ask questions using the Q&A feature.
#23 Mentimeter claims to make their Q&A feature suitable for large audiences, so you can freely use it during a live event like classes or workshops.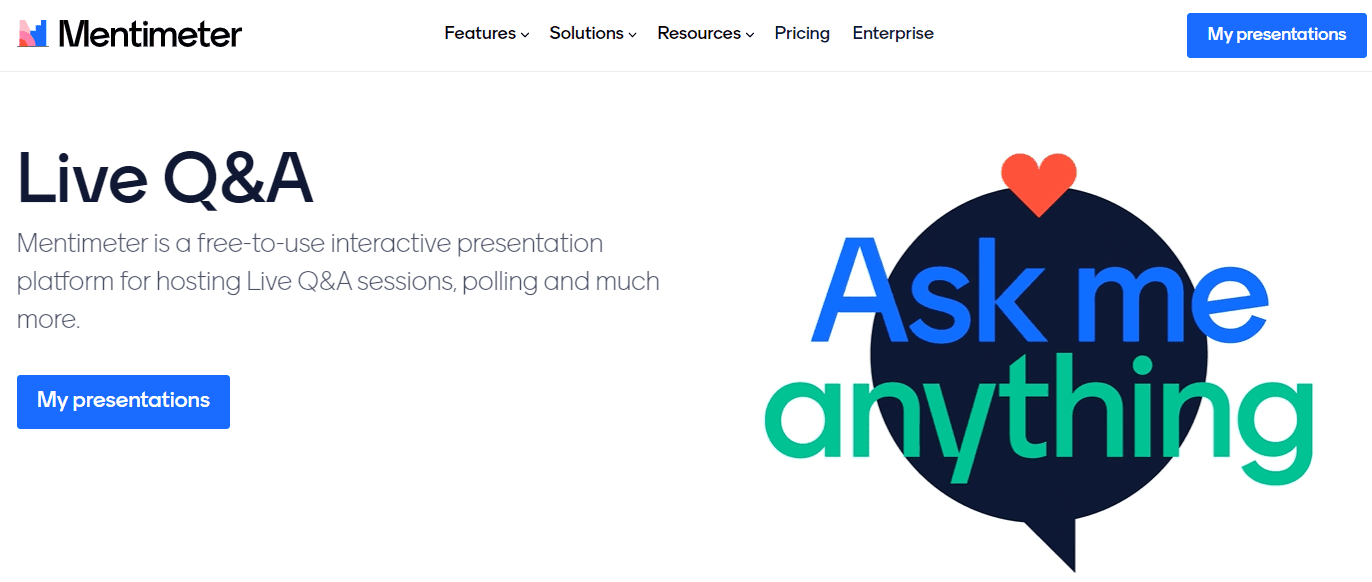 Surveys
#24 As a Mentimeter subscriber, you have the option to create surveys.
#25 Metimeter's surveys include features like: visualized responses, download submissions, export findings and results analysis.
#26 Your Mentimeter surveys can be run before, during, or after your presentation.
Presentations
#27 Mentimeter has a built-in feature allowing users to create interactive presentations.
#28 You can import your own presentations into Menti if you're a Basic, Pro or Enterprise subscriber.
#29 You and other Menti Pro and Enterprise subscribers can collaborate on presentations together. This feature is not available for Free and Basic plans.
#30 You can test your Mentimeter presentations before presenting them using the Preview feature offered by Menti.com.
Support
#31 To take advantage of priority support offered by Menti.com, you need to be a subscriber of the Enterprise plan.
#32 If you want to go through a custom onboarding process, you could only do so as a subscriber of the Enterprise plan.
#33 Online support is not available within the Free plan, meaning only paid subscribers can get it.
#34 Non-paid Menti subscribers can have a look at Mentimeter's Help Center in case of any questions or issues.
Branding and customization
#35 Menti.com offers some branding and customization options for their subscribers, which are rather limited.
#36 The available customization features are: quick layouts, custom colors, custom themes, company branding and adding your own logotype.
#37 All of the mentioned branding features except for the "quick layouts" are only available to Pro and Enterprise subscribers.
Teamwork
#38 Menti.com offers some team collaboration features to its subscribers, being: creating presentation templates, creating groups and even workplace analytics.
#39 The workplace analytics feature is a statistical breakdown of how Mentimeter is used in your workplace by individual members.
#40 Creating groups and workplace analytics features are only available to Enterprise plan subscribers.
Pricing
#41 Mentimeter offers 4 different subscription plans to its users.
#42 The available subscription plans are: Free ($0 per month), Basic ($11.99 per month per presenter), Pro ($24.9 per month per presenter) and Enterprise (custom pricing).
#43 For Mentimeter's "Pro" and "Basic" subscription plans you can only purchase yearly subscriptions.
#44 You can purchase all Mentimeter's subscriptions with either a credit card or a debit card.
#45 If you'd like to pay for Mentimeter with a bank transfer, you can only do so in case of Pro and Enterprise plans.
#46 If you're a student or a teacher, you may request custom pricing for "Education" from Mentimeter.
#47 It's possible to receive an invoice from Mentimeter for your subscriptions – all it takes is requesting an invoice using a special form.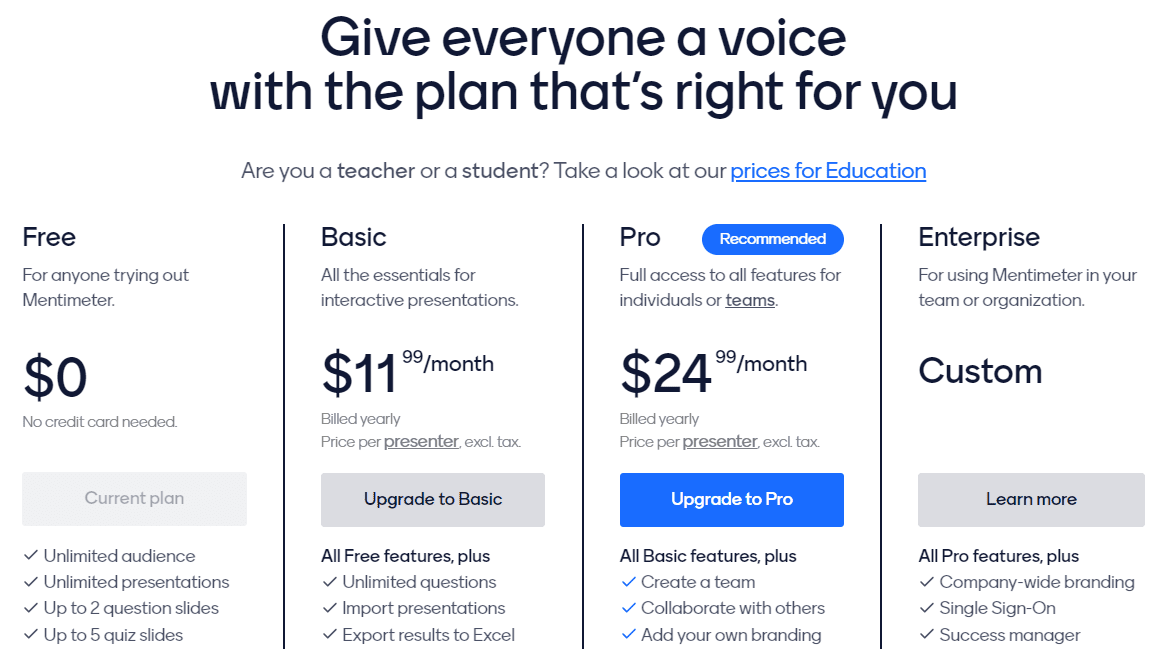 Career
#48 You can apply for jobs at Mentimeter, either located in Stockholm, Sweden or Toronto, Canada.
#49 Some of the available positions include jobs within product, sales and marketing, as well as catalyst and operations departments.
#50 As a Mentimeter employee, you get access to benefits such as leadership coaching, 30 days of paid vacation, private pension matching itp-level, individual budget for your own education, optional one month relocation in Europe, necessary equipment and more.
What is better than Menti.com?
Now you know the top facts about Mentimeter, its pricing, features and more. So…what now?
Is it a tool that you should subscribe to to create surveys, quizzes and more? Is it enough for your needs? Are there any better options?
While Mentimeter sounds like a great option (judging by some of the interesting facts we've just revealed), we feel it lacks some fundamental features:
#1 Mentimeter is pretty limited as it only allows you to create quizzes, surveys etc. LIVE – synchronously.
Now based on our experience, we know that once you start creating interactive experiences for your audience, you don't want to stop. This means that sooner or later you'll want to create quizzes or polls asynchronously – outside of live events.
As a Mentimeter subscriber, you cannot do this. So you would have to subscribe to yet another tool and potentially pay another subscription fee.
Luckily for you, there is a 2in1 solution out there that combines both synchronous and asynchronous interactive experiences. It's called YouEngage and it's the only software on the market offering this feature.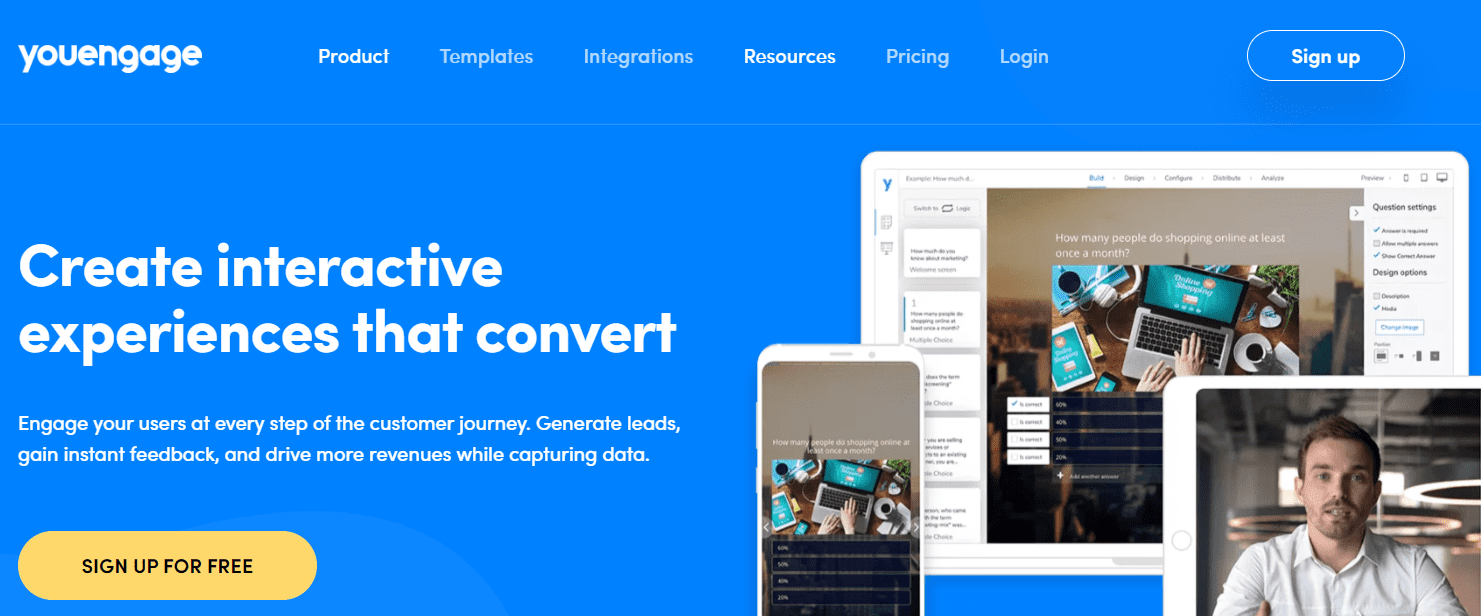 #2 During our own review of this tool, we found various areas for improvement for Menti.com, including ones like: signing up process, user interface, presentations, device adaptability and more.
Basically, we found some flaws of Menti.com that affected our user experience negatively.
These aspects of Mentimeter need immediate changes. That's of course if this company wants to be on the same level as other reliable solutions out there, for example YouEngage.
Read more: Mentimeter: key features and alternatives you should know – OUR REVIEW
Where to search for alternatives? Checklist
Considering Menti's shortcomings, we think you might prefer some alternatives – just like we do.
However, finding tools that are better than something else (Menti.com in this case) can be a tricky task sometimes. Not to mention the constant pressure of the ticking time.
To help you with this, we've prepared a helpful guide.
The following are the best sources to find Menti alternatives, as well as some great tips:
| | |
| --- | --- |
| source | useful tips |
| software review websites | Some examples of popular review sites include Capterra, G2, TrustRadius and Gartner Digital Markets. |
| Q&A platforms, for instance Quora | Search for answers to your questions, for example, "What survey software should I choose?" and see what other people have to say. |
| Recommendations from family, friends, and business partners | Ask your family, friends, and business partners if they know any good tools. It's not always easy to find what you're looking for, but sometimes it's right around the corner. |
| blog sites, e.g. YouEngage | Following blog sites that review software of interest is always a good idea. YouEngage, for example, reviews various survey and quiz software solutions. Have a read! |
| independent research | When searching for your ideal software, use terms such as "best quiz maker" or "reliable software for surveys and quizzes". |
Read also:
Is SurveyMonkey Free? (Alternatives + Checklist)
MyQuiz Alternatives: All You Need to Know
Forgot Your Kahoot PIN? Check Alternatives to Kahoot
Why is YouEngage much better than Menti.com?
Our solid YouEngage tool provides subscribers with much more than Menti. And we don't just mean fancier features. YouEngage differs significantly from Menti.com on a fundamental level: use cases.
At YouEngage, we make it possible for you to start engaging your audience and customers in both asynchronous (standalone) and synchronous (live) ways on every device. Meanwhile, Mentimeter will only do the "live", "here and now" job.
Let's imagine this scenario: You want a tool that will allow you to create quizzes during live events, as well as embed them on your website and in email newsletters.
Take a look at how you can achieve it, both as a YouEngage and Mentimeter subscriber:
| | |
| --- | --- |
| YouEngage subscriber | Mentimeter subscriber |
| What is needed? a YouEngage subscription for both live and standalone quizzes | What is needed? a Mentimeter subscription for live quizzes and ANOTHER TOOL SUBSCRIPTION (for example TryInteract) for standalone quizzes |
| How much is it going to cost you? Plans start from $0 monthly | How much is it going to cost you? Mentimeter plans start from $0 monthly, TryInteract plans start from $27 monthly |
| summary: 1 tool, for as little as $0 monthly | summary: 2 separate tools with different quiz designs and mechanics, starting from $27 monthly for 2 |
What seems like a more reasonable solution? For us the answer is clear on several levels: YouEngage.
YouEngage as your perfect software
If you still want to skip the tedious task of researching various options better from Mentimeter, we invite you to try YouEngage out today – the best Menti.com alternative you'll find.
YouEngage blends together 2 equally crucial elements of creating surveys, quizzes and any other interaction tools.
We allow users to create both live and asynchronous, standalone experiences, all in one place.
Instead of using 2 different tools, you use one that is also budget-friendly, reliable and rich in features – YouEngage.
What more could you ask for?
Quizzes, surveys, calculators, assessments, forms and other live engagement options – that's what we are all about.
Sign up today and forget about your old ways of creating interactive experiences for your audience.
Other than that, thanks for stopping by! Be sure to visit us sometime again in the future for more insightful and informative content. Good luck!