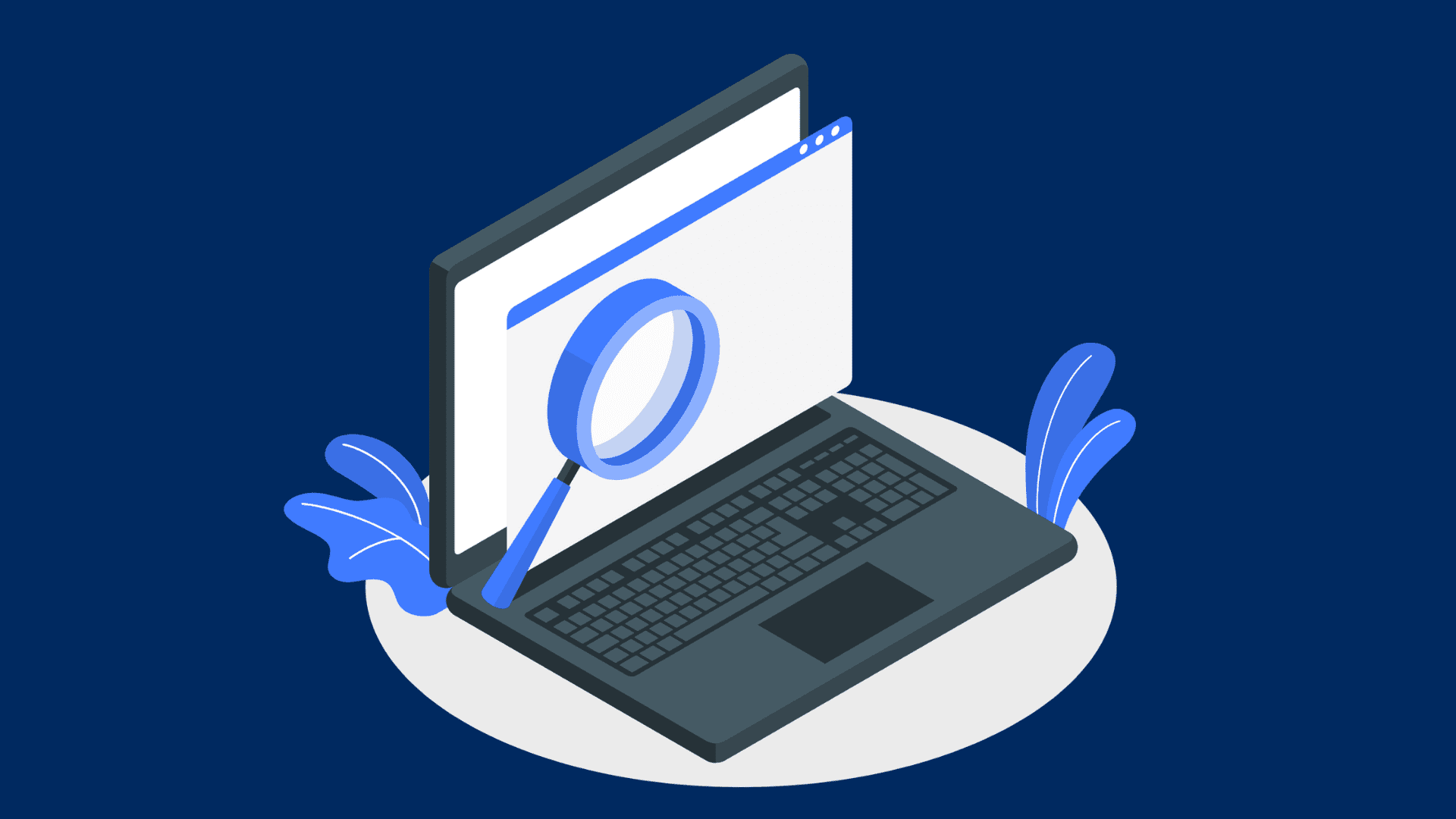 Creating and playing quizzes is a popular way to engage people in many situations. Not only teachers and employers, but also business professionals like to create them to do various things. Examples include teaching others something new, engaging people in team building or family party activities or gathering feedback quickly.To do it, they usually use some kind of software – an online quiz maker. One of them is myQuiz, but also myQuiz alternatives.
What is it, what does it offer and, most importantly, is it the perfect tool for your needs? We did our research, all so you don't have to. Ready, set, go – you're about to get richer in insightful knowledge.
What Is MyQuiz And How Does It Work?
MyQuiz is an online quiz maker made for creating online trivia types of quizzes.
This web-based audience engagement cloud platform is ideal for anyone looking to host interactive quizzes in various forms:
in person,
virtually,
in hybrid.
The process from finding out about this quiz builder to creating your first trivia quiz with it seems pretty easy and straightforward.
You visit the MyQuiz.com website.
You create an account and sign up using either Google, Facebook or email address.
You click 'create quiz' and are ready to make your first quiz ever.
And that's it.
What's more, this specific quiz builder is used by companies like Google, Amazon, IBM and Nike.
What can these giants, as well as other MyQuiz users, expect from this software then?
MyQuiz – Main Features
When it comes to MyQuiz's main features, there's a few that deserve recognition and praise. Let's go over them now:
Rich variety of question types
One of the things that MyQuiz is quite good at is the variety of question types offered.
As a MyQuiz subscriber, you can create quizzes using the following types of intuitive questions that will wave a sweet goodbye to audience inactivity:
slide,
rounds,
image,
GIF,
multiple choice questions,
true/false,
open-ended questions,
video,
poll,
images as answers,
draw questions.
Such customizable questions leave you with little room for any limitations. In fact, it should give you enough possibilities to create varied and creative quizzes.
Quizzes with unique question types like the ones offered by MyQuiz are much more engaging. So well done for their team for that.
Addons
The second feature of the MyQuiz quiz tool worth attention is the amount of addons available.
Addons in a quiz maker can really boost your response rate and participant engagement.
Here's what MyQuiz has in store in terms of that:
company branding: you can customize your quiz interface elements according to your needs,
branded coupons: you can create custom-branded coupons for in-game giveaways,
large-screen optimization: you can optimize projection view for large screens beyond HD,
large-screen projection branding: you can do full-scale customization and branding for all your large screens.
One particularly eye-catching feature is the "anything you need and more" option.
MyQuiz developers claim to be specialists in custom software development. Because of this, you can share software development ideas with them that they might implement into their tool. Everything because they're "glad to turn your unique ideas into life".
Now, a tool made specifically to suit your needs seems like a pretty cool solution, doesn't it?
Sadly however, all these additional features are only available with the most premium account type – the enterprise solution. It's definitely a shame as we suspect many of other types of account owners would love to take advantage of them.
Several subscription plans
Lastly, MyQuiz really does know a thing or two about giving people options. Even if you're a picky software subscriber, we think you'll be able to choose something from MyQuiz's variety of subscription plans.
That's because there's 6 of them, with each offering a different set of features:
free plan ($0/month with a maximum of 10 quiz participants),
basic plan ($19.99/month with a maximum of 25 quiz participants),
universal plan ($35.99/month with a maximum of 100 quiz participants),
professional plan ($59.99/month with a maximum of 250 quiz participants),
premium plan ($119.99/month with a maximum of 500 quiz participants),
enterprise plan (price depends on individual needs, with an unlimited number of quiz participants).
So if you're one of these people who fancy having multiple options, MyQuiz is your solution to go for. It's really good they offer so many plans – there's a higher chance you'll find something for yourself.
What's more, MyQuiz really does make things more affordable for fans of annual billing. When opting in for annual subscriptions, you can save 50% of your money compared to monthly billing. That's pretty convenient, isn't it?
Why Should You Look For MyQuiz Alternatives?
While MyQuiz makes a pretty good first impression like you just saw, a deeper dive into its functionality reveals some drawbacks.
Price
Whether somebody considers something to be pricey or not depends on many factors.
We think you might find MyQuiz to be a little too pricey if:
your aim is to create quizzes every now and then rather than regularly,
you need to pay for your quiz out of your own pocket, as a teacher for example.
Whilst MyQuiz offers A LOT of features, the truth is that you probably will use only a small portion of them. Yet – you still need to pay the full price.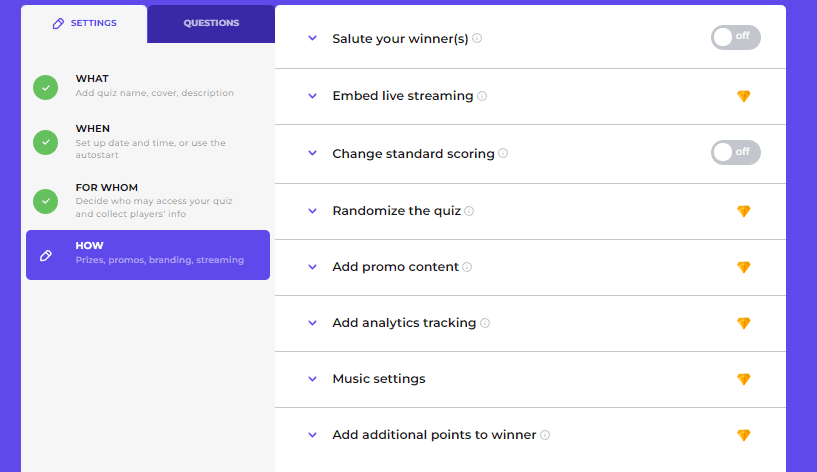 For those looking to purchase one-off plans lasting 1 month only, the prices are even higher. What's more, they're FAR more higher than those of competitors: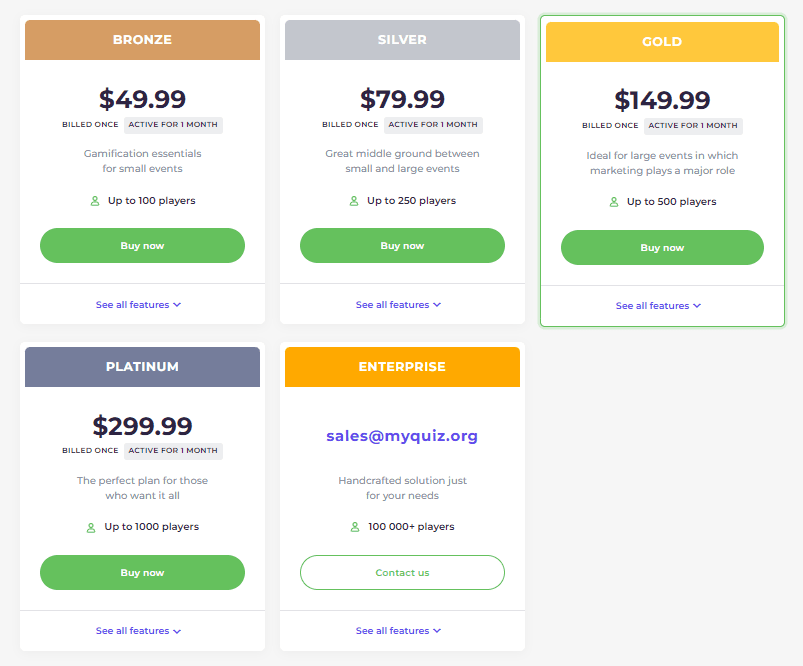 We mention this as we know that many users put price before any other characteristics of online tools. Ultimately, this might not be a drawback for you at all. However, it's good to know about this in advance.
Limited analytics options
Anyone who's created at least one quiz in their life knows and values the importance of analyzing results. Quizzes, when not completed, may bring poor outcomes. If you don't track various insightful metrics, you won't be able to improve your audience interaction.
When looking at the right metrics, you can get answers to questions like:
Why is my survey response rate so low?
Which question type do my quiz participants like the most?
Which types of questions tend to get skipped or ignored the most in my collaborative quiz?
What metrics does MyQuiz offer then? Well, not many, as you can see below: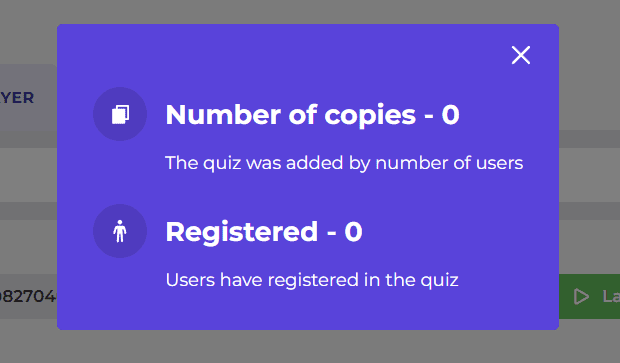 So if a bit deeper analytics is something you're after, be sure to check out other alternatives among other online quiz makers.
Complex UI
Another thing we noticed is the complexity of the user interface. MyQuiz creators suggest that this tool is for everyone, like:
teachers,
business professionals,
small meeting hosts,
gamers
and more.
However, the quite challenging to grasp user interface does not suggest it. In fact, it's the opposite. The impression we got is that it would certainly be beneficial if you had some prior experience creating online quizzes before going for MyQuiz.
The amount of different options can indeed be a little overwhelming for someone wanting to create quizzes quickly and effortlessly.
So if you're looking to create your quiz very quickly, it may be slightly challenging and confusing even.
YouEngage – Your Best MyQuiz Alternative
Given the drawbacks of MyQuiz we've just shared, you might be thinking about looking for an alternative solution.
Luckily for you, there's no need to look far because it's right under your nose – forget about going through a lengthy list of alternatives and comparing the options.
Our honest suggestion is that you should give YouEngage a chance.
YouEngage is for creating interactive experiences that convert – including quizzes.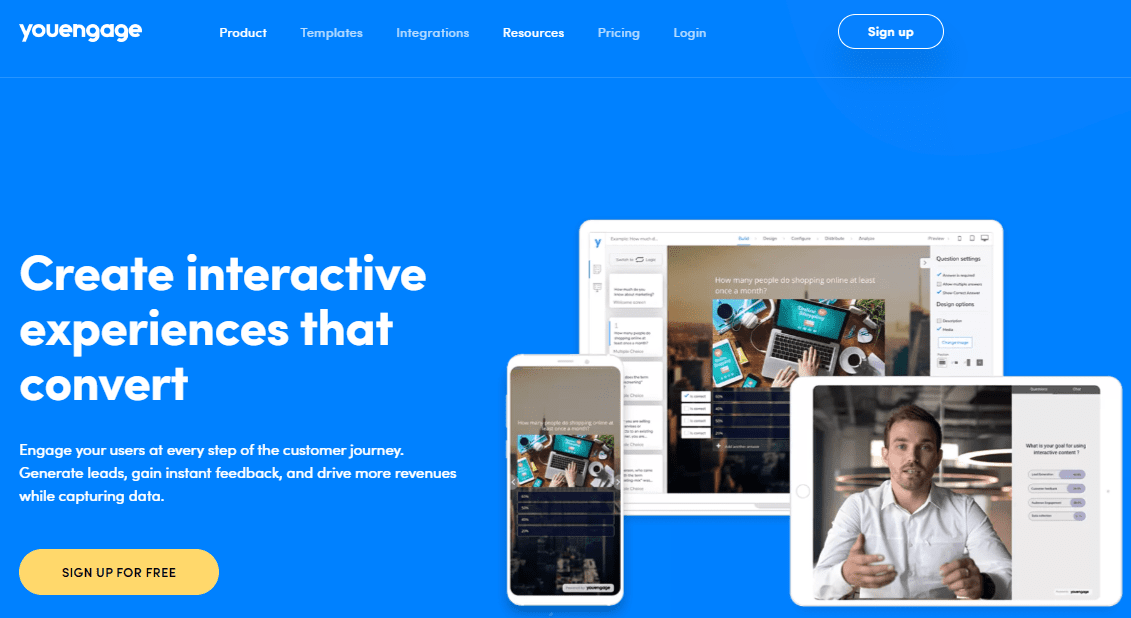 What are YouEngage's superpowers? There's actually many, and here's some of them:
create interactive content in a snap: build smart quizzes and more, then embed or share them anywhere in seconds
take advantage of real-time engagement: make your events more interactive and engaging by utilizing live, fun attractions such as quizzes, polls and surveys
accelerate your marketing strategy: send data and leads from interactive content to your marketing platforms using integrations
What makes YouEngage better than MyQuiz?
The YouEngage online platform is more reliable compared to MyQuiz on various levels:
More than quizzes
First of all, YouEngage is much more than just an online quiz maker. While it does indeed offer features for creating online quizzes, you can also choose to build:
interactive polls,
calculators,
assessments,
live engagement activities,
an online survey,
forms.
In other words, it goes far beyond creating quizzes.
A solution like this is awesome because you don't really need to get any other tools if you ever want to create polls or forms, for example. What's more, you get everything in one place – perfectly organized.
More for less
When choosing YouEngage, you "get more" than you would get with MyQuiz. Here's a nice example demonstrating this:
What can you get for $19.99 at MyQuiz?
25 quiz takers
no integrations
selected question types
no customization options
What can you get for $19 at YouEngage?
500 quiz takers
integrations
embed anywhere
customizable questions: themes and colors
Now, in today's world where people pay attention to their bottom line more than ever, which tool would you pick?
Easy use with support center on standby
Finally, YouEngage is actually really simple to use, despite the rich variety of features offered. This is proven by lots of positive reviews from users from various backgrounds and with different professions on software review sites like G2 or Capterra: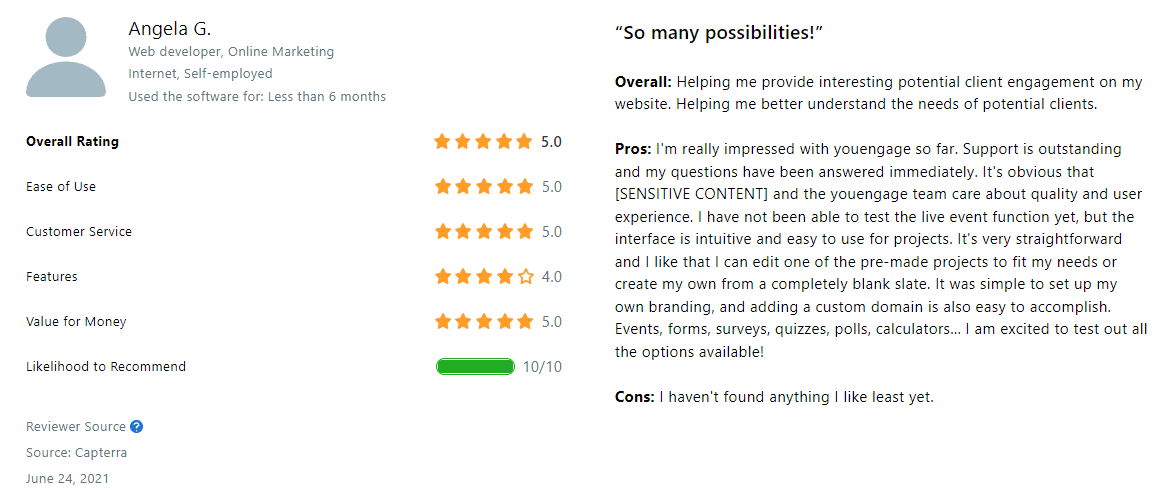 Even if you struggle with the tool, there's a reliable, 5-star help center waiting to give you a helping hand whenever you need to create awesome customizable quizzes.
If this wide range of perks sounds tempting, we recommend you give YouEngage a (free) try. We're excited to show you what we're all about – effective and engaging quizzes that will:
– boost your audience response rate in seconds,
– improve your social media presence,
– help create viral quizzes and interactive presentations
and more.
All within a really attractive price range (or completely for free).
Create Your First Quiz Today with YouEngage – Best from MyQuiz Alternatives
Creating quizzes that people truly want to take is a challenging task. To set yourself up for success, you should create a solid foundation. And what's that? The only correct answer is getting a reliable quiz creation platform.
In today's article, we introduced you to MyQuiz – a seemingly intuitive quiz builder.
While this tool seems reliable from the first glimpse of an eye, a deeper look reveals some quite disappointing minuses when it comes to creating professional quizzes.
Luckily, solutions like YouEngage are here to make your quiz making journey a pleasurable and stress-free one. With reliable and cool features that never fail, you'll quickly start creating awesome quizzes.
All in all, we hope you enjoyed this article and learned something new about MyQuiz alternatives.
If you'd like to learn more about creating quizzes or about YouEngage in general, be sure to check out our blog. Also, we'll be very happy if you check out our social media platforms!
Other than that, many thanks for stopping by and, hopefully, see you around again sometime soon.