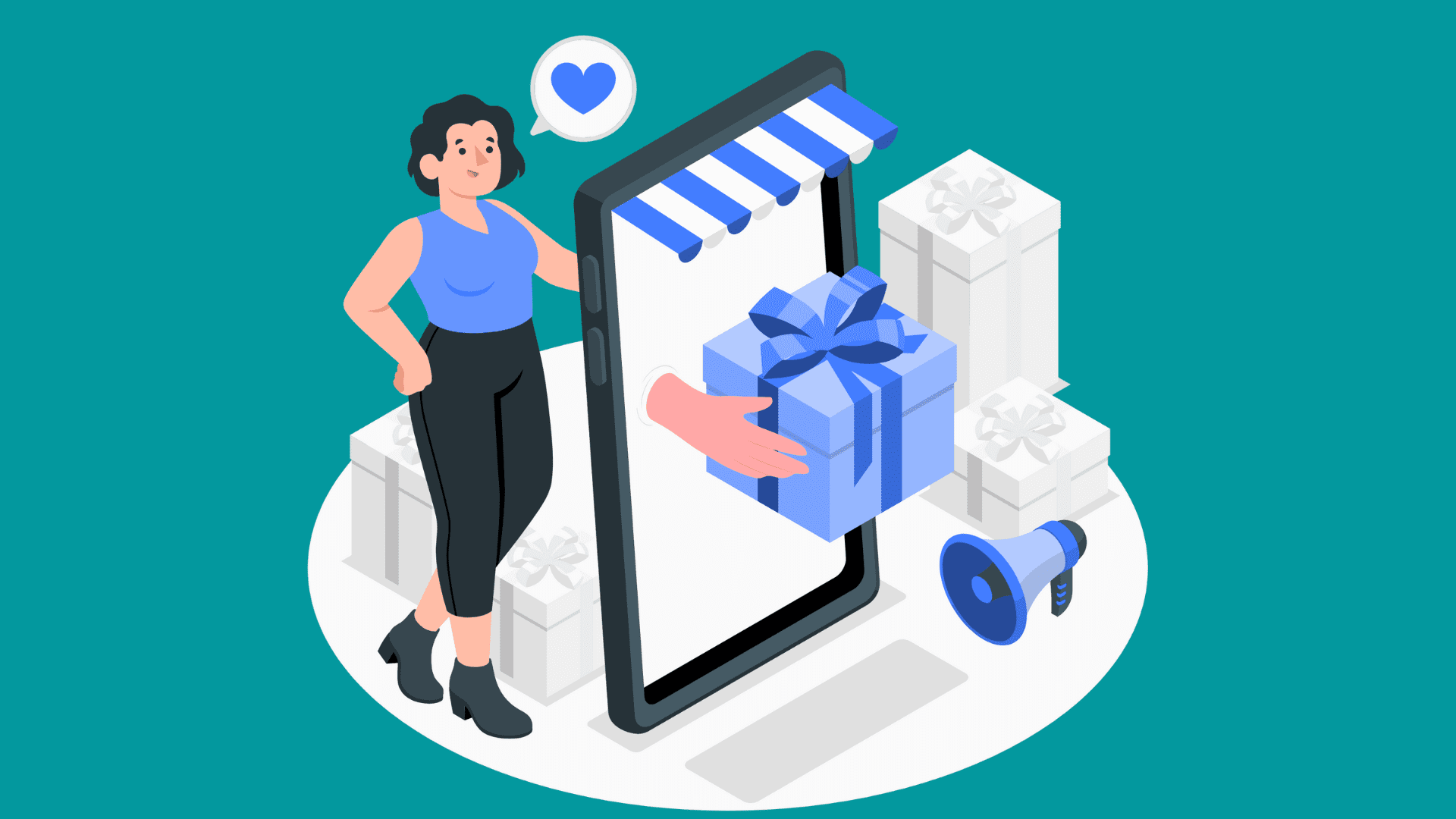 If you're an experienced Shopify user, you're probably aware of some of the integrations you can implement into your Shopify store.
One category of them is quiz tools for creating ecommerce surveys and quizzes for your customers and shop visitors.
Our focus today is shifted towards these Shopify quiz apps you can use to enrich your online store and customer experience.
We go over what benefits they bring and how to find the best quiz app for your Shopify store. What's more, we'll share our top 5 picks to make your task of researching a little easier.
So without further ado, let's jump right in.
🧐What is a Shopify quiz app?
Shopify is a multinational e-commerce marketplace. It's a platform that online businesses (but also offline ones looking to go online) can use to sell their products. Shopify launched in 2006 and as of now it has nearly 1.8 million businesses using the platform.
Every one out of these 1.8 million businesses can decide to use a Shopify quiz app. What is it?
Essentially, it's any quiz making software that you can integrate with your Shopify online store. Using it, you can design and incorporate various polls, quizzes and surveys to your store, such as product recommendation quizzes or customer satisfaction surveys.
To find out what the available quiz apps are, it's best to check out Shopify's official app store.

❓4 reasons why you need a Shopify quiz app
Integrating a quiz tool into your Shopify ecommerce shop can turn out highly beneficial for you. Keep reading to see what potential perks are just around the corner for you:
🤩 get new leads 🤩
A shopify quiz app can help your ecommerce business generate new leads. It is a great way to get customers to interact with your site and provide the necessary information for you to follow up with them, e.g. through newsletters.
The quiz app is your chance to make people interested in what you have to offer. Thus, do take this into consideration.
🤩 know your customers 🤩
Moving forward, a quiz app in your Shopify store can help you understand your customers' preferences. This can be used to improve the customer experience and loyalty towards your brand.
By doing so, you can discover what they like or dislike about your store. You can do it by using a product recommendation quiz or a customer satisfaction survey, for example.
🤩 boost engagement 🤩
A quiz tool integrated in your Shopify store can also allow your ecommerce business to boost customer engagement. This is because quizzes are a great way to engage customers and make them feel like they have a stake in the company.
There are many different types of quizzes that you can use for this purpose, including: personality quizzes, opinion polls, and surveys.
🤩 increase sales 🤩
Finally, using interactive quizzes, polls and other tools like assessments, can significantly increase the number of sales you're making. At the same time it can decrease your car abandonment rate.
This is because quizzes and more can add this "fun" and "exciting" element to your customer's shopping experience. This will make them happy and entertained, which will result in them being more likely to make a purchase with you.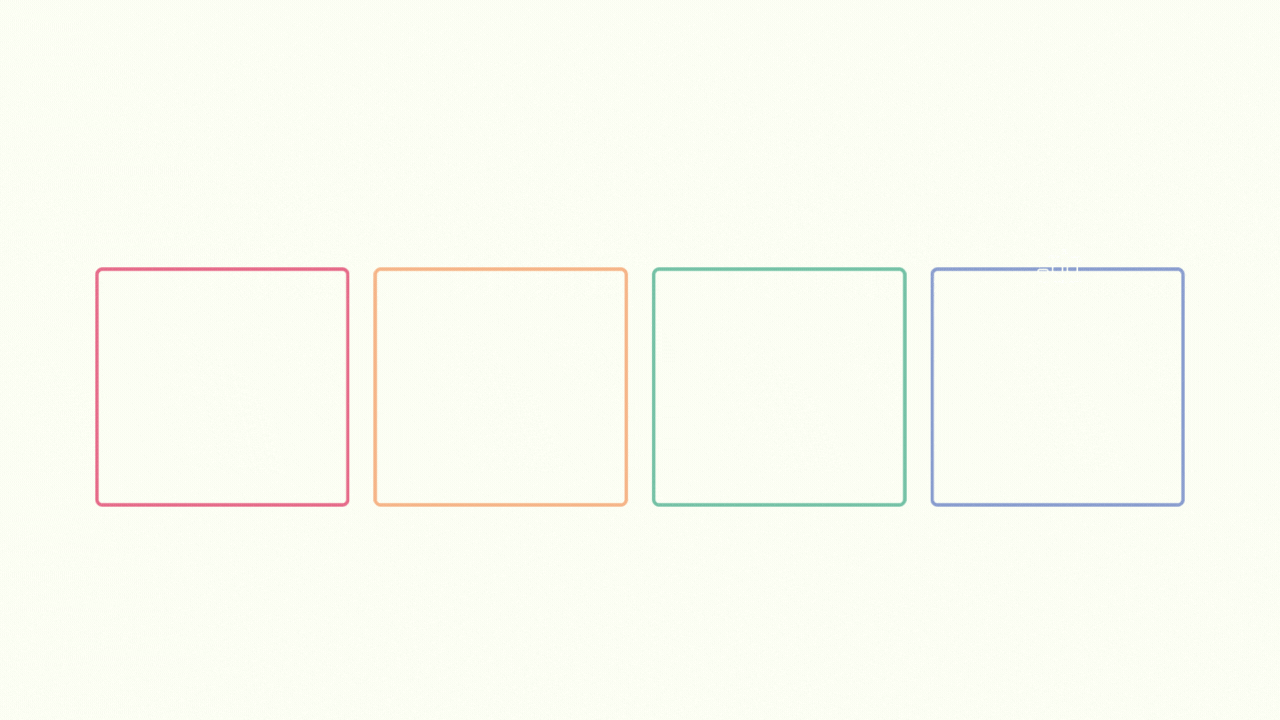 🤔Where to look for a Shopify quiz app?
Now that you know why you need a Shopify quiz app immediately, let's look at where you can find a reliable one for your needs.
🔎 Shopify's app store 🔎
Starting with the most obvious source, don't hesitate to look through Shopify's app store for your potential choice. Under the "marketing and conversion" category, you'll be able to find plenty of options.
What's more, most tool websites come with a rating and some general information. This way, you'll be able to quickly filter through those worth and not worth your attention.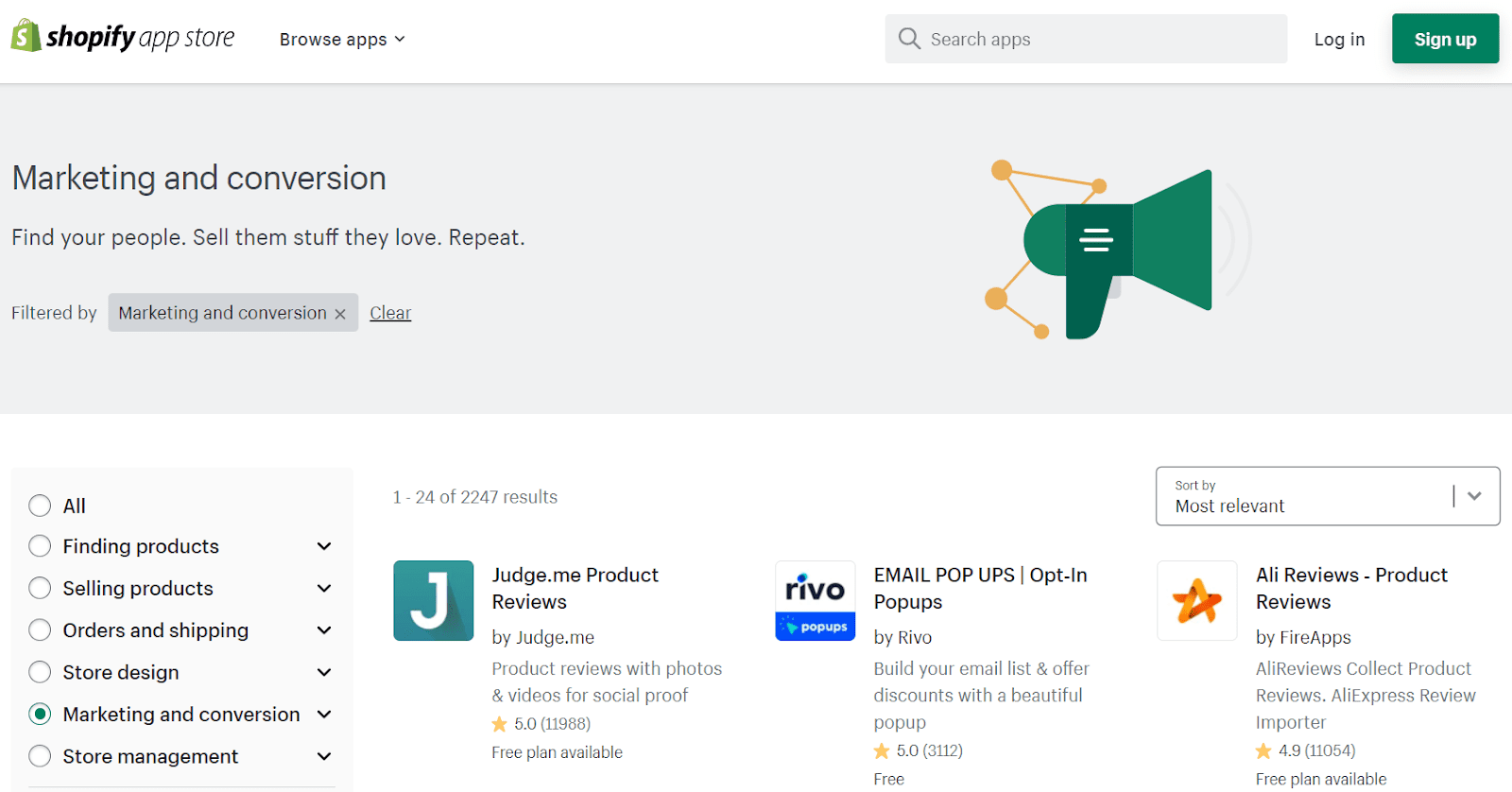 🔎 blog posts 🔎
Another excellent source of helpful knowledge and advice are blog posts like this one.
Once you're on your hunt for a Shopify quiz app, don't forget to come back to this post for top picks and recommendations.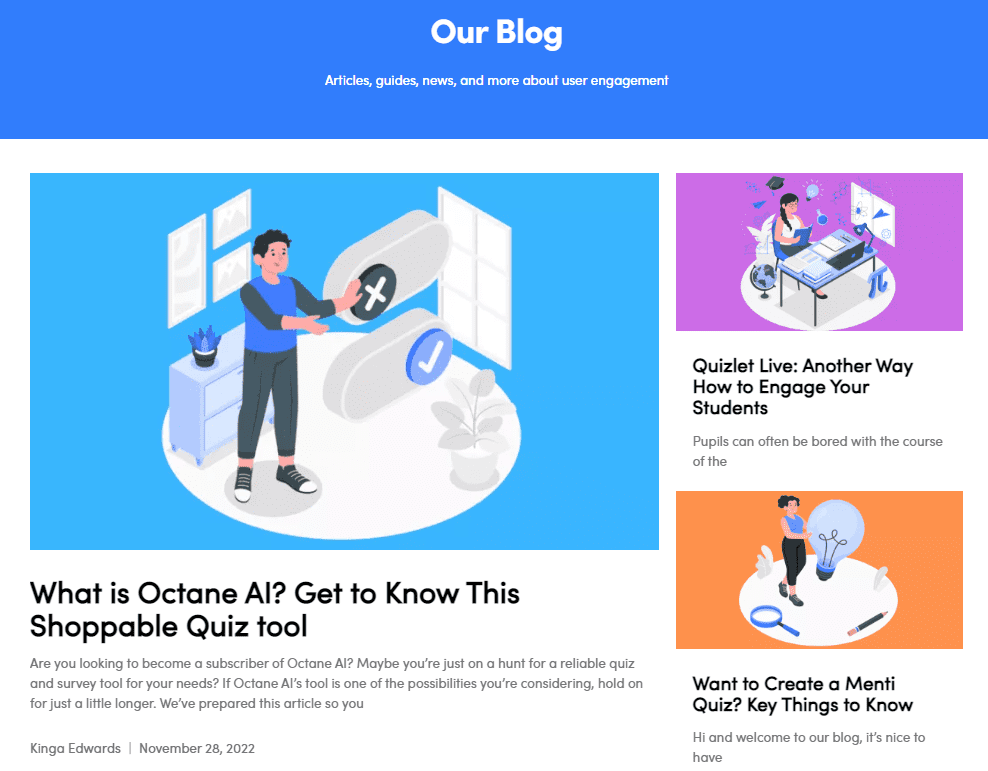 🔎 Quora 🔎
The question and answer platform called Quora can also be an effective place to search for unbiased and authentic tool recommendations.
We strongly recommend using it when you're in the stage of researching various options.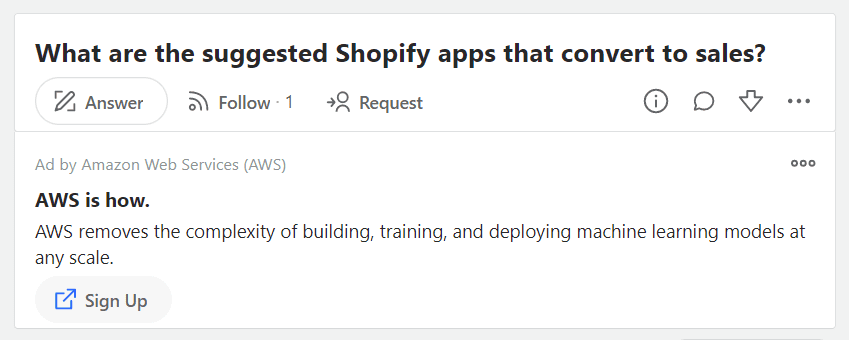 🔎 competitors 🔎
Since many businesses compete against each other on Shopify, sometimes it may be a good idea to dive into your competitors' choices. This applies to their overall performance,and also their toolkit choice specifically.
If there's a competitor that's doing better than you, do take time to do some digging around their activity and see what tools they're using.
🔎 recommendations from friends & business partners 🔎
Finally, having tried all of the above, your last resort may be seeking advice from friends and business partners.
Sometimes, they may bring valuable insights into your problem and even come with an excellent tool pick for you. You'll never know if you don't try.
recommended for you:
📚Product recommendation survey – all you need to know
🔝Top 5 Shopify quiz apps🔝
As we mentioned, blog posts can be good sources of advice and tips on your future quiz tool for your Shopify tool
#1 YouEngage
YouEngage is an interactive quiz maker for building creative online experiences for your Shopify shop visitors – both synchronously and asynchronously.
Using it, you can create all sorts of mechanisms on your Shopify store: starting from shoppable quizzes, through polls, all the way up to surveys, calculators, forms and assessments.
If you're looking for a tool that is budget-friendly, rich in features and offer a broad scope of use cases – YouEngage is your #1 choice.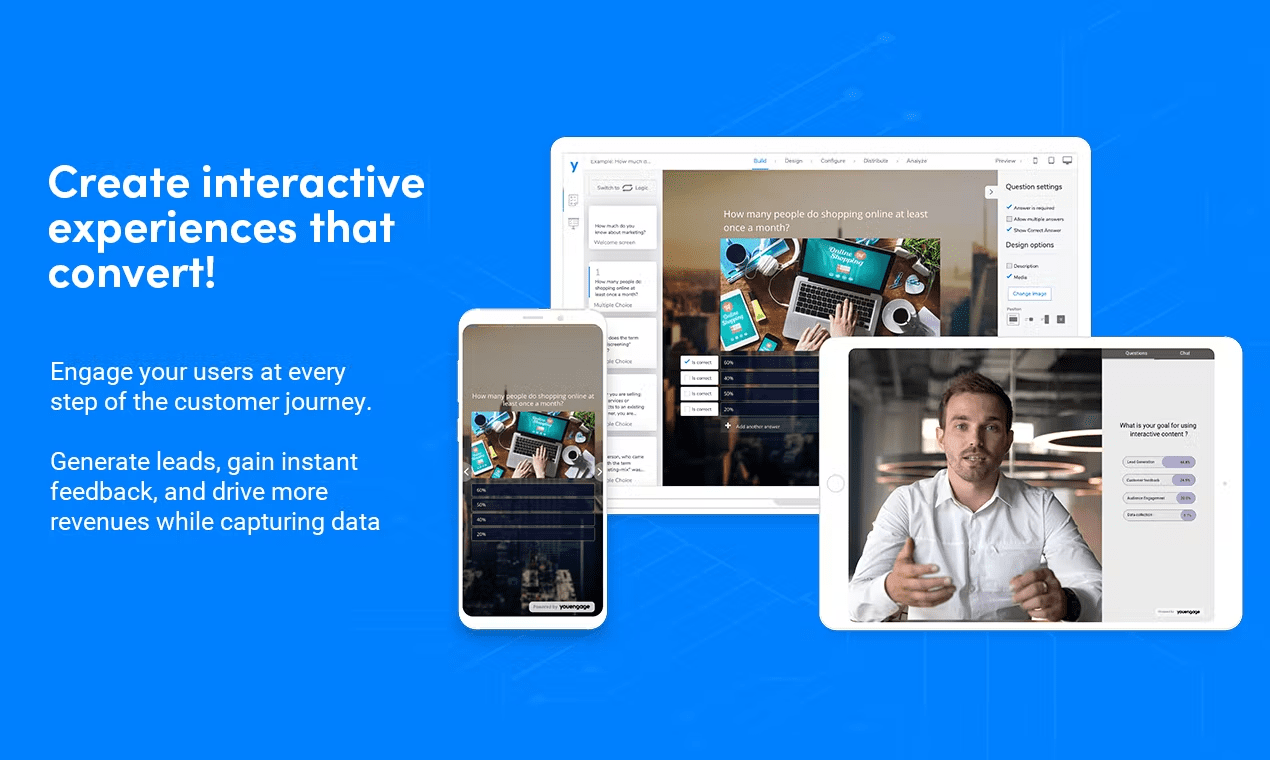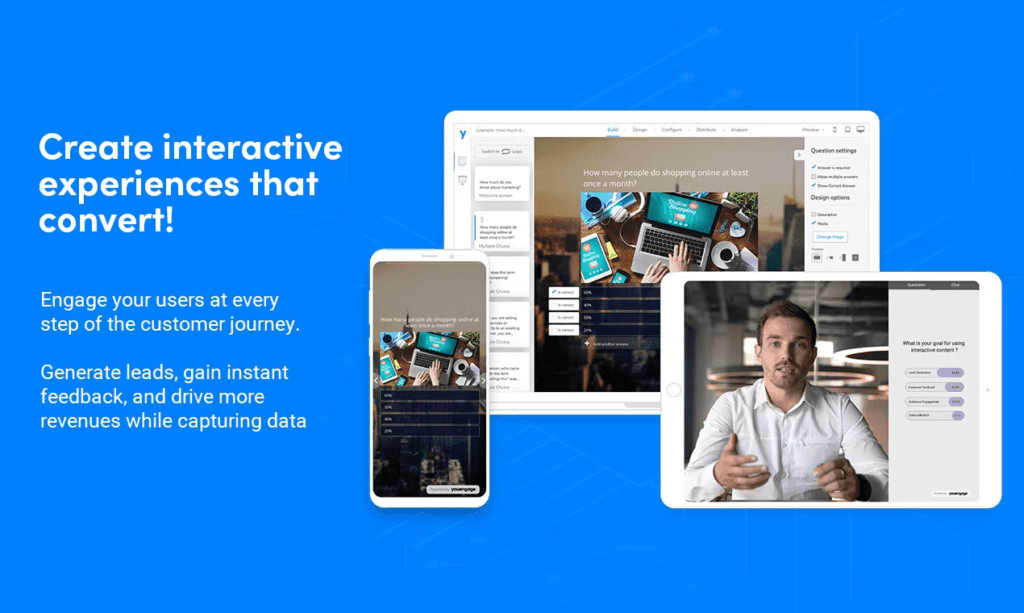 💪Strengths
budget-friendly with various pricing plans to choose from
more than quizzes (polls, surveys, calculators, assessments)
rich in features to boost sales
easy to use and scale
quick to implement
asynchronous and synchronous
rich templates or blank quizzes to create from scratch
👎Weaknesses
many interesting templates can make it difficult to pick one for a quiz
previously: no option to send follow-up emails to quiz respondents
#2 Quizify
Quizify is a quiz builder for Shopify stores. It will help you build simple quizzes, increase conversions and gain insights into your audience.
As a potential user, you can pick one of 3 subscription plans, which are starting from 4.99 per month. What's more, there's a free trial available, so you can test the tool out yourself before committing.
💪Strengths
free trial available
helpful customer support
customization options available for a branded look
👎Weaknesses
solution only for Shopify
requires coding skills
no forever free plan available
complicated, confusing workflow
#3 Octane AI
With Octane AI, you can create various surveys and quizzes and embed them into your Shopify store. You can also integrate it with emails and SMS messages.
It offers several quiz types to choose from, 4 integrations and an interesting list of available resources, containing blog posts and case studies.
💪Strengths
create shoppable quizzes
decent variety of analytics features
insightful resources available for free
👎Weaknesses
just 4 integrations available
high pricing (starts at $50)
no available API
not suitable for teamwork
#4 Visual Quiz Builder
Similar to Quizify, Visual Quiz Builder is another tool designed specifically for Shopify. It has the power to help you drive engagement, educate your customers and increase sales and conversions.
With a little over 100 user reviews, it's rather challenging to evaluate its effectiveness though.
💪Strengths
30 day free trial
helpful customer support
integrations with tools like Hotjar, Zapier, Facebook Pixel and more
👎Weaknesses
time-consuming implementation processes
some features seem to be underdeveloped
lack of tutorials and instructions
limited features in the cheaper plans
#5 GoBot
Last but not least, you may also consider using GoBot for your shoppable quizzes on Shopify. While conversational AI chatbots are this tools' main feature, designing quizzes in the form of a quiz pop-up is also possible.
This solution is also integrable with tools and platforms like Zendesk, Mailchimp, SMSbump and Zapier.
💪Strengths
free
various integrations to choose from
clear quiz design
👎Weaknesses
buggy infrastructure
not many features
not many resource to take advantage/learn form
recommended for you:
📚 Hacks to improving survey completion rate
Which one to choose? YouEngage as your top pick
Having looked at all of the above recommendations, the choice is obvious for us.
YouEngage significantly outperforms all of the other picks in this ranking.
You should choose it if you want to ensure that your Shopify quizzes are:
solid,
interactive and engaging,
responsive,
results-bringing, and
cost-effective.
All you need to do to start reaping off the benefits of YouEngage is a html module and our embed code. And it's done!

You'll also be pleased to know that you can use YouEngage on any online store engine or any website in general – it's fully customizable and easy to implement.
Need a visual example? Check our product recommendation quiz template here:
If you like our tool, be sure to give it a try and maybe even subscribe to our forever-free plan. We can't wait to surprise you with everything we have up our sleeves.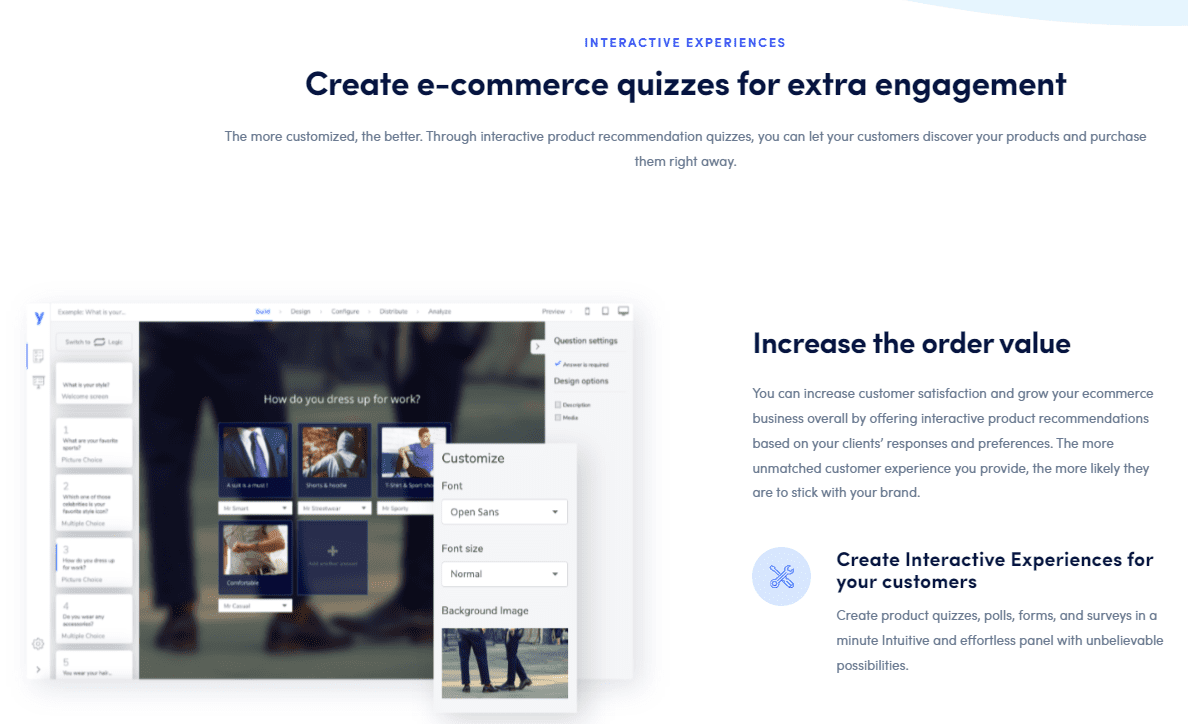 recommended for you:
📚 Why your ecommerce store needs quizzes
📚The power of interactive content
BONUS: FACTORS TO CONSIDER WHEN LOOKING FOR A QUIZ BUILDER FOR SHOPIFY
✔️ quiz functionality
✔️ available types of quiz questions
✔️ possibility to create custom quizzes
✔️ tools' pricing
✔️ testing capabilities
✔️ app reviews
✔️ user experience
✔️ access to actionable insights
✔️ access to a 14-day free trial
✔️ ease of use and implementation
Wrap up
Thanks for reading this article, and we hope you learned something new as well.
By this time, you should know that Shopify quiz apps are excellent inventions that can bring you lots of advantages.
You now also know where you can find the best quiz tool for your Shopify store.
We hope that our tool recommendations will be of use for you. In Particular, we're excited to see if you like YouEngage and its features. So don't hesitate to sign up for a trial or subscribe to the forever free plan straight away.
Thanks for reading and see you on our blog again soon!
Related topics: personalized product recommendation quiz for Shopify, product quizzes for Shopify stores, marketing campaigns on Shopify, tools for product recommendations on Shopify, Shopify quiz takers, quiz kit for Shopify, Shopify quiz builder and quiz questions, quiz for desktop on Shopify, ecommerce sales booster Shopify, engaging visitors on Shopify, cart checkout quizzes, plugin marketing quizzes, Shopify quizzes for personalized experience, customized quizzes, complex quiz maker, compatible quizzes with Shopify, best Shopify quiz tactics, Shopify product quiz examples, unlimited quizzes with Shopify, unlimited quiz questions for Shopify, additonal engagement tools for Shopify, conversion rates booster for Shopify, conditional logic quizzes, cart abandonment quizzes, customer insights on Shopify, unlimited questions quizzes for Shopify, types of quiz responses on Shopify, quiz marketing strategy, quizzes for a discount code, series of questions for products on Shopify, Octane AI vs YouEngage for Shopify, Octane AI features, YouEngage versus Octane AI