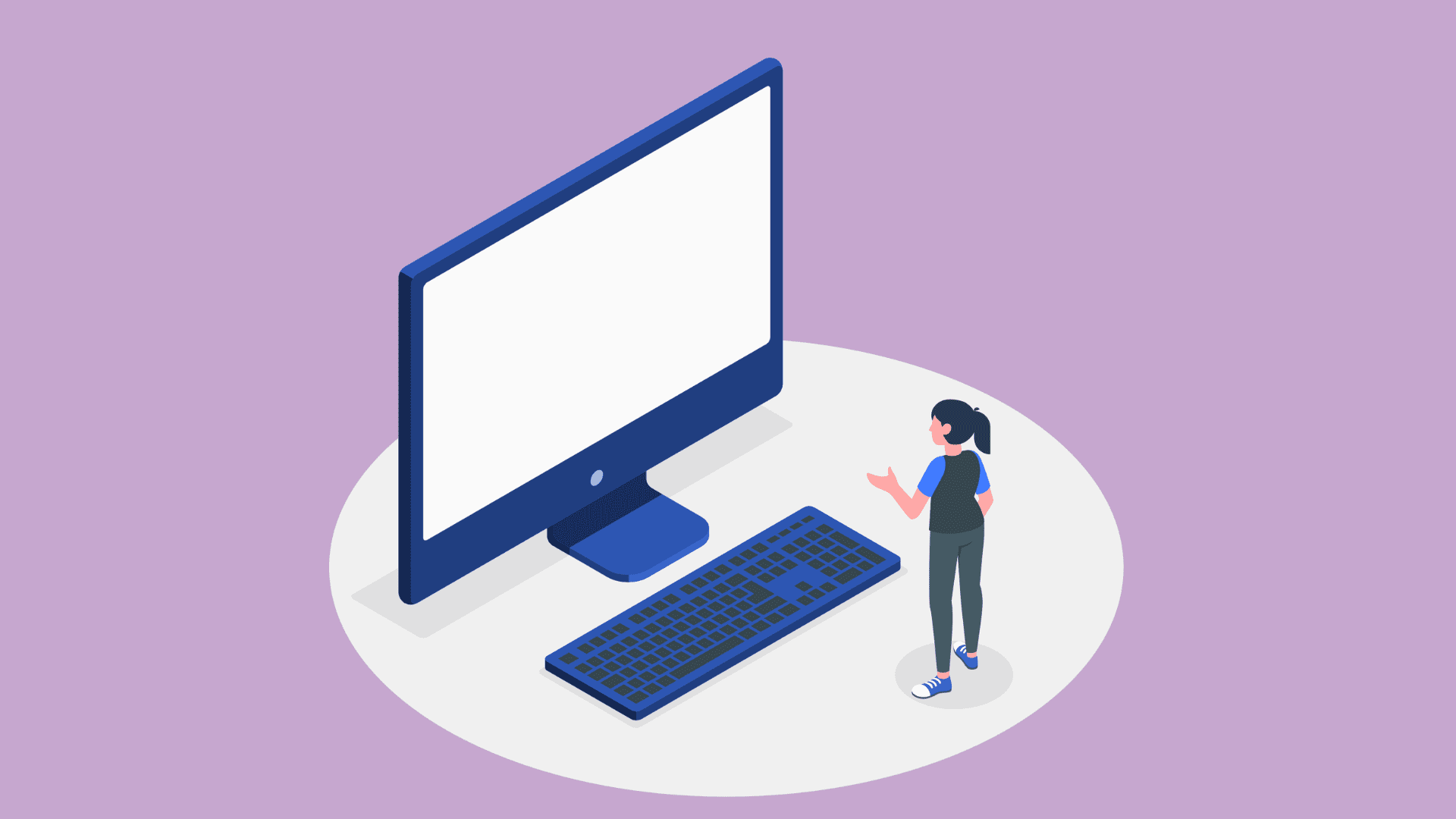 Riddle is one of the most popular quiz builders for making interactive content. However, there are many similar platforms out there with a similar set of features, so which one to choose? That's why we want to show you 5 Riddle Quiz maker best competitors – top of the top.
If you want to look around and see what others have to offer, keep reading for a helpful comparison and fresh ideas. Today's focus is on: top features, why a platform is a good alternative, pricing, and cons.
Let's start with a more detailed explanation.
What to use quizzes for?
Quizzes are fantastic to be in constant contact with your customers via engaging content. For example, you can attach a single question about how users rate the experience with a quiz or survey after purchase or using a service. So that you have the opportunity to provide amazing customer service, thanks to the feedback.
Thanks to unlimited quizzes, you can create a wide range of content types and use them as marketing tools. For instance, create a survey to collect email addresses and unlimited leads. Quizzes are good tools for email marketing options or social shares as well. Site visitors can take this type of quiz in return for the information they find relevant. The visitor must agree to be added to your mailing list to participate in this process. So thanks to quizzes, you can achieve improved conversion as well.
With assessment quizzes and grading automation, running a quiz is an option for people working in schools or other educational institutions to revise or incorporate some more interactive elements.
What is Riddle Quiz Maker?
Riddle is an online quiz maker, but they also offer surveys and polls. It aims to engage the audience, drive traffic to the website and improve user experience. It's designed for: publishers, agencies, sports teams, marketers, and non-profit organizations.
Popular features of Riddle
Riddle provides several features to help you produce interactive content. Let's see the top ones you can take advantage of.
Templates and appearance customization options: Riddle offers a decent range of quiz formats.
There are 15 interactive content templates for quick quiz creation. You can customize them by changing their fonts and colors and adding images. Additionally, Riddle enables you to add a picture or embed a YouTube video.
Integrations: there are many advanced integrations
Riddle quiz maker integrates with Mailchimp, AWeber, Zapier, Google Sheets, Google Tag Manager, and Active Campaign generation form, but it's still not the most powerful integration platform.
Easy embedding: share your quiz where you like it to be
You can embed your quiz to any site like WordPress, Youtube, Webhook, WhatsApp, Instagram, or Facebook, so social sharing is also streamlined with Riddle Quiz Maker.
Data security: Riddle provides GDPR compliance and data privacy
You do not have to worry about data – Riddle ensures data privacy and safe data storage.
Marketing insights: marketing tracking with Google Tag Manager
You can obtain marketing insights with Google Tag Manager. It lets you track and collect quiz info such as quiz starts, completes, lead form submission, etc. But first, you need to set up everything.
Unfortunately, Riddle does not provide free support on setting up Google Tag Manager. Instead, you'll have to pay 150 euros for an hour if you want any tips or advice on getting your GTM running.
Google Tag Manager is a powerful tool, but it requires some expertise in the topic. In addition, there are many technical things to know, so even though it's a nice touch, it can be tricky for new folks.
Statistics: you can get the numbers
In Riddle, you can use native statistics. For example, you can measure views, engagement, completions, shares, time of site, and leads to better segment customers in your business.
Riddle Pricing
Riddle offers four pricing plans: Basic (cheapest plan) at €29 per month, Pro at €49 per month, Team at €249 per month, and Enterprise plan at €2499 per month.
Given prices are due to annual charging.
You can choose between monthly and annual billing with the difference that the annual one saves up to 29%. Unfortunately, no free plan is available, but you can try Riddle's free 14day trial of any plan.
Cons of Riddle
The team plan seems a bit pricy compared to the other plans in our ranking dedicated to teams.
If you are new to technology, it would be hard to start.
RIddle is a tool for publishers, agencies, marketers, sports teams, or non-profits. Unfortunately no room for occasional users.
Riddle does not provide a free plan.
Why should you look for a Riddle Quiz Maker alternative?
If you are about to start your adventure with quizzes, you may feel lost using Riddle. It has a gamut of features, but there is no room for those who would like to create a quiz occasionally unless you pay for the plan.
Riddle is a decent tool for making engaging quizzes. But, if it doesn't suit your criteria, we are happy to assist you in finding the right match. There are so many options, so sticking with the one you are not satisfied with makes no sense. So, let's move to Riddle alternatives!
Best Riddle Quiz Maker alternatives
Let's take a look at the best quiz maker alternatives to Riddle. Then, we will take a closer look at top features, pricing, cons, and why they are good alternatives.
#1 Youengage as a Riddle alternative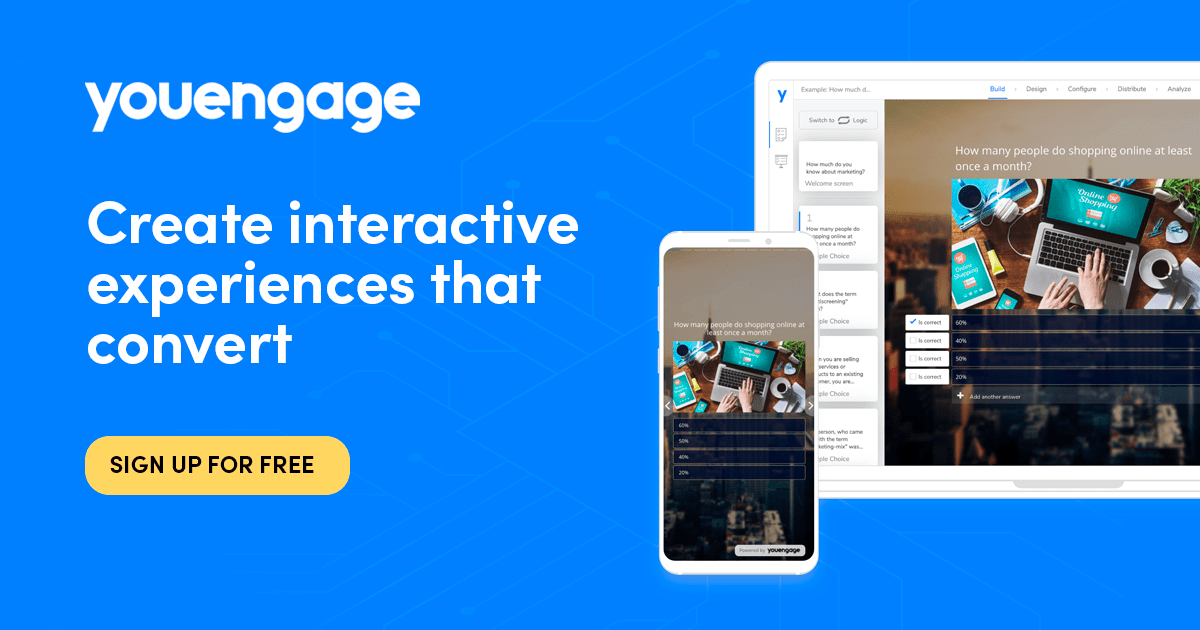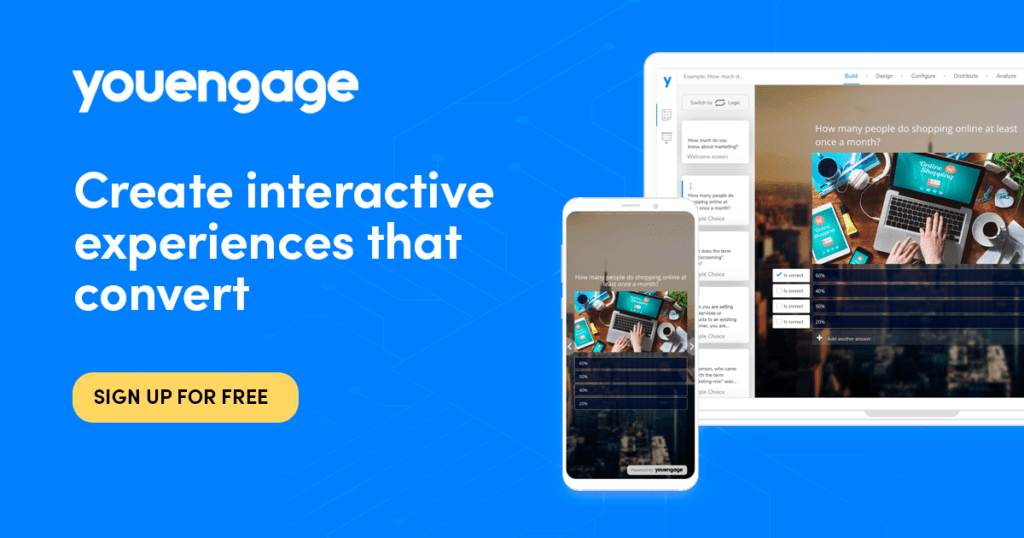 Youengage.me is a cloud-based app for quizzes, surveys, polls, and live engagement. It generates more leads and traffic thanks to interactive experiences. Here are its key features.
Youengage.me is a solid alternative to Riddle because of:
A wide range of templates. You can use them for making engaging content, for example, personality tests, BMI calculators, or rental application forms. All of them are fully customizable, and the designs are fantastic.
Intuitive builder. Building interactive content is straightforward. It does not require any technical skills. For example, you can design a quiz within minutes and then overview how it would look on mobile devices, desktops, or tablets.
Integrations. Youengage's native integrations with Zapier, Hubspot, and Google Tag Manager enable you to connect with your favorite tools. However, you can integrate it with any application you would like to analyze the data. Also, Giphy and Unsplash integration will make your quiz unique and attention-grabbing. There is no need to look for the photo source (for example, stock photos) and jump between tabs.
GDPR compliance and data security. So your data is all safe.
Versatility. Youengage is suitable for beginners or occasional users and teams, companies, marketers, or agencies. With Youengage, you can make both complex quiz types and basic ones like personality quizzes or English grammar quizzes.
Compelling data insights. You can measure the performance of your quiz and get insights useful for future marketing campaigns or other purposes you need. For instance, see quiz completions, average time spent answering, and completion rate.
Custom thank you screen. Such details are essential for quiz takers. You express appreciation for their time and that they are a vital part of the whole process.
Advanced customization options such as branding removal. It is possible to have a while label if you want to deliver a quiz without Youengage branding. You can also change the button action colors and font to match the question and answer option.
Customer Acquisition. Click here to find out more about customer acquisition using quizzes.
Youengage.me pricing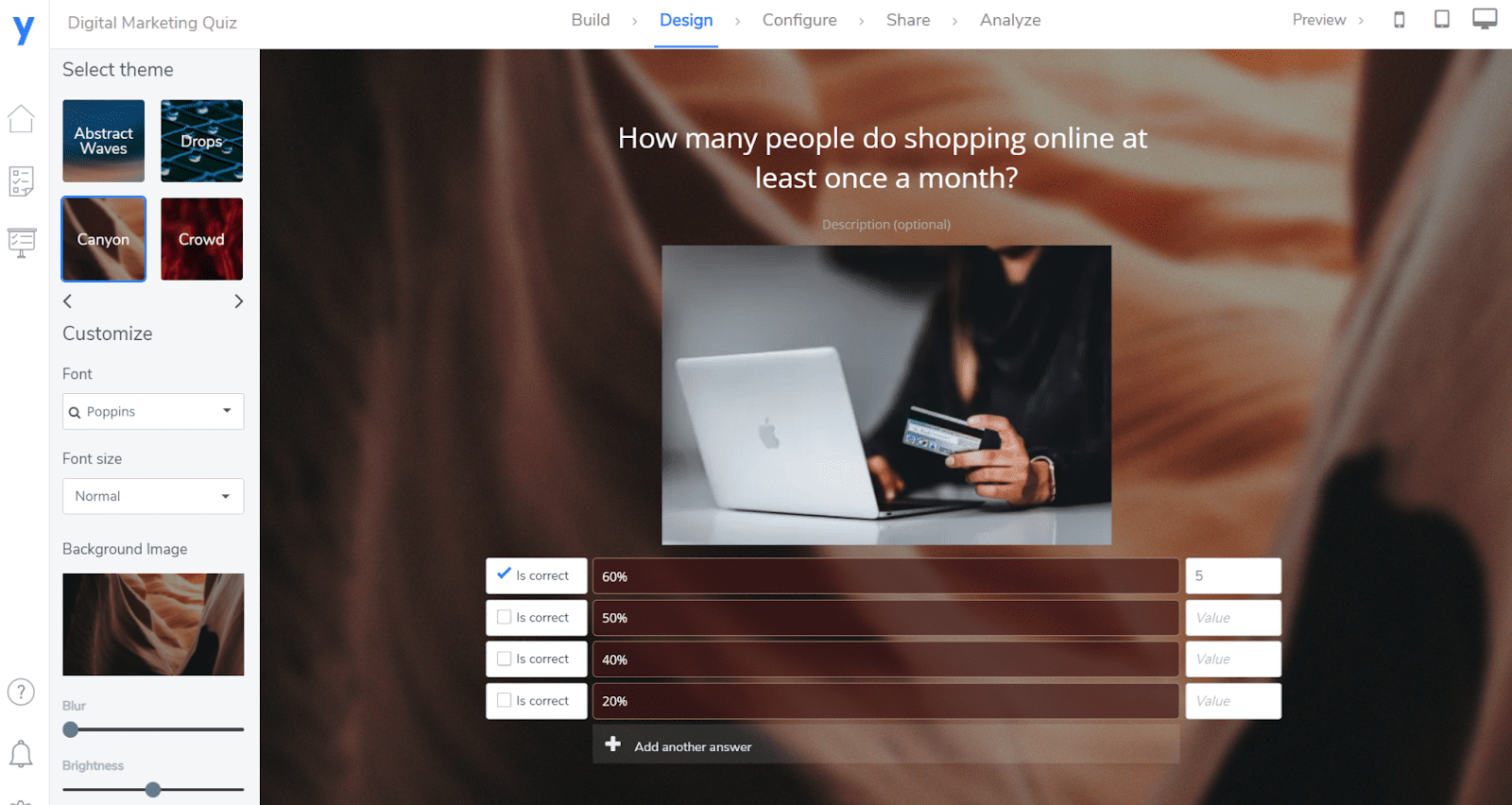 There are four pricing plans: Free plan, Starter plan at $19 per month, Professional plan at $49 per month, and Business plan at $149 per month.
Given prices are due to the annual option of charging.
You need to reach out to the sales team and contact for pricing for a more comprehensive solution.
The prices differ when you are charged annually or monthly. With an annual subscription, you save up to 35%. Click here for more details about student and teacher discounts.
What makes Youengage a fantastic tool?
For sure, live engagements make Youengage stand out from other competitors. Provide your virtual and in-person event with a uniquely interactive experience: live polls, live Q&A, quizzes, forms, surveys, calculators, and assessments. Voting for the best option or crowdsourcing the best question during the meeting is a piece of cake.
Also, the Youengage app is easy to navigate, so moving all around the platform is seamless.
There are many answer options: picture choice, rating, multiple choice, etc.
Youengage Cons
It does not provide a mobile app, which would be more convenient to take interactive quizzes on the go.
#2 Google Forms as a Riddle alternative
Google Forms is probably one of the most recognized tools for interactive content. However, it can be perceived as a simple quiz maker.
Google Forms is a good alternative to Riddle because…
It has an intuitive interface, so it's a good alternative for technology beginners.
It's quick to use. You can make quizzes in a few simple steps.
You can make a quiz from scratch, starting with Blank Quiz.
You can add a video directly from Youtube.
Google Forms offers decent customization options.
Google Form Pricing
The no pricing plans. Google Forms is completely free.
Cons of Google Forms
There are several templates in the gallery, but they could be more diverse and modern than other tools' galleries.
To analyze forms or quiz responses, you need to send them to Google Sheets.
Google Forms is a fundamental tool, so if you need something more unique that stands out, there are many options to choose from.
What makes Google Form special?
Integration with a Google account makes everything smooth. But if you do not have a Google account, you need to sign in to make a quiz for your participants.
It is a free tool that enables making unlimited content.
Also, Google suggests a correct quiz answer even before you provide your response to a question, which can be helpful for verification. Nevertheless, it is always good practice to double-check the information.
#3 Typeform as a Riddle alternative
Typeform is a cloud-based form builder, but it's suitable for quizzes and other interactive content such as surveys, polls, and tests. Typeform is used to get feedback, research, generate leads, and attract potential customers.
Typeform is a solid alternative to Riddle because…
There are many fully customized templates.
It is not that pricy compared to Riddle.
Typeform provides GDPR compliance and data security.
You can connect to your apps through integrations, for example, Mailchimp, Zapier, Slack, or Google Analytics.
Many question types are available.
Embedding is quite simple.
Typeform pricing
Typeform offers a free plan and three paid ones: Basic at €21 per month, Plus at €46 per month, and Business at €75 per month.
Given prices are due to yearly plans. With monthly billing, you need to pay more.
If you need a plan with more advanced features, you can ask for the Enterprise plan. You can get a 16% discount by paying yearly, but it is the lowest price cut compared to other alternatives.
Cons of Typeform
The free plan is quite restrictive.
The number of integrations depends on your pricing plan. For example, you can connect to Mail Chimp only if you subscribe to The Business plan.
Reports are available only for the Business plan subscribers.
Typeform's top feature
Its interface is user-friendly and got appealing quiz templates.
#4 SurveyMonkey as a Riddle alternative
SurveyMonkey is a cloud-based survey builder, but it also works for quizzes. They promise to improve customer experience, measure and increase employee engagement, get feedback from a variety of clients, etc.
SurveyMonkey is a good Riddle alternative because…
There are many building features.
You can let people on your team view, edit, or comment on your content.
SurveyMonkey integrates many well-known collaboration apps.
There are analysis features so that you can get insights about your quizzes.
You can get targeted responses by paying an extra fee, and SurveyMonkey will help you reach more people.
SurveyMonkey provides data security.
SurveyMonkey pricing
SurveyMonkey offers two sets of plans: for teams and individuals. There are several plans to choose from in each of the sets. Also, you can sign in for a plan or choose an Enterprise solution with a custom configuration. Prices start from $30 per month, billed yearly, and the most expensive plan costs $70.
You can also choose a free plan.
What makes SurveyMonkey special?
SurveyMonkey offers to build a survey automatically after indicating its goal. But not an entire survey, just up to a point. You need to choose one of the options from the list, for example, who you want to survey and its goal.
There aren't many quiz types to choose from, so if you want to build a quiz for an unusual occasion, you need to make it from scratch.
Cons of SurveyMonkey
Each plan has a limited number of responses. For example, the Basic plan users must purchase a paid plan to view replies when they reach the limit of 10 answers. After getting the limit, users must pay $0.80 or equivalent for each response over the indicated limit.
Also, compared to the other alternatives, SurveyMonkey is a bit behind with its website design. The design panel looks rather harsh.
#5 Proprofs as a Riddle alternative
ProfPros is a cloud-based software for making quizzes and other engaging content for businesses and teachers.
ProProfs is a good alternative to Riddle because…
There are many customizable quiz templates for different purposes. For example, scored, personality, or assessment quizzes.
Many building features, but the building panel is not too easy to navigate compared to others.
Respondents obtain a completion certificate after completing their quiz.
You can integrate ProfPros with platforms like Mailchimp, Hubspot, ActiveCampaign, etc.
ProProfs pricing
ProProfs offers three paid plans: Essential plan at $20 per month, Business plan at $40 per month, and Business+ plan at $2000 per month.
Those are annual prices.
Additionally, there is a second set of plans tailored especially for teachers. Their price depends on how many learners the teacher has, and features are different from the default plans. There is also a free plan available.
What's ProProf's top feature?
Many building features are something worth paying attention to.
ProProf's Cons
There are no reports in the Basic plan.
You need to provide your phone number while signing in, which some people may not want to do.
The registration process is relatively long compared to others – there are lots of questions you need to fill in, like job details.
Templates design needs refreshment.
The Essential plan lacks compliance.
Choose a quiz maker that will make your content awesome
There are many online quiz tools around, and sticking to only one platform (Riddle quiz maker) the whole time can make you miss incredible opportunities. It's good to analyze what competitors have to offer. Riddle is a decent tool, but it lacks some of the features you may need to create powerful quizzes.
In case you are still hesitant, our pick is Youengage. It is a versatile platform with many premium features ideal for marketing purposes, lead generation, and occasional uses. So sign in for practical, interactive content!