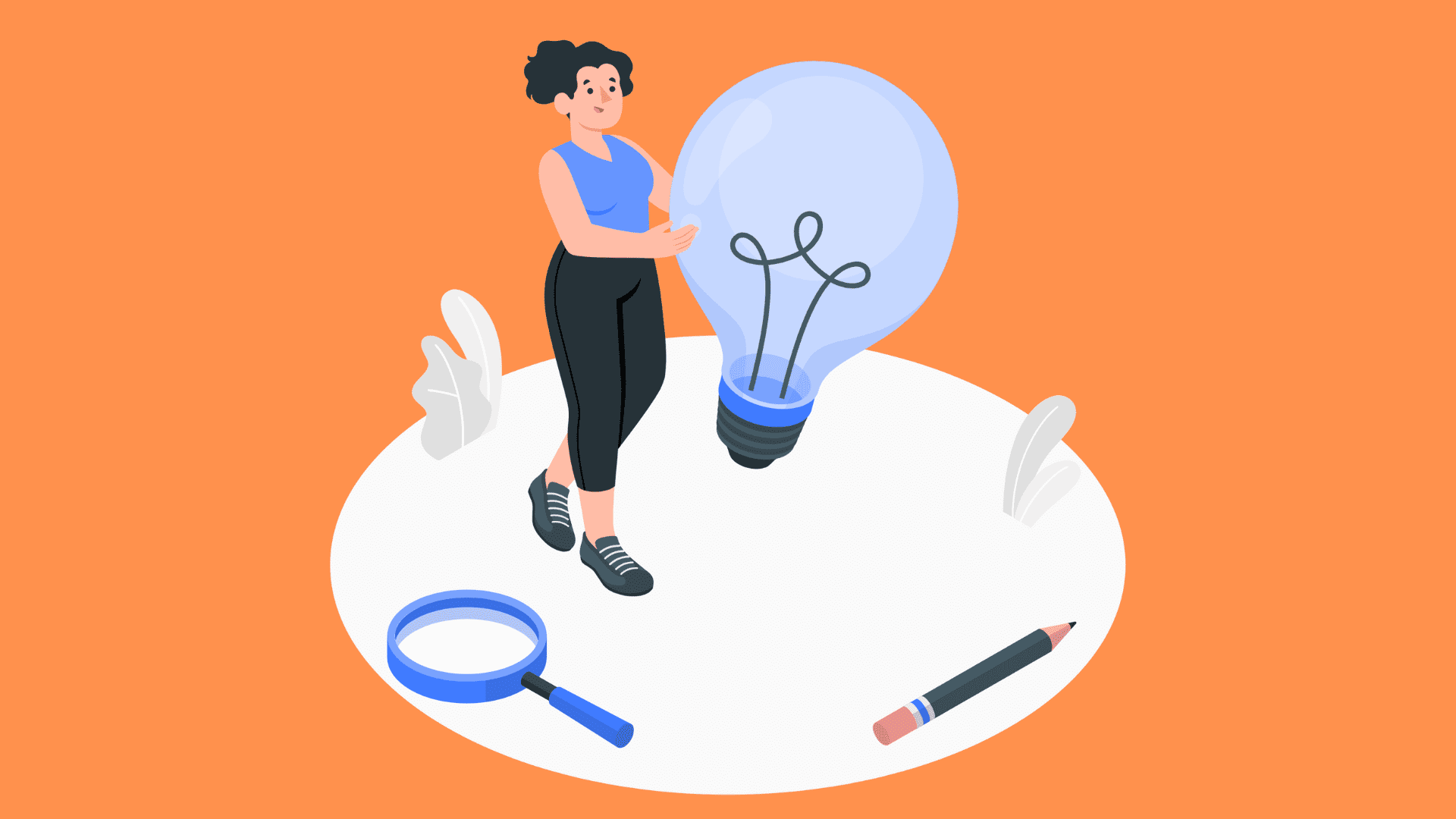 Hi and welcome to our blog, it's nice to have you! Today our focus is on those of you who are looking to create a Menti quiz.
If you're one of them, this article is for you.
So sit comfortably and get ready for quite an interesting piece of content. We're about to help you out tremendously.
What is Menti?
Founded in Stockholm 8 years ago, Menti, or Mentimeter, is a Swedish company. The company offers software that allows users to create polls, word clouds, quizzes, Q&As, surveys, and presentations. It is used for a variety of purposes, such as presenting at events and teaching in schools.

Things to consider before you decide to create a Menti quiz
In comparison to other survey, quiz, and poll software tools available on the market, Menti offers a number of features that make it worse than competitors.
As a result, you may want to get familiar with them before you go ahead and create your first Menti quiz.
See also:
Menti – what is it and what to choose instead?
Mentimeter: key features and alternatives to keep in mind
Problem #1 – question forms

First of all, the range of question types offered by Mentimeter compared to competitors definitely leaves plenty of room for improvement.
They question types offered by Menti include:
multiple-choice questions,
ranking questions,
open-ended questions,
scale questions,
and just a couple or so more.
Compared to other similar tools, Mentimeter has fewer questions.
Adding short text, linear scale, email and picture choice questions to quizzes (as offered by YouEngage, for instance) would make them more engaging and increase the response rate.
Problem #2 – subscription models
Another thing to note is that Menti only offers annual billing. As a result, you can't subscribe to this software and pay every month.
The yearly billing aspect of Menti, especially for monthly billing fans, is definitely inconvenient.
It may not be possible or needed for quiz makers to commit to such a long time subscription. In addition, a 2-week free trial is not enough to decide if you want to subscribe for a year.
We consider this to be pretty frustrating. Menti's competitors tend to use monthly billing, so this is a good reason to look for another solution.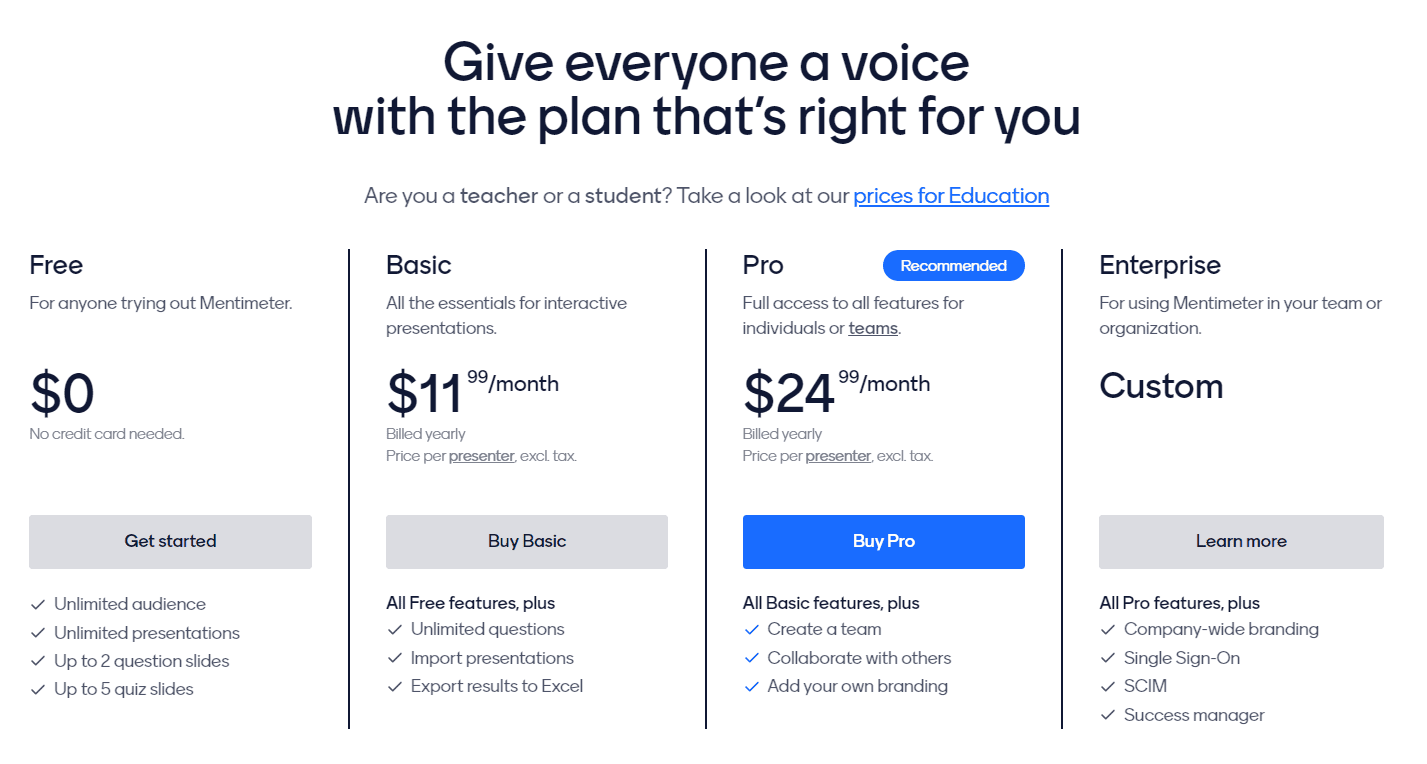 Problem #3 – device adaptation
Moving further, a highly imperfect feature of Menti is their device adaptability. It's just really basic, that's the main problem. You can use your quizzes on mobile devices like iOS, Android and ChromeOS.
Except for that, there is nothing extra about it. With more customizable looks and features for different types of devices, the user experience could be slightly improved.
It is also undoubtedly easier to create quizzes on desktop devices than on mobile ones.
In fact, even Mentimeter's guidelines recommend using desktop devices for creating quizzes. It is clear that the user interface on mobile devices is not perfect.
So if you're a loyal mobile user, you may have a low quality experience with Mentimeter and its quizzes.
Problem #4 – user interface
Finally, there are a few areas where Mentimeter's user interface could be improved compared to other platforms.
The creation of quizzes and polls, for example, should be improved.
During our exploration of the tool, we were not able to find features like:
adjusting images,
changing font size, and
customizing a templates' text,
to name a few.
On its own, Menti's visual appeal was somewhat good looking. So when we dug deeper and actually used it, we were disappointed. As it turns out, a beautiful appearance won't do much good if users can't navigate and use the tool properly and without any issues.
What's wrong with Menti? Quick comparison with alternatives on 4 dimensions:
| | | |
| --- | --- | --- |
| feature | Menti | Menti alternatives |
| question types | multiple-choice questions,scale questions,ranking questions,open-ended questions,a few more | multiple choice,rating,short text,picture choice,linear scale,long text,email,phone,website,numberslider |
| billing method | yearly only | yearly, monthly and one-time-use billing |
| device adaptability | a basic level of adaptability, with some features working better on desktop devices | excellent adaptability to both mobile and desktop devices both from the perspective of quiz/survey/poll creators and respondents |
| user interface | confusing and sometimes complicated | quick and easy to navigate |
So… should I pick an alternative tool? YES
Given the pretty significant drawbacks of Menti, we are convinced it'd be beneficial if you considered using an alternative tool.
We're also convinced that your best Menti alternative is YouEngage.
With YouEngage, you can create digital, engaging experiences such as:
polls,
calculators,
surveys,
forms, and
quizzes,
live engagement tools, and
assessments.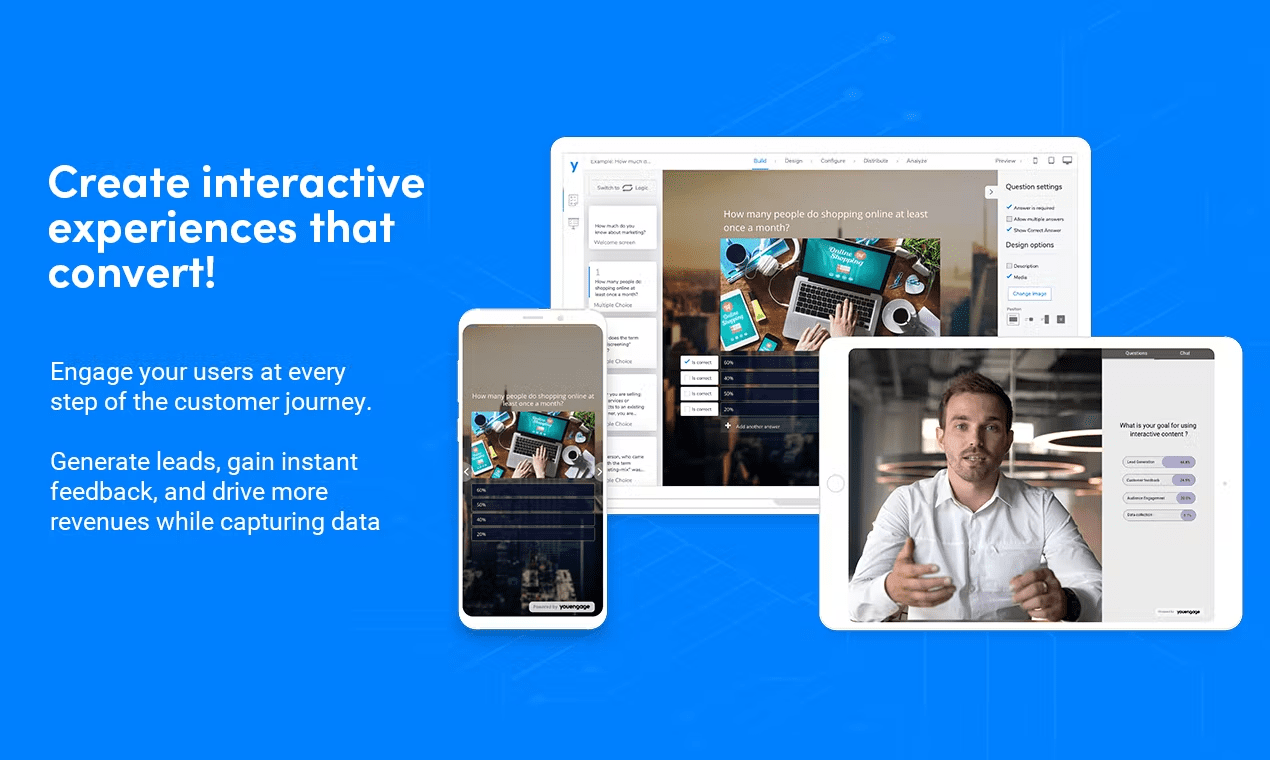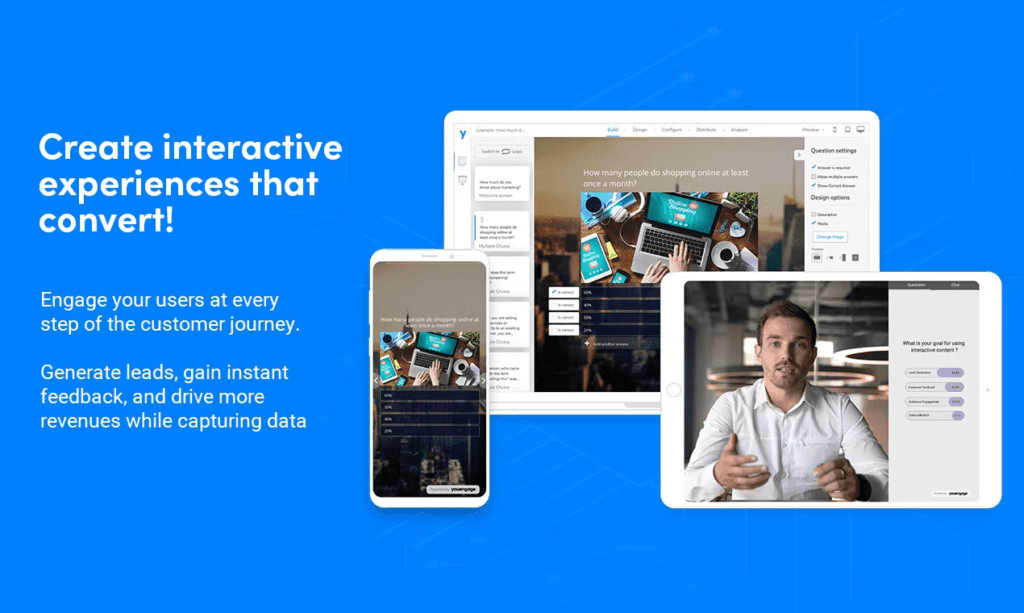 In terms of price, it offers a variety of subscription plans, with both monthly and annual billing options available.
Looking at its features, YouEnage will positively surprise you with things like:
5000 event participants,
Live polls and Q&A,
Unlimited projects and events,
Custom themes and colors,
Zapier integration,
Logic Jumps,
Live video integration,
Hubspot integration,
Custom variables,
Exit links & redirects,
Events moderation,
Responses & Analytics,
Data Export (xls),
and many more.
As for the interface, it is one of the easiest to use: you can create surveys, quizzes, polls and more with just a few clicks.
Here are some reviews from satisfied customers to prove all of this: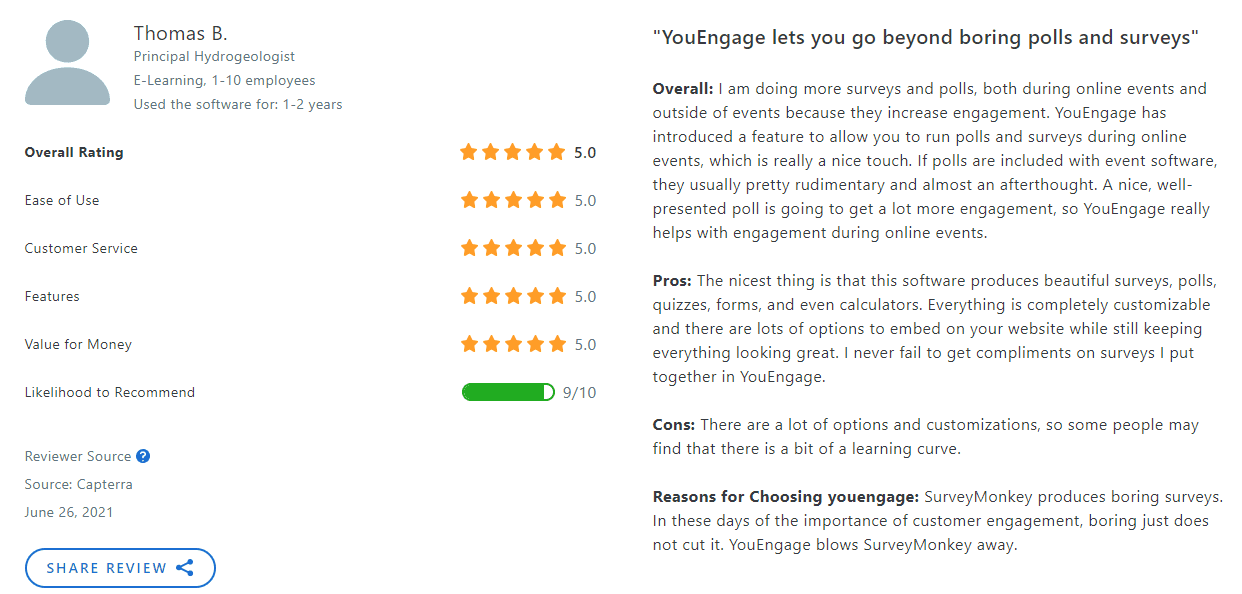 Join us for your free trial today to get started with making the best quizzes ever.
Create your first quiz today
And that's it! We hope you now know whether or not it's worth investing your time into creating quizzes with Menti.
While this may be an 'alright' solution, we definitely recommend something more reliable and user friendly.
Issues on levels like question forms, subscription methods, user interface or device adaptability can be serious dealbreakers – especially if you want your quizzes to look professional.
Our top recommendation for you is YouEngage – a Menti alternative that will positively surprise you every step of the way.
We hope you enjoyed this article and if you did – be sure to come back for more releases in the future on our blog.
Thanks for stopping by and if you have any questions – do reach out!
Create a Menti Quiz FAQ
Mentimeter software frequently asked questions are answered in this section of the article. Have a read to learn more about it.
Why is Menti not a good solution?
For some potential users, Menti is unattractive because of its visible drawbacks. They concern areas like billing methods, available question types, user interface, as well as device adaptability.
What is Menti?
Founded in Stockholm eight years ago, Menti, or Mentimeter, is a Swedish company. Among their products are polls, word clouds, quizzes, Q&As, surveys, and presentations. It can be used for presenting at private events or teaching students in a fun and engaging way.
Why would I want to create a Menti quiz?
It's because Menti may be enough if you're looking for a quick solution and don't have too sophisticated needs when it comes to your polls, surveys, quizzes and so on.
What are good Menti alternatives?
It is possible to choose from a variety of Menti alternatives. Depending on your needs and budget, there are several options. The perfect tool for creating engaging experiences for audiences of all types is YouEngage – a reliable and high-quality alternative to Menti.
What are the key features of Menti?
Among Menti's key features are quizzes, Q&As, live polls, word clouds, surveys, and interactive presentations.
Other commonly asked questions: Can I create interactive slides or interactive presentations with Menti? What do Menti's question slides look like? What's the most popular slide type of Menti quizzes? Is fill-in-the-blank question type available with Menti? Does Menti offer any pre-made templates? Does Mentimeter have any template recommendations for quizzes? What's Mentimeter Academy or Menti University? What can you integrate Mentimeter with? Can you host a quiz competition using Mentimeter? Does Menti have any fun icebreaker questions? What types of question types does Menti offer? Are there any voting buttons in Menti quizzes? Is anonymous voting possible with Menti? How to share voting link to Menti surveys? Is real-time voting possible with Mentimeter? Is Mentimeter a good tool to interact with shy students? What collaboration features are offered by Menti? Does Menti have any ready-made templates for users? Can you collect feedback from participants using Menti? Can you collect real-time visual feedback using Menti? How to share feedback from Menti? Is it possible to conduct brainstorming sessions with Menti? How to close the quiz question window on Menti? Where to find the voting codes for Menti? What are Menti's content slides? Can you set multiple correct answers with Menti's quizzes?