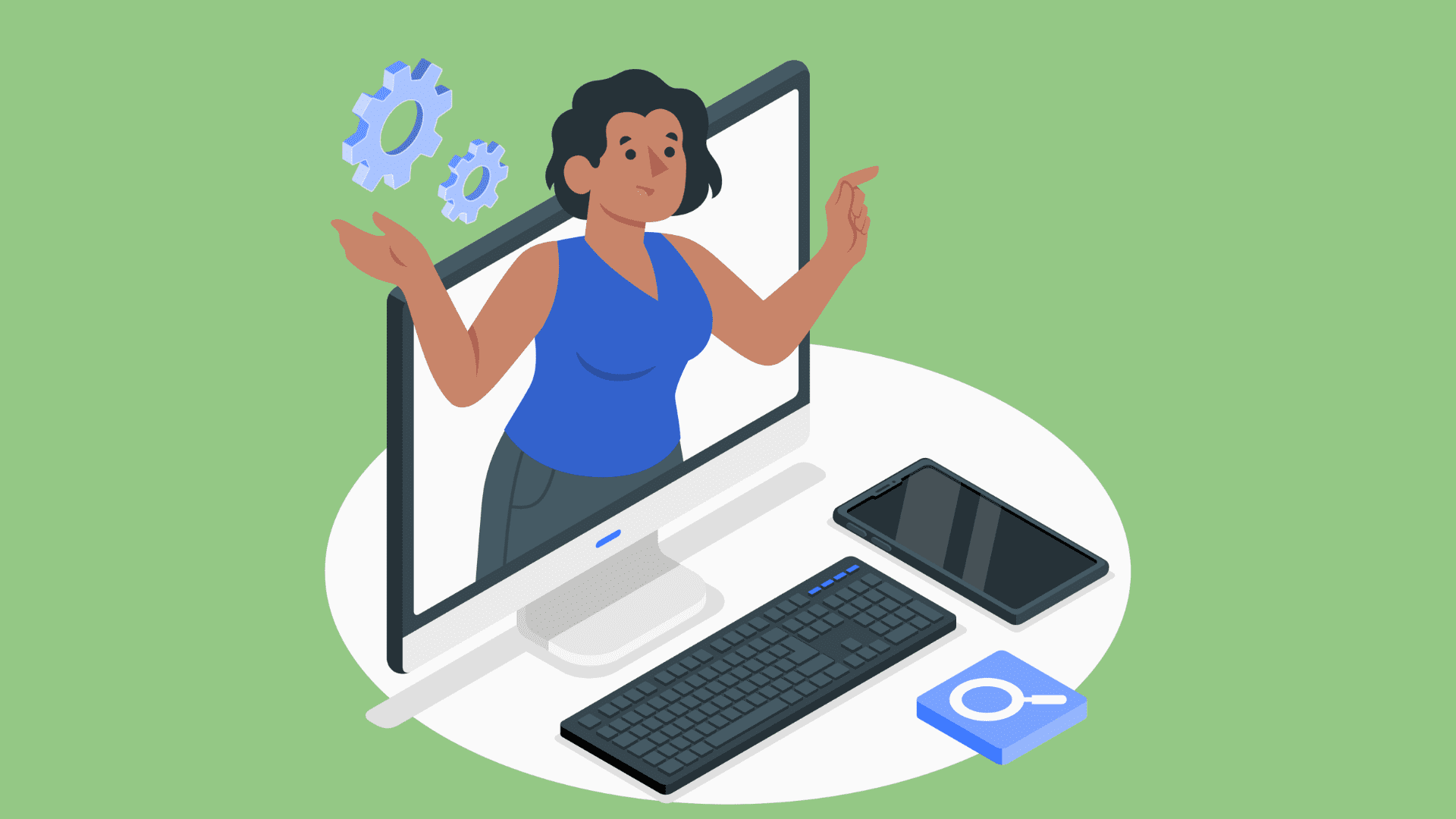 Typeform Quiz Maker is a popular tool for making quizzes, surveys, and polls focusing on marketing purposes. But is it the best? How to choose the right one when there are so many online quiz makers available?
Quizzes and marketing are a great combination. Generating new leads, learning about your audience, and increasing user engagement are only some of the advantages of interactive content when using a good quiz maker. Choosing among the various online quiz tools can be difficult, so we've made it easy for you.
We are happy to show you some powerful Typeform alternatives and help you decide which one is best for you.
What is Typeform Quiz Maker?
Typeform is an online software solution specializing in form building and creating internet surveys to engage audiences. As one of the most popular online quiz makers, you can run quizzes, forms, collect email addresses, set up your form fields, create question groups, and even process online payments when needed.
Typeform quiz maker provides:
quiz maker – for many types of quizzes
survey maker – for customer surveys
form builder – for contact forms and other types of forms
poll maker – solid list of options
test maker – for using conditional logic for correct answers
You can use all of those makers and builders in marketing. For example, to increase brand awareness, collect leads, and grow your brand – and those are just a couple of possible outcomes.
Typeform Features
The tool you choose should have a comprehensive set of powerful features. Therefore, we will be comparing Typeform Quiz Maker to other alternatives in terms of embedding, sharing, integrations, analytics, customization, and pricing.
Sharing and embedding
You can embed a quiz on your website, as a chat, or in emails. It can be a popup, slider, popover, or full page. Also, various quiz types can be shared with a link.
Analytics
You can see the outcome in the Results panel and get insights into the answers. If there are more than 2,000 answers, you need to use another tool for the analysis.
Customization and a quiz builder
There are many quiz types that you can redesign and customize as you like. Making a quiz from scratch is also possible and is actually one of the key features of Typeform, with conditional logic advanced features and many question types to choose from. Before publishing a quiz, there is no possibility of checking in the form builder option how it would look on different devices.
Native integrations
Typeform integrates with most popular apps such as Hubspot, Klaviyo, and Calendly, as well as Google Forms, Mailchimp, Google Tag Manager, Zapier, and more.
Typeform pricing and main differences between plans
Typeform offers three premium pricing plans. Check them out in terms of monthly and annual prices.
The Basic plan costs €21 per month, billed annually. If you choose monthly billing, the Basic plan costs €25 per month. This cheapest plan offers unlimited quizzes and question types, 100 responses per month, and includes one user. File upload storage space is 1 GB.
The Plus plan costs €46 per month, billed annually. With monthly billing, the Plus plan costs €55 per month. You get 1,000 responses per month and three users included, as well as unlimited questions and unlimited quizzes. File upload storage space is 2 GB.
The Business plan costs €75 per month, billed annually. This is the most expensive plan. With monthly billing, it costs €89 per month. You are limited to 10,000 responses per month and five users. Typeforms and questions are unlimited. File upload storage space is 4 GB.
If you would like to check if the Typeform quiz maker is for you, there is a free plan with ten questions per quiz and ten responses per month. No need to sign up for annual prices without checking all of the advanced features and each form builder option for experienced users.
However, Typeform Quiz Maker is not the only comprehensive solution that you can use as a visual builder, simple quiz maker, program for automation of workflows, or HubSpot forms alternatives. There are more available than just that.
Why should you look for Typeform Quiz Maker Alternatives?
Although Typeform is a decent online tool for making interactive quizzes, we want you to show some alternatives that might be a better match for you.
Typeform uses various types of contact forms and a wide range of quiz types. With many advanced features, it can be a good alternative to the rather limited Google Forms. An advanced analytics feature and marketing automation, as well as lots of customization options for form fields and integration options (e.g., with email outreach tools), make it one of the best solutions for creating simple forms and online surveys.
However, it is not the only survey builder you can use as a business owner. There are more tools out there supporting unlimited forms of various types, used for collecting email addresses, as well as offering a range of quiz formats, interactive question formats, and other creative options for marketing services.
Below, we'll show you what other form building tools and survey building software you can use for creating a wide range of customer survey formats, unlimited quizzes, and ultimately, for growing a loyal user base.
Automation of workflows is important in each comprehensive solution. Hundreds or even thousands of people may end up filling in your poll or survey, so make sure you use the best Typeform Quiz Maker alternative for your organization.
Typeform Alternatives: Our Picks
We've chosen a bunch of quiz builders that can offer you options for creating simple forms, lots of customization options, and various question formats to choose from. They all come with premium plans and allow all business owners to spread their wings with innovative marketing services. If you're looking for other visual builder solutions than Typeform Quiz Maker, check out our list below.
#1 youengage.me – Your Typeform Alternative
As a great quiz maker alternative to Typeform, youengage offers quizzes, beautiful surveys, calculators, assessments, forms, and live engagements.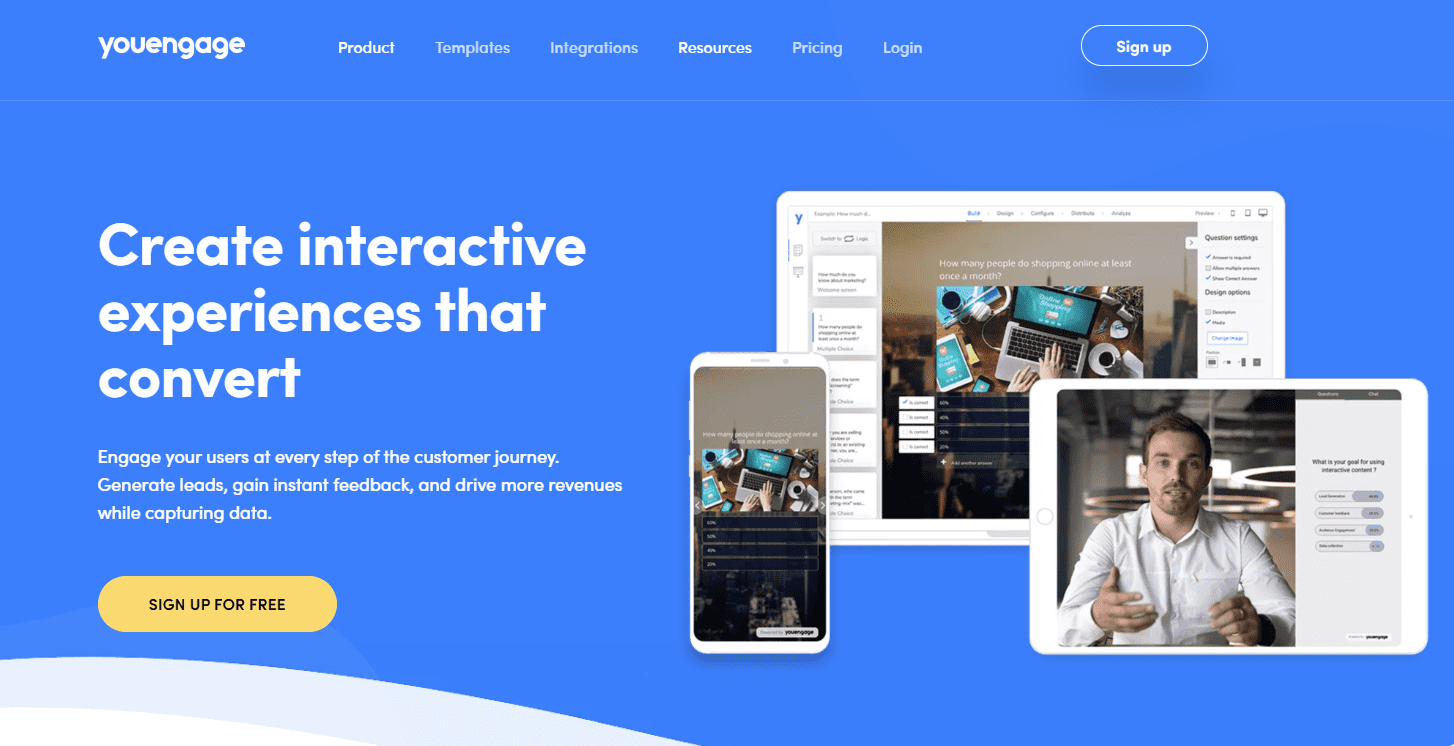 Creating quizzes with youengage is an effective way of generating new leads and driving social traffic to your website. This platform offers a solid list of engaging quiz types, such as those for:
lead generation
product matching
personality
trivia/knowledge
assessment
….just to name a few. As a Typeform Quiz Maker alternative, youengage is much more than a simple quiz maker – it offers a comprehensive solution for your overall marketing strategy. What's more, you don't need to have any experience with form builders to create outstanding customizable forms with this solution.
Real-time engagement
Live engagements are polls, quizzes, Q&A sessions, or customizable forms conducted in real-time. They are great for virtual meetings with many participants or in-person events, and also offer other creative options. They can be ice breakers during onboarding training, interactive elements of webinars, or question group tools for panel discussions. Providing real-time engagement definitely improves the audience experience.
Customization and a visual builder
Of course, you can make any quiz type you need with youengage's very intuitive interface. Creating and customizing quizzes is a piece of cake and can be done in minutes thanks to its user-friendly visual builder. Lots of customization options are available to adjust each quiz to your needs – different fonts, colors, background photos, and question types. In addition, you can preview what your quiz will look like on various devices: mobiles, tablets, or desktops.
No matter if you need simple forms or more advanced form building tools, with youengage visual builder you can build unlimited forms, question formats, and boost your marketing services with the automation of workflows offered by this comprehensive solution. Would you like to surprise your audience with mobile-friendly and beautiful-looking forms? You have just found out how.
Sharing and embedding
You can also share quizzes or customizable forms with others quickly and easily, as a standalone format or part of your website. Moreover, you can integrate youengage into your website, email marketing, and social media, etc. Not every Typeform Alternative can be embedded with such ease, especially on the cheapest price plan. Again, you don't need any experience with form builders to get one up and running in seconds.
Analytics
You can see the gathered information in the form of metrics and statistics, which is a very convenient way of analyzing marketing data and saves much time. With youengage, you get instant feedback right after running a quiz, see the results in real-time, and grow your loyal user base.
Advanced Integrations
Quizzes are a source of valuable information in marketing. You can automatically transfer leads and data from one to your marketing platforms with youengage, which is something that not each and every simple quiz maker can do.
It natively integrates with Zapier, Hubspot Forms, SalesManago, Google Tag Manager, Google Sheets, Active Campaign, Slack, Airtable, and Mailchimp. Zapier advanced integrations enable you to connect your projects to a solid list of over 2,000 additional apps including visual builders, online payments solutions, and email marketing tools of your choice.
These integration options are crucial for analytics and reporting, lead generation, productivity, and marketing automation because they can help you build a huge loyal user base over time. Typeform Quiz Maker alternatives need to offer more than standard, simple quiz makers, and that's exactly the case with youengage.
youengage pricing and the main differences between plans
As in the case of Typeform Quiz Maker, prices differ whether paid annually or monthly. When you choose annual payments, you can save up to 35%. There are three paid plans and a free one available to choose from.
Considering annual payment prices, here are the different options:
The Free plan offers 100 responses per month, 100 event participants, unlimited projects and events, live polls, Q&As, and analytics. This is a good choice if you don't need large form types and if you're looking for an intuitive form builder option for your business.
The Starter plan costs $19 per month, billed annually. This plan includes 2,500 responses and 500 event participants per month. On top of all the Free plan features, this cheapest paid plan gives you logic jumps, custom variables, exit links and redirects, plus more.
The Professional plan costs $49 per month, billed annually. It includes 10,000 responses and 1,000 event participants per month, all of the Starter plan features, plus Webhooks, removable youengage branding, and Google Tag Manager tracking.
The Business plan costs $149 per month, billed annually. It includes all of the Professional plan advanced features, 25,000 responses and 5,000 event participants per month, as well as priority support, a custom domain, and the possibility of buying additional responses when you need them. It is ideal for experienced users.
All plans include customization (custom themes, mobile-friendly, and beautiful-looking forms), embedding anywhere, question groups, Zapier integrations, email list enhancement, answer scoring, and a custom thank you screen, etc. If you want to see all of the advanced features, click here for detailed pricing plans.
youengage solutions can be used as a part of an effective marketing strategy – it brings interaction with your brand and increases conversion rates. Interactive content such as quizzes and beautiful surveys work really well for generating new leads on your website. No need to use HubSpot forms to get satisfying completion rates – you'll improve them with youengage as your Typeform Quiz Maker alternative, even if you pick the cheapest plan for this simple quiz maker.
#2 Leadquizzes
A Typeform quiz maker alternative used for creating quizzes, online surveys, and forms.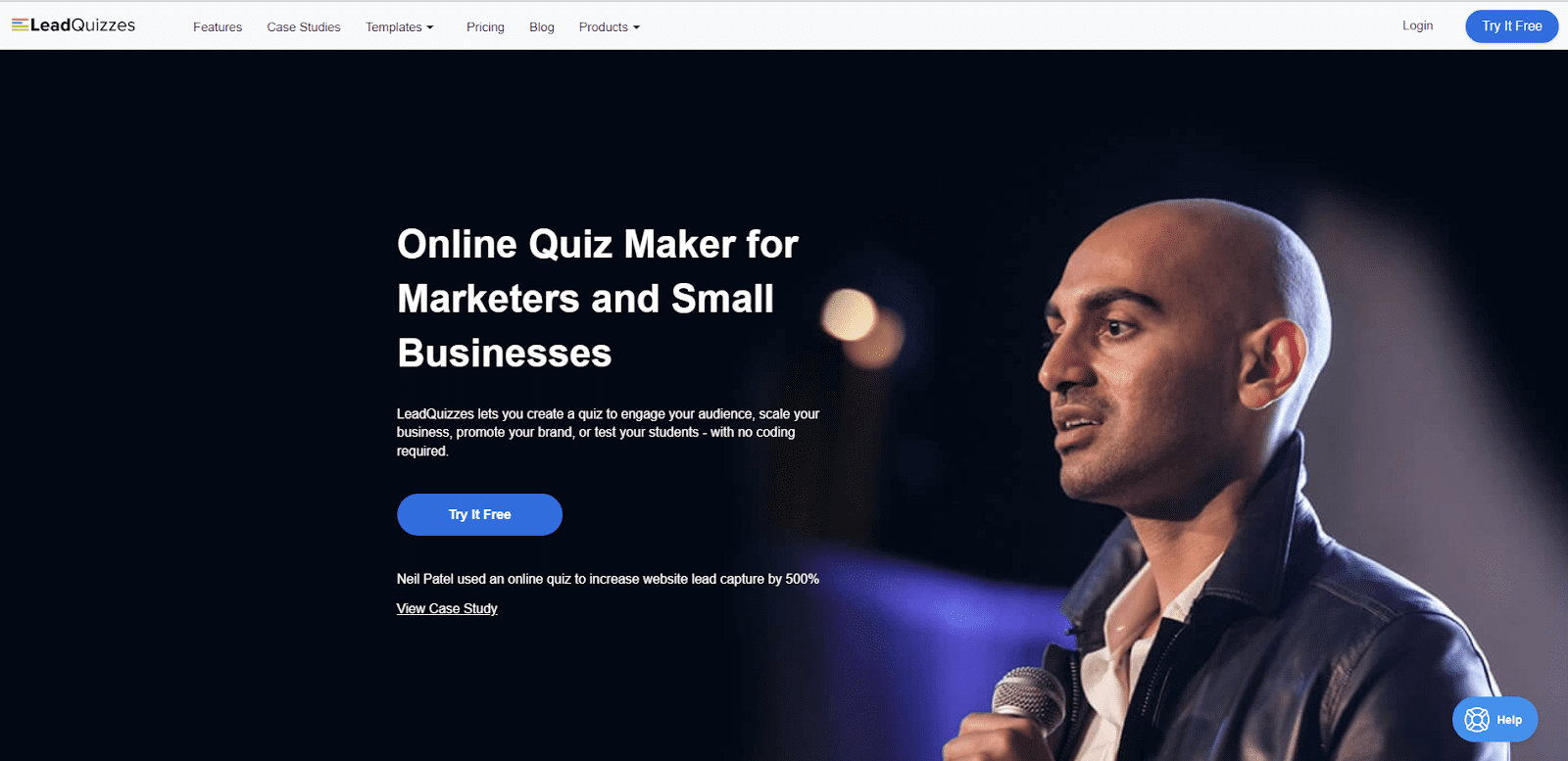 Choose and adjust premade templates to your needs or create quizzes from scratch with this survey builder. Here is a range of quiz formats and customizable forms that the platform offers:
assessment
Buzzfeed style
diagnostic
matching
true/false
Integration
Leadquizzes integrates with various types of software: Hubspot, SalesForce, MailChimp, WordPress, and some more. It would be beneficial for LeadQuizzes to have more integrations and form types available for each case.
Embedding
You can embed a quiz on your website using responsive code that Leadquizzes generate for your page. Creating unlimited quizzes may be troublesome, though.
Customization and quiz builder
You can configure the quiz to pop up on particular devices or pages with a set time delay in front of your visitors. You should be careful with this feature, however, since visitors are more likely to close a popup window that is too large and distracting rather than fill in the quiz. This feature might be troublesome for those who have gotten used to Typeform Quiz Maker.
Analytics
Leadquizzes offers quiz performance analyses to help you make data-driven decisions for the future.
LeadQuizzes Pricing
There is a 14-day free trial if you want to try it out, as well as three paid plans:
The Lite plan costs $37 per month, billed annually, with one website account and 2,500 responses per month. This cheapest plan is recommended for entrepreneurs and small businesses.
The Growth plan costs $74 per month, billed annually, with five website accounts and 5,000 responses per month. Recommended for businesses and agencies with high traffic and multiple websites.
The Advanced plan costs $186 per month, billed annually, with 15 website accounts and 15,000 responses monthly. Recommended for businesses and agencies with high traffic and lots of websites, or experienced users who want to use a custom theme and build a better email list.
For solopreneurs, even the cheapest plan on LeadQuizzes can be a pricey option. There is no free plan, just a trial period available. As you can see, if you need a lot of quizzes and marketing services, unlimited quizzes, or many customizable forms then you may be better off looking for another Typeform Quiz Maker alternative than this form builder option.
#3 Google Forms
Google Forms is a simple quiz maker and survey builder, making it an ideal option for creating simple forms. Nowadays, when many people have a google account, it is easy to start making a quiz there. But is it the best Typeform Quiz Maker alternative? Let's see.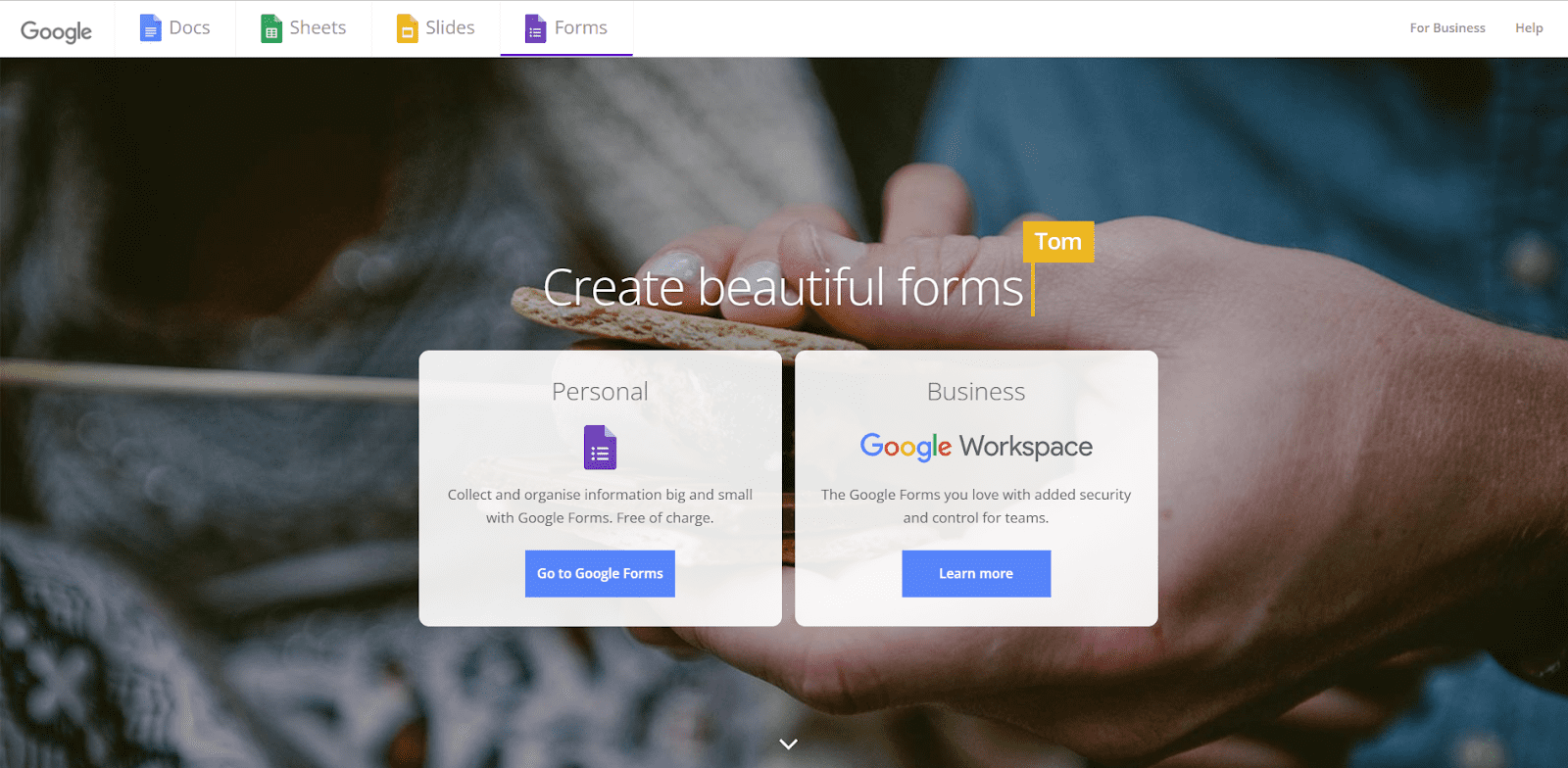 Integrations and Analysis
There are hardly any integrations available. You can export the data to Google Sheets for analysis, and that's it.
Embedding
You can share a quiz via a link. However, it will be viewed as an independent page, with no option to embed your website as a widget or popup. If you're looking for mobile-friendly and beautiful-looking forms, Google Forms won't be the best pick.
Customization
It could be better for this survey builder because there are, unfortunately, a lack of customization options. You can only change colors and choose from one of four fonts, which you must admit is not enough for customizable forms. Google Forms quizzes are far away from being beautiful surveys – they are very similar to each other and cannot be modified as much as with its competitors. In general, it is a good option for people who occasionally create quizzes, online surveys, or for starting out. For marketing, however, you will need something more powerful.
Google Form pricing
This online form builder is free, so it can be a good option for those who want to try quizzes or online surveys out without paying to do so. Nevertheless, it is a very basic online form-building tool that is insufficient for marketing purposes as it doesn't offer mobile-friendly or beautiful-looking forms.
#4 Woorise
It is a cloud-based, online form-building tool providing quizzes, online surveys, viral giveaways, contests, and landing pages. Let's check what features it offers.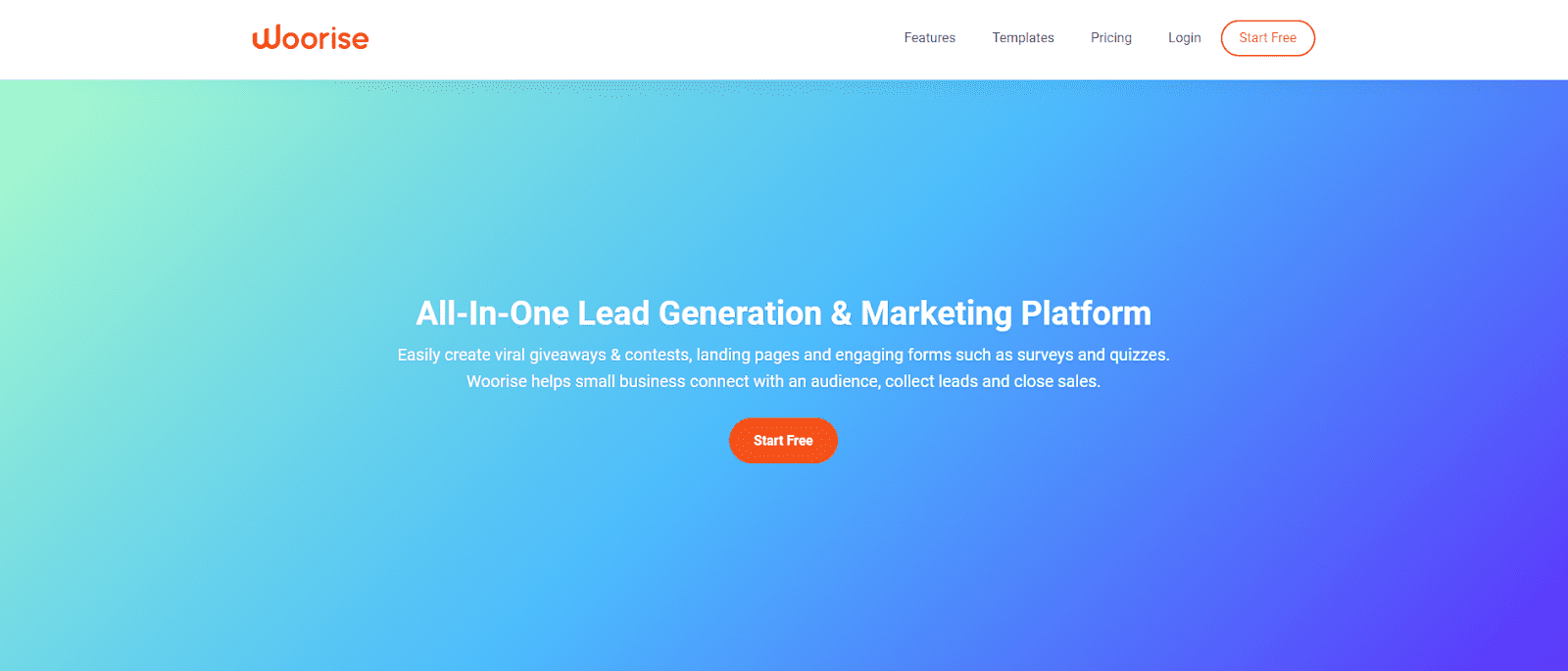 Quiz templates
There are three quiz types: personality, scored, and assessment quizzes that you can customize. Quiz takers can be sent the results via email, including the details of the quiz submissions such as answers, results, scores, and lead information.
Analytics
Woorise provides automatically generated statistics and rankings. For example, you can see information about who took the quiz, their scores, and grades.
Embedding
You can embed a Woorise online survey on your website as a popup, in a chat, exit intent, Facebook page, or on your subdomain.
Customization
Woorise provides decent options in this regard with customizable forms, and you can adjust quizzes to match your design. As a survey builder, however, it's probably not the best Typeform Quiz Maker alternative here.
Woorise pricing and main plan differences
There are three pricing plans and a free option available:
The Free plan offers unlimited campaigns, 500 quiz entries per month, and email support.
The Basic plan costs $23 per month, billed annually. This cheapest plan includes unlimited campaigns, 2,000 quiz entries per month, email and chat support, and no Woorise branding.
The Grow plan costs $39 per month, billed annually. It offers all the features of the Basic plan, plus 5,000 entries per month, integrations, email notifications, and 10 team users.
The Pro plan costs $79 per month, billed annually. All Grow plan advanced features are included, as well as 20,000 entries per month, 30 team users, media upload, and a custom domain.
The price of a Pro plan depends on the entries you choose. The minimum number of entries you can select is 20,000, and the maximum reaches unlimited entries. If you want to have unlimited entries, you will need to pay $799 per month to access this online form-building tool, which makes it the most expensive plan among all of the aforementioned Typeform Quiz Maker alternatives.
What makes youengage a better alternative to Typeform Quiz Maker
To choose the best option, it is good to have these advanced features provided by Typeform Quiz Maker or an alternative such as youengage.
Easy embedding and sharing will save you time and nerves. For example, you can publish a quiz on your website in minutes without coding, experience with form builders, or advanced IT skills thanks to quick embedding. Both of the platforms do great in this area.
Adjustable quiz-type templates save a lot of time compared to making a quiz from scratch. First, check if you are happy with the design that you can create with a premade template. Coherence across all of the tools that you are currently using is also noteworthy. Finally, make sure that you can make quizzes that match your brand voice and tone. For sure, beautiful quizzes influence the user experience, but you also need a simple quiz maker if it is needed on a daily basis. No one wants to be puzzled by overwhelming features they don't know how to use.
It is always a good idea to check what your quiz will look like before sharing it. With youengage previewing, the final appearance can be viewed in seconds.
Feedback is worth paying attention to. Check if you can receive results in real-time from your quizzes. Typeform Quiz Maker lacks this feature, so such results will be a great source of information for your business that goes untapped..
Analytics is a key feature for marketers to see how their quiz performs. Analytics is used to understand your audience's behavior – what works and what does not. Once you know what your audience likes and gets engaged with, you will have a broader view of what to improve in order to generate more leads.
Both youengage and Typeform quiz makers provide an advanced analytics feature and an in-depth insight into the performance of your quizzes.
Advanced integrations allow for importing audience data, so this feature cannot be omitted. For example, Integration with MailChimp lets you convert leads into contacts, connect multi-page form and quiz data, then send it straight to a Mailchimp list. Many simple quiz maker solutions do not offer a sufficient number of integrations, audio clip features, custom URL options, or built-in analytics.
Additionally, seamless integration with your tools is crucial for improving your lead generation rate. Check what native integrations a quiz builder provides so that you can make a better, more well-informed decision.
Last but not least – pricing. For some, the cost is a decisive factor when choosing a quiz maker or online form-building tool. Analyze what powerful features you need from a quiz maker and compare pricing plans, considering the quality and quantity of advanced features and their costs.
Conclusion
It is always best to choose an option that meets your needs. But how about having more for almost the same price? youengage is a platform that will give you a wide range of features for marketing and more. With it, you can increase your conversion rate, create an almost unlimited number of quizzes, make the most of an intuitive multi-page form builder option and simple quiz maker, check your built-in analytics, set up a custom URL, as well as grow your loyal user base.
So make your business flourish with youengage and sign up for a free trial to experience how first-hand. You don't need experience with form builders – we'll help you create mobile-friendly and beautiful-looking forms in little to no time.