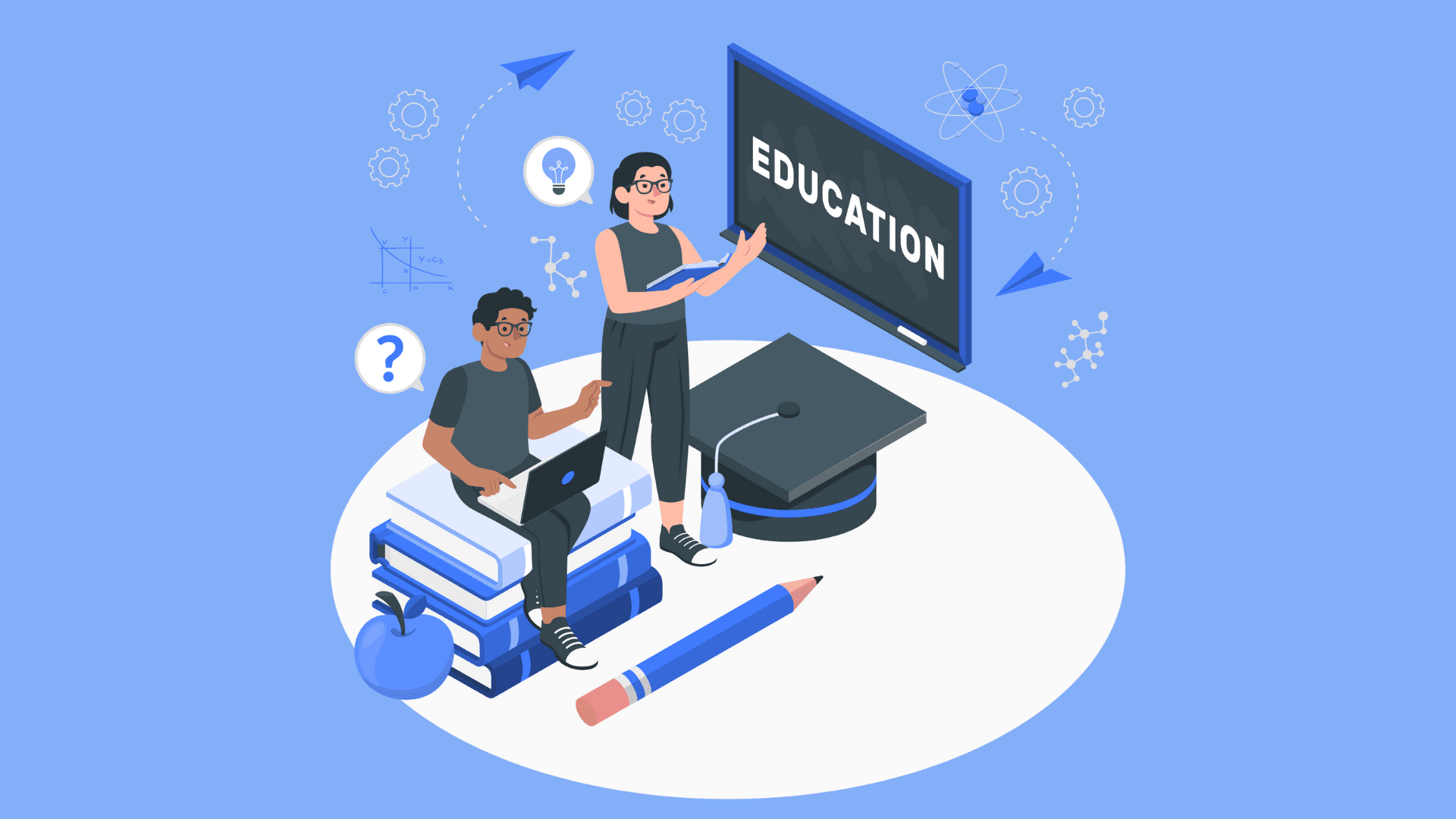 Only a decade or so ago, the only way we could imagine a quiz in a classroom is a paper with some difficult questions on it. The range of options for making it customized came down to how good your teacher was at Microsoft Word – no one knew about online quiz makers for teachers.
Nowadays, creating quizzes is as much of an experience as doing them and teachers have a range of options to choose from. You can create quizzes that can be done online, that look great and that will give you results in an instant.
But how do you choose the right one with all the options out there? With tight budgets, pricing is the first concern, but there are others such as advanced features, templates, and more. Here are our top picks for online quiz makers for teachers.
YouEngage – the best of online quiz makers for teachers
Our platform was built for many different use cases and one of them is to create quizzes for teachers. Just log in go to your templates and you'll see a variety of quiz templates for teachers that you can grab and start adding questions immediately.
Once you sign up, you're greeted with a simple quiz builder that anyone can use. If you can create an account on Facebook – you can create a quiz on YouEngage, it's that simple. You can create quizzes from scratch if you're confident or you can pick an existing template if you want to get started quickly.
You can add different types of questions to engage your students and gauge learner progress. Drop down, multiple-choice questions, open clause quiz question, you have it all. On top of all that, you can tweak the design to make it modern and appealing to the "cool kids" instead of the bland look of Google Forms or some other competitors for online tests. You can add different background images or blur background, and tinker around with other formatting too.
You can send out the quizzes through emails or put them up on a website for your students to do. Sharing the quiz is as easy as creating it. One of the best parts is the detailed analytics and the informative dashboard that you get once the quiz results come in – you get a full breakdown of the answers and how everyone responded to each question so you can refine your future quizzes.
Perhaps a downside is that YouEngage isn't free – but you can try out a free trial version to get started. The plans start at 19 USD per month, which is good for up to 2,500 unique responses per month. Even if you have lots of students or lots of quizzes you do per month, the premium version should be more than enough.
And think about it – you're investing in saving your time and creating a better experience for your students. That's definitely worth the monthly plan! Sign up today to get started!
Google Forms
One of the best choices out there is Google Forms, for a variety of reasons. As a teacher, you probably have to pay for a bunch of things out of your own pocket, so why pay for software too? Google Forms is completely free to use.
There are some templates available and if you have just a few minutes and a Google Workspace account, you can create a quiz in Google Forms quickly and effortlessly. The builder is super easy to use and there is a variety of questions that you can choose from.
Once the quiz is done, you can send them to your students as a link in an email and collect results in Google Sheet. This makes collecting results a piece of cake and you can easily compare data between students and even different quizzes.
The biggest downside of Google Forms is that your quizzes won't really look all that pretty and there are not many options for making your quiz look and feel different than just a regular Google Form. If you work with small children, you want to give them something that is colorful and interesting – and Google Forms is not it.
If you're concerned about budget and want a basic quiz that doesn't look all that amazing – Google Forms is a good choice. It also plays well with Google Classroom, which may be a plus for some teachers. If you're looking for online quiz makers for teachers, this one can be a good, but not the best, shout.
ProProfs
One of the most popular solutions for quizzes out there, ProProfs' key advantage is the amount of time it saves for teachers. While it is essentially built as a robust tool for lead generation, it can be a decent quiz maker for teachers as well.
You can ask a wide range of different questions to your students and as ProProfs states, you can automatically grade the quizzes by labeling the correct answers for your quiz takers. Sounds complex but it's exactly how all the other online quiz makers work too – automatic grading is a standard feature for real-time feedback so you can test learner progress.
Besides the standard types of questions, you can also assign essay questions, which are obviously not as easy to check as the other question types. One neat feature is that for correct answers, you can provide explanations to students why they're correct and give them instant feedback.
You can create a quiz from scratch or use one of the pre-built quiz templates to create a quiz quickly based on the quiz topic. The numerous templates come with their own questions but they won't be super useful unless you want to create general types of quizzes and online assessments.
The analytics and the informative dashboard are a great addition to the platform if you want to analyze participation, results, the attempts made to provide an answer to a certain question, and more. However, it feels like these are much more useful if you want to use ProProfs for marketing.
Pricing is a deciding factor for many teachers and ProProfs will set you back $25 per month for unlimited quizzes, which doesn't sound like a bad deal. You can drop the price down to $20 per month if you buy the annual plan for $240 – but teachers don't usually need quizzes all year round.
Overall, it's a solid competitor with some must-have features mostly built for marketing rather than education. It's not really a proper online testing software, but it will do the job of all you're looking for is simple tests.
Typeform
If you're looking for quizzes that look amazing and improve student motivation, look no further. Typeform is an online quiz creator and a pioneer in making quizzes with great user experience and you won't have a single student saying that your quizzes are boring.
This is one of the most common quiz makers in the marketing arena and this is also the primary use for Typeform. While the company does state that you can use it "engage your students", the reality is far from that and ensuring learner progress is not as easy as it may seem.
First off, you can only use a single type of question: multiple-choice. That's about it. If your main aim is to test how well your students can guess one correct answer out of 4 (or more), you're in luck. Other than that, not really.
There are some templates available but for the most part, you'll have to rely on yourself to create the quizzes. The templates are pretty basic and for subject matters such as spelling, so it won't be of much use for anything else.
Typeform is just as easy to use in creation mode as it is for doing the quizzes. In that sense, getting started won't take much and you'll enjoy the process.
One thing you probably will not enjoy though is the pricing. At $25 per month, you get 100 responses. You do get unlimited quizzes and surveys, but when you're capped at 100 responses, it doesn't really matter all that much. And that's when paying annually – if you go for monthly plans, it's $29 per month. For a teacher on a tight budget, better deals are to be had elsewhere.
Overall, Typeform is a tool that will impress any teacher, student, or anyone else with how slick it looks and functions. However, with the limited options for answer types and the high price tag, it's definitely not the best choice out there.
Jotform
Whenever Typeform is mentioned, Jotform has to follow suit. This is another well-known name in the game, with the option to create quizzes, surveys, forms, and more. On top of all those formats, you can create engaging quizzes for your students.
Just like the main competitors for online quiz makers for teachers, it's easy to use and you'll have a fun time creating the quizzes. What you produce won't end up as pretty looking as YouEngage or Typeform, but it will do the job. Templates are there, but very few are dedicated to classroom use.
The quizzes you create will have to be based on multiple-choice questions because that's all that you get. On top of that, the design is pretty basic and out of all the competitors, it looks the closest to Google Forms, which is not a compliment by any means. In other words, the quizzes look fairly basic.
And to get all that, you'll have to pay $24 per month, which gets you 25 forms (or quizzes) and up to 1,000 submissions. This is a pretty good deal compared to most of the competition on this list, but far from the very best.
Overall, Jotform makes for a compelling offer if you're looking for good value and you want to create a single type of quiz with the same questions. However, given that the quizzes look fairly basic and that there are competitors that do a better job for a smaller price, you can continue browsing for something with better key features. If all you want to do is create a bland-looking trivia quiz, it will be right up your alley. A proper online test maker? Yep, look further.
Wrapping up
Choosing best online quiz makers for teachers can be a daunting task, when you mix it in with student work, going through assignments, and preparing for your classes. You need a tool that's easy to use, reliable, and creates the kind of interactive quizzes your students love to do. You need YouEngage! Sign up for a free trial version today and you'll see why both teachers and students love the quizzes created in our app and why we're among the top interactive quiz makers out there!